TiPb Answers: Causes of Wi-Fi interference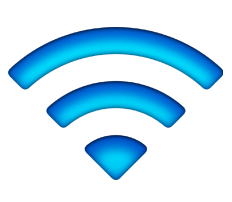 iPhone, iPod touch and iPad all have Wi-Fi radios in them and anything with a radio can suffer from interference. Some causes of interference are relatively simple, such as "holding it wrong". Others may not be so obvious, such as being close to the microwave. Here TiPb goes through some of the common reasons that your Wi-Fi signal may have issues such as decreased wireless range, decreased network data speed, and even a complete loss of connectivity. We'll also offer some fixes... after the break!
[Apple Support (opens in new tab)]
The previous generation of iPhone and iPod touch have 802.11a/b/g Wi-Fi radios. Current generation iPhone 4, iPod touch 4 and iPad support 802.11n as well. iPhone and iPod touch only support the 2.4Ghz which is more "crowded" (more different types of devices operate at that frequency and care therefore more likely to cause interference). iPad also supports 802.11n over 5Ghz which is less "crowded". With older Wi-Fi routers setting them to 5Ghz was great for devices that supported it but meant older devices with 802.11a/b/g couldn't connect at all. Newer dual-band routers (like Apple's last two generations of Airport Extreme) let you support both 2.4Ghz for older devices on one band and 5Ghz for iPad on the other -- giving the better of both worlds.
So what causes interference on these radios and frequencies and how can you fix it?
Your hand. Yes, "hold different" has become a bit of a joke but a large, waterlogged object like a big fleshy hand, if wrapped around enough area, could cause interference with the Wi-Fi radio in your device. This shouldn't be a problem in normal use.
Using the microwave. If your microwave is close to your Wi-Fi base station you may notice a loss of signal strength when the microwave is working. Test for it by turning the microwave on and off. If the interference starts and stops at the same time, it's likely the case. Try changing the "channel" on your router (typically a number between 1 and 10) until you find one that eliminates the interference.
Direct Satellite Service (DSS) radio frequency (RF) leakage. There are certain kinds of satelite dishes which can also cause interference due to the coax cable and connectors used. If there is damage to the cable get a new cabled to reduce the amount of RF leakage.
Power lines, railroad tracks and power stations. There's a lot of debate about whether or not these are practical sources of interference for modern home Wi-Fi routers. If you think you may have an issue with them try repositioning your router, or changing channels.
Other wireless devices on the same frequency. Other phones, speakers, baby monitors, garage door openers, or anything else on the same 2.4Ghz or 5Ghz frequency can cause interference. If you think it's a neighbor's device causing the problem, again, try changing the channel on your router.
Physical barriers Depending on what they're made of and their RF absorption and obstruction rates, walls and floors and other physical obstructions can cause interference. (We've even been told stories of elevators, when they're on the same floor, causing intermittent problems.) Try repositioning your router or even adding a second router as a bridge if you're trying to cover a large area.
Pacemakers Obviously you shouldn't carry your iPhone or iPod touch in your pocket if you have a pacemaker.
Hearing aids. iPhone, iPod touch, and iPad may conflict with hearing aids as well.
Blasting areas. Yes, if you live near an area where a lot of things get blown up the radio signals used could interfere with your device.
Types and potential for physical interference
(opens in new tab)
Have you experienced Wi-Fi interference with your iPhone, iPod touch, or iPad? If so, what caused it and how did you manage to fix it?
Senior Editor at iMore and a practicing therapist specializing in stress and anxiety. She speaks everywhere from conferences to corporations, co-host of Vector and Isometric podcasts, follow her on Twitter @Georgia_Dow and check out her series at anxiety-videos.com.
My iPad, but not iPhone, kept dropping my wifi signal each time I would use it. I updated the firmware on my router and it worked and I have not had any issues since then.
Great try for those who are having other issues.

my iphone is incredibly slow when downloading and streaming data AT TIMES.I think it may be an issue with the fw 4.1. Since most cases i heard of were reported on this firmware.

DECT phones can interfere too.

lol:
http://en.wikipedia.org/wiki/DigitalEnhancedCordless_Telecommunications

Anyone been having problems with their att service with uverse and all of their handheld wireless devices? I keep getting ip address could not be found and safari could not connect to the server.

Here at Puerto Rico is very common having 1 or 2 bars of Wi-Fi signal on the iPod Touch/iPhone/iPad/etc, because houses are made of comcrete, so its a little difficult having 3 bars or high speed.

You mean I shouldn't live near Blasting Areas?

POS airport extreme base station 7.5.2 and iOS 4.2.1. I suspect an iPhone wifi driver issue. Only the iPhone has SLOW data throughput.

I had a customer who we could not get a decent signal one room over from her router, stick the usb adapter out the door and the signal was 100%, in the room maybe 15%. After much testing I came to the conclusion the walls were painted with lead based paint (built in the 50's) and that was causing the signal drop.

Wow that is a good one. Never heard about someone having such issues from room to room. So dont eat the paint...

The person in the office next to mine has a virgin mobile Mifi hotspot. When that thing is running, I cannot get a wifi signal...
Anyone else see this issue?

Good article that misses a few points. Wood, especially live or recently cut, should be listed at least as "high interference" not low. Water should also be listed at "very high" and not medium. The reason is the 2.4Ghz frequency. Why? It's the frequency used by microwave ovens to excite water molecules in your food to heat it up. Water molecules LOVE to absorb 2.4gHz signals.
This also explains why concrete is so high: It actually contains a high amount of water, even when dried, This is also true of cardboard. Just try to pass a 2.4G signal through any stack of cardboard more than 2 or 3 feet thick; ain't gonna happen.
But you missed the biggest problem for WiFi interference at any frequency: Multi-path interference. This is when the original signal bounces of one or more (usually metallic) objects on its way from sender to receiver. Each bounce creates a longer path for that signal. So your radio is not receiving one signal, it is getting 2 or more all coming in at slightly different times. The time overlap blurs the original signal often to the point where the signal is unintelligible to the receiving radio.
This is why access points have two (or more) antenna: it's called "diversity" and allows the receiver to select the best (not necessarily the strongest) signal. Unfortunately the iStuff only have one WiFi radio so diversity is not possible.
Then there are things like the fresnel zone and polarity. Fresnel zone is the impact of devices (anything) getting close to the parabolic signal. The farther you are away from the transmitter, the larger your fresnel zone is. Polarity the orientation of the EMF wave. Is the Tx antenna horizontally or vertically oriented? For optimum performance your antenna should be oriented to the same polarity. (like how you can get better signal laying your phone on the table rather than holding it upright in your hand).
There's lots of other reasons for interference at the protocol level as well but these are the biggies.

Self Correction: The iStuff (pod, pad, phone) have only one WiFi ANTENNA which is why they suffer from multi-path interference. Of course they only have one radio.

Nice. Thank you for that.

We've noticed more succeptability to RFI from microwaves on channel 9 (2.4ghz) than most other channels. So we try to use channels as far away from that number as possible.
Also, get Wifi Analyzer (jb) for your iphone. It's a great little scanning tool. Helps you verify that your setting on your router are actually what's being transmitted as well as shows you what channels are being used already in your area. I use it all the time during my onsite installs.

i have wireless access point in my house, its working normally with my laptop but my iphone4 doesnt seem to connect to the internet thru it even thu the bars for the wifi signal is full..keeping in mind i can connect to any wireless network in and outside my house,except thatt one... plz help i tried everything

Thanks for the isinght. It brings light into the dark!

metira el juego no esta tnacrudo a mi a lo primero me ganaba la maquina pero solamente es cuestiun de estrategia y hacer un monopolio como se lama el jugo y ahora la maquina con 4 jugadores y dificulta 3 no me gana

Repairmen just left and said that my new router/modem had interference and that is why my wireless is not working throughout the house like my old one did! What a shocker. I convinced them to give the old model back to me but they said that it would probably not work very long. I am now seeking a solution. Lots more to read. Any more ideas?
Thanks

Simply desire to say your article is as astonishing. The clearness for your submit is simply cool and i can think you're an expert on this subject. Fine with your permission allow me to snatch your RSS feed to keep updated with coming near near post. Thanks 1,000,000 and please continue the gratifying work.

Hi to all, because I am truly eager of reading this webpage's post to be updated daily. It carries pleasant data.
Stop by my web site - oil olive
Get the best of iMore in in your inbox, every day!
Thank you for signing up to iMore. You will receive a verification email shortly.
There was a problem. Please refresh the page and try again.