Tired of seeing Apple Music on your iPhone? Hide it!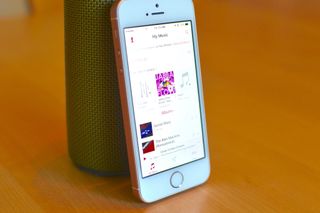 Apple Music benefits from being built in to every modern iOS device on the planet. But if you don't want Apple Music, that's not much of a benefit to you. So, if you're sure you don't want to subscribe, and you're doubly sure you don't ever want to see those ads or tabs again, here's how to hide them!
How to hide Apple Music on your iPhone
When you hide Apple Music on your iPhone, you will no longer see the For You, New, or Connect tabs in the Music app. You will still be able to listen to Beats 1 and live radio stations, so the Radio tab will still be there.
Open the Settings app.
Scroll down and tap Music.
Toggle the Show Apple Music switch off.
Now, when you open the Music app, the only tabs you will see are My Music, Playlists, and Radio.
How to only show music available offline on your iPhone
If you sync your tunes in the iCloud Music Library so you don't have to worry about taking up a bunch of space on your iPhone with your favorite albums and playlists, you can hide any tracks that aren't already downloaded for offline listening on your iPhone. This makes it easier to see the music you know you won't need the internet to play.
Open the Music app.
Tap the My Music tab.
Tap Albums (or Artists, or Songs. Which ever your Music app view is defaulted to show).
Toggle the Only Downloaded Music switch on.
Any questions?
Do you have any more questions about hiding Apple Music on your iPhone? Let us know in the comments.
Get the best of iMore in in your inbox, every day!
Lory is a renaissance woman, writing news, reviews, and how-to guides for iMore. She also fancies herself a bit of a rock star in her town and spends too much time reading comic books. If she's not typing away at her keyboard, you can probably find her at Disneyland or watching Star Wars (or both).
Wow! I actually use Apple Music, but maybe this is a sign that they'll let us do this with other apps in my "Apple crap" folder that I don't use like Tips, Reminders, Videos and Watch. All of these are apps that I can't delete and will never use. Sure would be nice to not see them, even if they're still on my phone.

You're technically not deleting anything in this case either. All you're doing is hiding the Apple Music and prompts to join it from appearing in the Music app. The actual Music app (and it's associated icon) will still remain on your device.

But let's be honest.... Hiding those extra apps would be nice. If they don't let you uninstall, allow it to be hidden. Posted with the Nexus 6, Nexus 5, or Surface Pro 3

I'm happy with this solution. http://www.howtogeek.com/247207/how-to-truly-hide-ios-built-in-apps-usin...

Once I turned that off in settings, the first thing that popped up, upon opening the music app... Was that trial ad.

I did this ages ago after I decided I wasn't going to subscribe to Apple Music. The trouble with the iOS Music app though, (and this articles advice), is that it's actually IMPOSSIBLE to turn it off completely. You still are forced to have a tab for "Connect" (part of Apple Music) and "Radio" (actually *not* radio, but only "Beats Radio"), and also a part of Apple Music. Furthermore, on all the non-Apple Music tabs like "My Music" and "Playlists" there is a permanent advertisement across the very top of the screens, that suggests you turn it back on. Finally, if you have an iPhone 6s, there is an advertisement for "Beats Radio" in the force press of the icon. I wouldn't mind the Radio tab if I could actually listen to my favourite radio stations but they aren't there, just Beats. I wouldn't mind Albums if it actually showed the albums I synced to the device but it doesn't. It just shows the albums my playlists are made out of.

Connect can be removed through restrictions.

Exactly! Toggle "Connect" off in restrictions. I did all this last summer. I don't subscribe to Music.

I dropped family plan and went with a student one using alumni ID. Guess I'll see how that goes. I pretty much stick to playing back music I already have but it's convenient to have apple music for those occasional times.

I found this feature fairly early on. Coming from Android (six years; switched a month ago), it's become habit to check all the settings. iOS has fewer settings than Android, and typically, iOS apps have fewer settings than their Android counterparts, so for an Android veteran, this is super easy. Those of you saying you can't really get rid of Apple Music are right. I have a utilities folder and, in its last couple pages, are the apps I'll never use, like Watch. I don't wear watches anyway, so no way am I going to spend $400+ on one. $100 Android watches didn't interest me, so Apple's won't either. I haven't put Apple's official music player in the doghouse just yet, but I did buy a music app called Cesium last week ($1.99 — the developer is a Redditor and donated all the sales one day to the wildfire efforts in Canada) and found it to be pretty good. It has a dark theme, and a few shortcuts that appeal to my use. So I use that instead. However, again as a former Android user... hiding apps is great. The problem is, iOS is meant to be simple. I think a great solution would be — and I know y'all must not like hearing the S word here — to look at what Samsung did with "Good Lock." Stupid name, but it's an app, they don't even have it in the Android app store, and what it does is, basically overhauls the system UI to be a little more like HTC, a little more like Google, and a little more like something that maybe should have stayed in their South Korean labs. So it's not for everybody and it isn't easy to get, but if you get it, it will supercharge a Samsung device running Android 6 or later with a bunch of new options. Maybe Apple could use a "Good Lock" of its own to allow power users to supercharge iOS. Like, I don't want to jailbreak, but some of the tweaks you can get, maybe some of those could come official. All via a program that can be installed in one step to bring the phone back to normal.
Thank you for signing up to iMore. You will receive a verification email shortly.
There was a problem. Please refresh the page and try again.