Top 5 reasons to jailbreak your iPad or iPad 2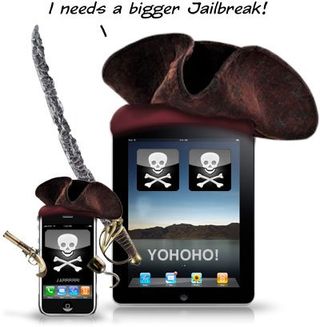 Now that iPad 2 can finally be Jailbroken, many of you are considering it and are asking us whether or not it's worth it. Jailbreaking has always been popular among iPhone users, but some believe iPads already do what they want a tablet to do and aren't as sure about the need for the extra functionality Jailbreak provides. With iOS 5 on its way this fall, the gap between stock iPads and Jailbreak will be closed even further.
So should you Jailbreak your iPad 2? Keep reading to see some of our top reasons why iPad and iPad 2 users may want to jailbreak.
While LockInfo may remain more popular for iPhone, it's also great on the iPad.
We all know that the upcoming Notification Center will add better notifications to iPhone and iPad but it still doesn't give you a ton of control. For power users who like to have complete control over their notifications and how they are presented, LockInfo will still remain at the top of their list.
David Ashman will continue to improve LockInfo even after the announcement of Notification Center. I doubt he will disappoint either. I'm excited to see what he and other developers will do with notification center widgets and how they'll integrate certain frameworks of iOS 5 into already great apps.
Apple may have a native settings app, but there aren't any quick toggles anywhere to be found. I like being able to turn wifi on and off quickly, disable or enable 3G on a whim, or be able to see how much available memory my device has. This is where SBSettings comes in handy.
Just a quick swipe of your top status bar and you can see your available memory, free it up, toggle features on and off, and much more. I'm currently stock due to beta testing iOS 5 and I still find myself constantly swiping my status bar every time I want to turn wifi on and off. It has become natural to me and it's a tweak I dearly miss when I'm not jailbroken.
Apple may be adding more gestures to the iPad but I've always found Activator to serve me far better. You can set almost every gesture you could think of for pretty much any task. Maybe I want sliding up from the bottom of my iPad screen to take a quick screenshot. I can do this easily. I can customize my iPad to how I want it to behave, not how Apple "thinks" I want it to behave.
The new notification center in iOS 5 even takes after not only Android, but the way certain jailbreak features have used multi-touch gestures for years. LockInfo's Infoshade feature has been a pull down option for quite some time now.
MyWi is not only a reason to jailbreak your iPad, but one of my overall top 5 jailbreak apps. I know this is a touchy subject for some people and that AT&T has been cracking down against unofficial tethering but I still refuse to pay for the one or two times I may or may not have to tether a month. I also don't want to lose my unlimited data plan. MyWi simply allows me to turn my iPad or iPhone into a mobile hotspot and I can then connect to it just like I would any wifi network.
For those of you with 3G iPads, MyWi is a great app to have on hand in case you need to tether other devices. MyWi tends to run the battery on an iPhone down pretty quickly. My iPad was able to handle being a mobile hotspot for a lot longer. It's an extremely useful app to have on board for when your iPad just won't cut it and you desperately need the internet on another device such as a laptop.
One of my biggest peeves about iOS folders is that you are limited to 12 applications per folder on iPhone and 20 on iPad. I still haven't quite figured out why Apple did this but it's annoying nonetheless. I don't know about any of you, but I certainly have more than 20 games on my iPad. I don't want to create 10 folders, I simply want one games folder that I can create nested folders inside of.
Jailbreak apps like Folder Enhancer allow you to do this. It removes the apps per folder cap and also allows you to create nested folders. Now my iPad has sub-folders for even more organizational control.
Bonus: Display Mirroring (original iPad)
While the iPad 2 can do this natively, original iPad users are left in the dark as Apple decided not to extend the functionality to original iPad owners. If you're jailbroken, you can display mirror on the original iPad as well. I personally never felt the need to upgrade to the iPad 2. If and when I need to display mirror, I would simply use the jailbreak solution over buying an iPad 2.
So if you have an original iPad still and you're willing to jailbreak, you can use the display mirroring feature just as easy as iPad 2 users can.
Those are our top 5 reasons to Jailbreak your iPad or iPad 2. If you Jailbreak your iPad or iPad 2, what are your reasons?
iMore senior editor from 2011 to 2015.
I want winterboard! Im a heavy android user and fairly new to jailbreaking. Just a little scared of bricking it.

its really hard to brick an iDevice while jailbreaking. I've jb-ed many times on every device (almost) and many different firmwares and jb tools and have never bricked it.
just follow the directions and you will be fine.

I have been jailbreaking my iphone and ipad since my 3g, I wouldn't even know what you would have to do to brick it. If you stuff anything you just restore. Pretty sure bricking of idevices was during the early days.

The name "Jailbreak" and the rumors of "Bricking" is what kept me from doing it for so long. After I Jailbroke my ip4 and I realized that the phone still works "EXACTLY" as before even with itunes syncing, the question now is, what are you waiting on?
If you have ever said, I wish Apple would let you ___, then Jailbreak the device and do it. Unleash the potential of the device, and stop living with the "restrictions" Apple gave you.
To me it's ridiculous that Apple will reject an app, and then turn around and add it to their next update with restrictions--I remember when they rejected a Camera app because it used the volume buttons to snap a pic, and now they are boasting about this new feature in iOs 5, along with WiFi sync, Notifications, and more things that my phone has done for years.

Why doesn't Apple own the jailbreak community and charge a 'fee' to jailbreak? That way there are no warranty issues and they can capture more revenue. I suspect they'd make a mountain of cash that way.

If they support it, then it has to be reliable. Plus Apple wants all apps purchased through them, not cydia.
I'd rather see a neutral stance. Don't talk about it but don't actively try to prevent it.
The one thing i hate about relying on jailbreak apps is losing a jailbreak for months at a time such as when iOS 5 comes out. For this reason, i'd pay for jailbreak if it meant less wait time. It's such a big deal that i almost don't want to fool with it but I always seem to end up jailbreaking when it comes along.

I like winterboard, fakeclockup, pull to refresh safari and mail (like Facebook and Twitter) and infiniboard.

hey guys watch my new video the link is on the video and this video still helps many ppl if u want me to make a new video with a HD camera with step by step on how to unclok a iphone then pm me and ill do it

Some additions to yours: My3G To lift those silly download restrictions and make video streaming look better on 3G. RetinaPad Makes those few iphone apps much more usable like google voice, skype, facebook, bejeweled, gasbuddy, etc. Safari tab closer. Hold down tabs to close all tabs ifile, safari downloader. Self explanatory i think. Multiicon mover (along with Folder Enhancer). Makes a huge difference in moving icons around.

Don't know what this writer is talking about, you can put 20 apps in a folder and have sub folders. There is nothing in this article that makes me want to jailbreak my iPad.

There's plenty of other stuff: themes, MxTube, Celeste, Full Force, and Graviboard just to name a few.

You r right about the 20 apps, but hoe do you make sub folders?

Sorry, how can you have sub folders? Not possible on my iPhone4 or iPad both on iOS4.3.3.
Also JB'in is a choice, you can JB & not even use it, it's just a way to open up your device, I couldn't live without enhanced tabs, folder enhancer, activator (pinch to bring up multitasking, great when your using one hand & a stand), SBSettings, stay open (stops the AppStore closing when you hit buy) & switchermod ( stops all the clutter from appearing in the multitask bar, only shows apps that are backgrounded).
As for the iPhone, I have 5 things & if apple would implement them then I have no need to JB. Quick reply for SMS. Quick compose for SMS. Switchermod as above. Stayopen as above. SBSettings or something similar.

Full force so I can use The Hit List in full screen mode. The best Task Manager on iOS & OSX

There's always a reason. Ha. Plus, who doesn't like getting control over their device.

Since I jail broke, many many appsnare crashing. I'm really disappointed, as the first few exploits seemed much more Stable than the last couple. Random restringing, apps shutting without warning, hanging on reboot especially has been a problem. Bummed.

I've been jailbreaking my iOS devices since 1.1. I have never had a major problem. And if I ever did something that made my iPod or iPhone not work the way I wanted, just restore and rejailbreak. No matter what apple does or adds to the phones and iPads I will always jailbreak, just because I know somebody will come up with something amazing. So all u developers out there, keep up the good work.

BTstack - converted my wifi ipad2 into a fully finctional gps that works better than the ipad2 3g model

SBsettings, Multiflow, and BrowserChanger were my main reasons for jb'ing my iPad2. I use iCab, and having links in email open in Safari was a pain.

Serious sbsettings HD.
It's one of the defaults

I jailbreak for bitesms. I also have SB settings and the Elite Pro HD theme. Can't look at an iPhone the same way again.

Good for you. But that has nothing to do with why an iPad user should jailbreak their iPad 1/2.

Do a Top 10 free reasons to jailbreak your iPad or iPad 2 :)

just get a repo source! bam all the tweaks you want for free!

can u get everything free on app store after u jailbreak? what about cydia?

Hi,
Thanks for sharing such a wonderful blog article post. I will share it on social network sites.

How do I use iTunes to do a backup before I try to update my new iPad 2 from iOS 4 to iOS 5?

Adobe Flash works just fine on my Blackberry Playbook....

Somebody essentially help to make severely articles I might state. That is the first time I frequented your web page and to this point? I surprised with the analysis you made to make this actual submit amazing. Excellent activity!
Thank you for signing up to iMore. You will receive a verification email shortly.
There was a problem. Please refresh the page and try again.