Top 5 reasons to jailbreak your iPad or iPad 2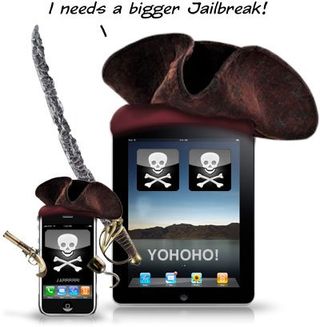 Now that iPad 2 can finally be Jailbroken, many of you are considering it and are asking us whether or not it's worth it. Jailbreaking has always been popular among iPhone users, but some believe iPads already do what they want a tablet to do and aren't as sure about the need for the extra functionality Jailbreak provides. With iOS 5 on its way this fall, the gap between stock iPads and Jailbreak will be closed even further.
So should you Jailbreak your iPad 2? Keep reading to see some of our top reasons why iPad and iPad 2 users may want to jailbreak.
While LockInfo may remain more popular for iPhone, it's also great on the iPad.
We all know that the upcoming Notification Center will add better notifications to iPhone and iPad but it still doesn't give you a ton of control. For power users who like to have complete control over their notifications and how they are presented, LockInfo will still remain at the top of their list.
David Ashman will continue to improve LockInfo even after the announcement of Notification Center. I doubt he will disappoint either. I'm excited to see what he and other developers will do with notification center widgets and how they'll integrate certain frameworks of iOS 5 into already great apps.
Apple may have a native settings app, but there aren't any quick toggles anywhere to be found. I like being able to turn wifi on and off quickly, disable or enable 3G on a whim, or be able to see how much available memory my device has. This is where SBSettings comes in handy.
Just a quick swipe of your top status bar and you can see your available memory, free it up, toggle features on and off, and much more. I'm currently stock due to beta testing iOS 5 and I still find myself constantly swiping my status bar every time I want to turn wifi on and off. It has become natural to me and it's a tweak I dearly miss when I'm not jailbroken.
Apple may be adding more gestures to the iPad but I've always found Activator to serve me far better. You can set almost every gesture you could think of for pretty much any task. Maybe I want sliding up from the bottom of my iPad screen to take a quick screenshot. I can do this easily. I can customize my iPad to how I want it to behave, not how Apple "thinks" I want it to behave.
The new notification center in iOS 5 even takes after not only Android, but the way certain jailbreak features have used multi-touch gestures for years. LockInfo's Infoshade feature has been a pull down option for quite some time now.
MyWi is not only a reason to jailbreak your iPad, but one of my overall top 5 jailbreak apps. I know this is a touchy subject for some people and that AT&T has been cracking down against unofficial tethering but I still refuse to pay for the one or two times I may or may not have to tether a month. I also don't want to lose my unlimited data plan. MyWi simply allows me to turn my iPad or iPhone into a mobile hotspot and I can then connect to it just like I would any wifi network.
For those of you with 3G iPads, MyWi is a great app to have on hand in case you need to tether other devices. MyWi tends to run the battery on an iPhone down pretty quickly. My iPad was able to handle being a mobile hotspot for a lot longer. It's an extremely useful app to have on board for when your iPad just won't cut it and you desperately need the internet on another device such as a laptop.
One of my biggest peeves about iOS folders is that you are limited to 12 applications per folder on iPhone and 20 on iPad. I still haven't quite figured out why Apple did this but it's annoying nonetheless. I don't know about any of you, but I certainly have more than 20 games on my iPad. I don't want to create 10 folders, I simply want one games folder that I can create nested folders inside of.
Jailbreak apps like Folder Enhancer allow you to do this. It removes the apps per folder cap and also allows you to create nested folders. Now my iPad has sub-folders for even more organizational control.
Bonus: Display Mirroring (original iPad)
While the iPad 2 can do this natively, original iPad users are left in the dark as Apple decided not to extend the functionality to original iPad owners. If you're jailbroken, you can display mirror on the original iPad as well. I personally never felt the need to upgrade to the iPad 2. If and when I need to display mirror, I would simply use the jailbreak solution over buying an iPad 2.
So if you have an original iPad still and you're willing to jailbreak, you can use the display mirroring feature just as easy as iPad 2 users can.
Those are our top 5 reasons to Jailbreak your iPad or iPad 2. If you Jailbreak your iPad or iPad 2, what are your reasons?
Master your iPhone in minutes
iMore offers spot-on advice and guidance from our team of experts, with decades of Apple device experience to lean on. Learn more with iMore!
iMore senior editor from 2011 to 2015.