Top iPhone 7 cases with a card holder, so you can leave your wallet at home!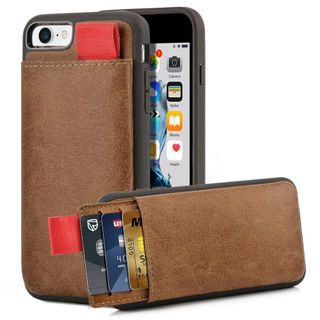 Carrying around your wallet can be a bit of a pain in the butt, especially if you have your hands full with your iPhone 7 already: so why not combine the two?
Here are some of the best iPhone 7 cases with card holders, so you can leave that bulky ol' wallet at home where it belongs!
Vena vCommute
If you're looking for a durable wallet alternative that'll keep your iPhone and your credit cards safe and protected, then take a peek at the Vena vCommute.
The vCommute is designed with a multi-angle magnetic lock, which keeps your credit and debit cards safe, while still being able to be bent into a position that easily allows you to watch videos on your iPhone.
This particular wallet case can keep your iPhone protected from drops and falls, while still allowing you full access to all buttons and ports. It fits up to three cards in the back and cards slide out easily thanks to the angled edge of the slot.
You can pick up the Vena vCommute for around $19 in rose gold and space gray.
See at Amazon (opens in new tab)
Spigen Slim Armor
Slim, sleek, and ready to store your ID and credit cards, Spigen Slim Armor gives you additional storage without the annoying bulk of a wallet.
The Spigen Slim Armor comes built with a shock-absorbing TPU interior, so your iPhone won't get banged around if you accidentally drop it. The outside is made from a durable polycarbonate that keeps your debit cards secure in the case.
The downside about the Spigen Slim Armor is that it can only hold 2 cards at a time, making it impractical if you're someone who likes to carry a pocketful of plastic.
You can pick up this particular case in colors like gunmetal, black, red, white, and rose gold for around $18.
See at Amazon (opens in new tab)
Silk wallet case
Sick of giant wallets and bulky accessories weighing down your pockets? Then take a peek at the Silk wallet case.
The Silk wallet case will cost you around $15 and fits up to three credit cards or IDs and even has a little extra room for dolla' dolla' bills; it even has a raised bezel to protect your iPhone's screen.
The case is designed with a high-grip texture to prevent it from sliding out of your hand in the middle of a transaction, while the reinforced interior protects your iPhone against mighty drops and falls.
You can pick up the Silk wallet case in black, blue jade, gray, and purple.
LAMEEKU leather case
Add a little bit of class 'n' sass to your iPhone wallet case game with the leather case from LAMEEKU!
This $20 leather case is designed to fit your iPhone 7 like a glove and is built with 3 hidden card slots for easy access to your IDs, credit cards, debit cards, driver's license, or cold hard cash.
The LAMEEKU leather case comes with a raised bezel to protect your iPhone' screen from any nasty scratches or scrapes, while the case allows full access to all buttons and ports, so you don't need to take it on and off every time you go to charge your iPhone 7.
One cool feature that this case has that other wallet cases might not is its RFID blocking technology to protect your credit and debit card information from getting stolen by pesky thieves.
You can pick up the LAMEEKU leather case in light brown, black, turquoise, and rose gold.
See at Amazon (opens in new tab)
Tripky Flower Foral Flip Folio Wallet
If you're a big fan of floral and not carrying around a massive bulky wallet in your pocket, then you might be interested in the Tripky iPhone 7 Flower Floral Flip Folio Wallet!
The Tripky iPhone 7 Flower Floral Flip Folio Wallet is designed with three hidden card slots and one back slot for easy access to your credit, debit and ID cards, along with any extra cash you're carrying around.
This particular $10 wallet case comes with a built-in stand, so you can easily prop up your iPhone and watch your favorite show or FaceTime with friends, while the magnetic closure on the back keeps your cash and cards secure to your iPhone 7.
You can pick up the Tripky iPhone 7 Flower Floral Flip Folio Wallet in black and blue floral, black and white floral, black and yellow flora, navy floral, and white floral.
See at Amazon (opens in new tab)
ZVE
Keep your iPhone protected and your credit cards secure with help from the ZVE wallet.
This handmade leather wallet case can hold up to three-or-so cards, along with your cash. The case itself is shockproof, so if you accidentally drop your iPhone, you won't have to worry about anything shattering. The raised bezel also keeps your screen (and your camera!) safe from the outside world.
If you do want quick access to your cards and cash, simply pull the ribbon on the side of the case to have your cards slide out: it's as simple as that!
You can pick up this $15 iPhone 7 wallet case in mint green, black, dark brown, brown, and gold.
See at Amazon (opens in new tab)
What's your top card holder iPhone case pick?
Is there an iPhone 7 case with a card holder that you're absolutely obsessed with? Let us know what your top picks are in the comments below and we'll be sure to check them out!
Get the best of iMore in your inbox, every day!
Cella writes for iMore on social and photography. She's a true crime enthusiast, bestselling horror author, lipstick collector, buzzkill, and Sicilian. Follow her on Twitter and Instagram: @hellorousseau
Don't all of the above just massively interfere with Apple Pay because of contactless cards?

I use the Silk wallet case. I have my proximity (RFID?) door card for work in it, and a magnet for the magnetic (Anker?) dash car mount. Apple Pay still works, and have no trouble with my work card. Have debit card, driver's license in my case, so if I'm working out or running a quick errand, I don't bother with a full wallet (which really just has health cards and the store cards and punch cards that I use often). The case is affordable, simple, and I plan to get another when I get a different phone. I'm just hoping that the iPhone won't go towards a fingerprint reader on the back and ruin my happy wallet/case strategy :(

12-South is my go-to wallet case, I am surprised it wasn't included in this list.

Totally agree with these.

This seems pointless and risky. I have way more than a couple of Credit cards that I carry around with me. I just keep all of that in my wallet.