tvOS 14 wishlist: Fixing what's wrong right now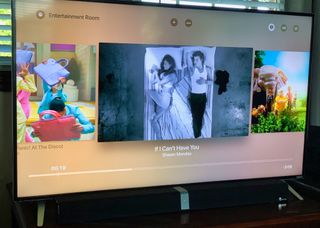 (Image credit: iMore)
Apple hasn't made any significant changes to the Apple TV operating system for many years. Usually, we see some minor interface tweaks and a few new screensavers. There are a lot of frustrations with Apple TV, however, and coming from someone who's only source of entertainment comes from Apple's set-top box, I'm ready for some big changes.
Can we talk about names?
Before I get into my wishlist for changes in tvOS 14, I'm going to take a minute to express my deep frustration with Apple's naming scheme for its various television hardware, software, and services. Let's break that down real quick.
Apple TV - A hardware device with an operating system that allows you to install apps for streaming media.
Apple TV app - An app within the Apple TV that features all of the same media streaming apps you can already install separately, but conveniently displayed in one location.
Apple TV+ - Apple's streaming service of exclusive content that can only be viewed within the Apple TV app.
If any of that confused you, you're not alone. How is the average person supposed to be able to understand the difference between these names? If I say to you, "You can watch 'For All Mankind' on TV+," and you open up the Apple TV app, will you know that you actually can't watch 'For All Mankind' unless you subscribe to Apple TV+? You shouldn't be surprised to discover that there are a lot of people that don't.
I think a huge part of the problem stems from the Apple TV app's name. I don't have a good suggestion for what it could be called, better marketing groups than I clearly didn't come up with anything better, but if the TV app were something clearly and distinctly different, we could talk about it and Apple TV+ without tripping over our words. It would be a start.
Apple TV app redo
In addition to a name change, I think the Apple TV app needs a major overhaul. Its initial launch was a good first step, but there are so many issues with it that I rarely even use the Apple TV app because it's nearly impossible to navigate.
I'd like to be able to selectively include or exclude recommended channels and content based on what I am or am not subscribed to. I don't mind seeing iTunes recommendations, but even though I don't subscribe to AMC, I get recommendations. Removing content from the Up Next list is a royal pain. I may click on an episode of a TV show, just to see what it is about, and not only will it appear in Up Next, but future released episodes will, too. Let me decide if I want something to appear in my up next list. If that's not possible (for example, if I'm watching content in Netflix, I can't add it to Up Next in the TV app, it happens automatically), let me view my Up Next content as an editable list so I can select multiple items to remove.
Speaking of Up Next ... I'd love to be able to create a playlist of movies and TV shows to watch. Imagine being able to curate your viewing experience the same way you can curate your listening experience. Watch a few of your favorite TV shows followed by a feature film. I'd make different playlists for different genres; westerns, kaiju, horror movies, Disney flicks — I could go on.
Tweaking some interface issues
The Apple TV Home screen is basically the same thing as an iPhone or iPad Home screen. You install apps and their icons appear on your home page, which you can organize into folders. That's it. On Apple TV, you can't even swipe from one screen to another. It's an infinite scroll. If you play a lot of Apple Arcade games on Apple TV, that Home screen can really get out of hand.
I'd like to be able to side scroll my apps instead of down scroll. I'd also love to be able to organize my apps as a list instead of these big app icons. Don't get me wrong — I love the artistic intent of a well-designed logo, but they could be smaller.
Speaking of smaller... if I can't switch to an app list, I'd like to be able to adjust the size of the icons on the Home screen. I could fit more onto a smaller screen. Because this is all about visuals, it's not likely that I'd have trouble distinguishing between different apps.
Fix our multiple profile woes
Multi-user for Apple TV was probably tvOS' biggest new feature in iOS 13. We were all very excited about this. It turns out, it's not nearly as cool as we thought it would be. It's not profile-independent. Yes, each profile can manage the movies and TV shows they watch, but when you download an app on one screen, it shows up on all other profile's Home screens, too. So if I want to populate my Home screen with games, but my partner only wants to watch movies, we still have to see each other's apps and games on our own Home screen.
Sharing Family Sharing content proves to be just as awkward. If one person wants to play games from Apple Arcade, for example, they have to log out of the current Game Center account and sign into their own. Every time someone switches profiles, they have to sign out of one account and sign back into another.
Hey Siri, you can search my computer
If you know you've got a particular movie on your Mac or hard drive set up with Home Sharing, finding it could be difficult if you're trying to use Siri to search. Thanks to privacy-related protections, Siri can't search outside of Apple TV for your content. On the one hand, I appreciate the security, but on the other hand, I'd like the option to allow Siri to dig through my computer files from my Apple TV.
Give me some Home app love
The Home app is available across all of Apple's platforms except tvOS. I realize that most people don't want to be taken out of their home entertainment experience to click on a Home app button, especially when Siri can do it for you, but sometimes, your phone is out of reach and your partner is sleeping on the couch. Do you really want to yell for Siri to turn down the lights?
Can we please get a web browser?
WebKit for tvOS? Yes, please! There have been an uncountable amount of times that I've wished I had access to the web on Apple TV. If I watched a movie and want to read what critics said about it, I'd love to be able to pull up a review or critic analysis right on Apple TV. What about live streams that you can only view from the web? During the May/June protests, I had to mirror my iPad to my Apple TV to follow various journalist organizations' live streams because these weren't being broadcasted live on YouTube. It was often directly on the news organizations' Home page. A web browser on Apple TV would really help me in a variety of ways.
What's on your wishlist?
Are there any particular tvOS features you wish Apple would bring to tvOS? Tell me your wishlist in the comments.
Get the best of iMore in in your inbox, every day!
Lory is a renaissance woman, writing news, reviews, and how-to guides for iMore. She also fancies herself a bit of a rock star in her town and spends too much time reading comic books. If she's not typing away at her keyboard, you can probably find her at Disneyland or watching Star Wars (or both).
I'd like a permanent set of using the HomePod as the audio source. Hate using the HomePod for music (day from my computer) then when I go to watch tv having to go in and set it as the audio source on the tv.

I'd like a permanent set of using the HomePod as the audio source. Hate using the HomePod for music (day from my computer) then when I go to watch tv having to go in and set it as the audio source on the tv.

Lol why did you copy my comment?

Please give us an alphabetized jumplist for our library items. Scrolling down takes forever. Ability to select a profile each time you wake it from sleep. Give us the screensaver videos on our iPads :)

I have only one thing on my wishlist. Please, please, please give us the option to turn off auto play. I can't even use the TV app in the bedroom as I may fall asleep on episode 2, only to wake up in the middle of episode 5. I hate auto play, and don't even get me started on auto play in the TV app on the iPhone, there's absolutely no reason to have auto play on a phone, it's in your hand already, you can select the next episode manually. 🤬🤬🤬

Since the TV is supposed to act in some capacity as a hub for HomeKit devices, it would make perfect sense for there to be some sort of app or way to work with and use those devices on the TV itself. The fact that Apple launches these new things and then just lets them sit for years and years without any updates or improvements is VERY annoying to me. There is always the excuse that there just aren't enough resources or people available to devote time to these improvements. Thousands of people work for Apple around the world. Tens of thousands. Are we supposed to believe that out of all those thousands of people, only 2-3, or even 1 is all that work on some of these things? I don't buy that excuse one bit.

Better profiles management and, like most of the cheaper and less powerful alternatives on the market, a real Passthrough audio capability for apps like PLEX or VLC is a MUST.
Thank you for signing up to iMore. You will receive a verification email shortly.
There was a problem. Please refresh the page and try again.