How to switch to Apple Music from Spotify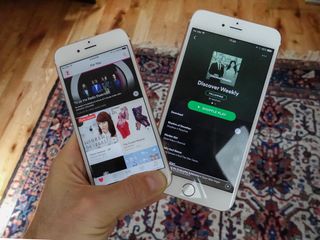 Like many readers of this site, My family and I have taken the plunge on HomePod. Once it arrived and allowed us to hear it with our own ears in our own house, there were a few things we needed to do to take full advantage of what HomePod has to offer. To wit:
Find a good place to set it up.Check! In the great room near the TV. And for the record, it's on a wooden piece of furniture and hasn't left a mark. Still, I'll pick up a coaster for it soon...just to be sure.
Have an Apple Music account.Easy enough. In fact, we signed up for the Family Sharing version, so all four members of our family can partake at a reduced cost.
Figure out what to do about transferring my teenage son's Spotify playlists to Apple Music ... because we don't need to pay for two streaming music services.And that's the point of this article because I'm sure we're not rowing this particular boat alone.
Options Abound
We took a look around online for various Mac and iOS apps that allow playlists to be transferred to Apple Music--and there are several.
Since you need an iOS device to set up HomePod, that provided a pretty good incentive to narrow the search to iOS apps.
There are a variety of options on the App Store that range in price from free, to free with in-app purchases, to a flat cost. Some of the apps can transfer playlists between many music services, some are more limited.
While I was researching options, my son, being the curious sort, was trying some transfer apps on his own...and doing a lot of complaining.
Meanwhile, I downloaded Houdini, a $2.99 app on the App Store. It has received good reviews. And who doesn't think Houdini is a cool name for an app?
So I created a Spotify account for myself (rather than work with his) and gave Houdini a try. If you want to follow in my footsteps with your own music, here's what to do.
Step 1: Get set up
Get your Apple Music account set up and ready to go. Install Spotify on your iOS device and log in to your account. Then do this:
Tap Settings.
Tap Music.
Make sure iCloud Music Library is turned on, then close the Settings app.
Step 2: Let Houdini do its magic (sorry...)
Tap Houdini.
On the Export From screen, tap Spotify as the music service from which you want to export your playlists.
If you're asked to grant access to Apple Music, your music and video activity, and your media library, tap OK.
On the Import To screen, tap Apple Music as the music service into which you want to import your playlists.
On the Playlists screen, tap to select your Spotify playlists to transfer to Apple Music, then tap Next.
Houdini will match songs, informing you of its progress.
When matching is complete, you'll be notified if any tracks on your selected Spotify playlists could not be found on Apple Music. Tap the notification to see the list of missing tracks, which you can share in the usual ways. For example, you might want to save the list of missing tracks in a note so you can go back to Apple Music later and add them manually.
Tap Start Transfer Process to get things rolling.
When the process is done, tap Launch Apple Music, navigate to your playlists, and...Presto!
A few tips when using Houdini
If you run into an error message that Houdini could not access Apple Music, do this:
Tap Settings.
Scroll up, and tap Houdini.
Turn on access to Media & Apple Music, then close the Settings app.
If you see an Authorize screen that includes the phrase "Transfer songs from Apple Music to Spotify"--even though you are transferring songs from Spotify to Apple Music--tap OKAY to connect Houdini to your Spotify account.
While the transfer occurs, we'd recommend leaving the app open and your iOS device connected to power. The more songs in your playlists, the longer it will take to complete the transfer. Plus yourself a lovely beverage to help pass the time, if need be.
A few other things of note
Playlists that you transfer from Houdini to Apple Music are left intact within your Spotify account.
If you choose to keep both Spotify and Apple Music accounts, you can easily transfer at a later date any new playlists you make on Spotify to Apple Music.
If you add a song to an existing Spotify playlist, you can transfer the playlist to Apple Music a second time. You'll wind up with two playlists with the same name, so you'll have to manually delete the older playlist from Apple Music.
Transfer Complete
There are lots of apps available that can transfer playlists between music services. Which ones have worked for you?
Master your iPhone in minutes
iMore offers spot-on advice and guidance from our team of experts, with decades of Apple device experience to lean on. Learn more with iMore!
Mike Matthews is a writer at iMore.com. He has used Apple products all the way back to the Apple II+. He appreciates no longer having to launch apps by loading them from a cassette tape recorder.