What does CarPlay mean to Apple's Business?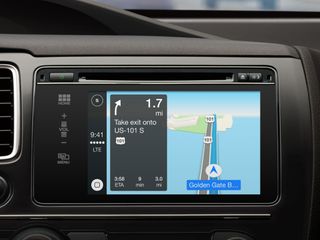 Now that iOS in the Car has been renamed CarPlay and will be shown off at the Geneva Motor Show, I thought it would be fun to start a discussion on what this all means to Apple, its competitors, and car drivers going forward.
It's noteworthy that none of the deals announced so far are exclusive, and I think there's an obvious logic behind this. If you are a car manufacturer, you know darn well that your customers will use iPhones, Android, Windows Phone and yes, even BlackBerry. The last thing you want to do is sign an exclusive deal with one phone manufacturer while another car manufacturer ends up supporting multiple platforms. All this does is potentially alienate certain customers and guarantee that you sell fewer cars.
So I don't think I'm going out on much of a limb when I predict that all smartphone platforms will eventually be able to hook into almost any car. The car's infotainment system will need to function as a two-way interface with the smartphone.
Does this mean there is no competitive advantage for Apple? I don't think it's quite that simple. The smartphone market has started to mature, but it's still growing, so I think Apple can benefit from being a first mover.
BlackBerry's co-founder Mike Lazaridis once told me, in only a half-joking way, that the car is the ultimate smartphone accessory. Phones usually result in the sales of accessories, and I suppose it's possible that some iPhone owners will buy CarPlay-enabled vehicles like a big, expensive accessory to their iPhone. But I think it's just as likely that things go in the other direction and car buyers pick an iPhone because of CarPlay.
So if all cars will support all major platforms in the long run, maybe there is a market opportunity for some third party to design an amazing infotainment system based on a proprietary OS that can connect into anything made by Google, Apple, Microsoft, etc?
Apple doesn't seem to have any interest in doing that. They AirPlay to televisions, they don't license out embedded operating systems to run the television's menu system and interactive features. Likewise, they CarPlay to vehicles, they don't license or embed the operating system that powers the infotainment display when there's no iPhone attached.
I'm fine with that. Apple does best when they stay focused. But it does mean there needs to be something running those systems. So... Hello QNX? Maybe BlackBerry can become the middleman between the world's most popular smartphone operating systems and the world's most popular cars?
Get the best of iMore in your inbox, every day!
Former sell side analyst, out-of-box thinker, consultant, entrepreneur. Interests: Wife & kids, tech, NLP, fitness, travel, investing, 4HWW.
A little confused as to what you mean. Carplay runs on top of qnx as far as I know, so what else is there for them to do?

Good read! We will have to see how this develops. Sent from the iMore App

From Apple's iPod page: "Over 90 percent of new cars sold in the United States have an option for iPod connectivity." iPod connectivity was Apple's foot in the door, leveraging the best music ecosystem. Now it's time to blow the door off its hinges with the best entertainment / navigation / communication / information interface to the driver's iPhone. More on iPod integration: https://www.imore.com/e?link=https2F2Fc2F4...

My 2013 VW has an option to connect my iPhone. Too bad apple went and changed the connector. Sent from the iMore App

I would bet that these in-car systems would be add-ons, so the customer could pick the one that suits him/her best.

Probably cheaper for the car makers to design their own bizarro built-in knob-and-switch interface for use without a smartphone. Just like they already do. Then there will probably be several levels of integration with phones: basic audio jack plug-in and/or USB, then Bluetooth, then CarPlay with the touchscreen and a similar Android solution. I'd expect the Android solution to look and feel kind of like CarPlay, and to use a similar API. I wouldn't be surprised if the car would simply detect which phone has been plugged in, then run either the the CarPlay or Android interface. But I think there will need to be either a plug-in interface or some kind of secure pairing so the guy next to you (or his grade-school kid) on the freeway can't "hijack" your CarPlay system. BlackBerry? Maybe eventually if 1. BlackBerry still exists as an independent corporation, and 2. the car makers' spreadsheets show a profit if they invest in developing a BlackBerry CarPlay clone.

you do know CarPlay is just a layer over QNX which is owned by Blackberry? But from mostly what your are saying you are talking about Mirrorlink (QNX and RealVNC's product). Which can Mirror any phones interface iPhone, Blackberry, Android, WP and use their apps natively.
Watch some videos on it, it's pretty cool. Also look at Qualcomm and QNX team up videos too.

Seems too basic at this point. I'd still prefer the iPhone in mount solution. Glad to see this going though as features should get added.

I believe that this is just the beginning for iOS. It's unbelievable what a single company, alone against the rest of the world, is managing to accomplish. It's being rather difficult for Android to keep up, especially where fragmentations is becoming more of an issue. OEMs are starting to break down and being sold/terminated between each others. Meanwhile, their goes Apple... steady at 13 billion net profit on a single quarter, in years that are supposed to be considered as "calm", "transition" for the company. Android is growing in share/sales a t the expense of feature phones and quality and OEMs. Google isn't making a decent amount of profit from it at all. Meanwhile Apple is doing nothing more than being focussed, adding more people to the ecosystem (many more, actually.). It's staggering especially if you consider than most people are still on the 4/4s/ipad2 combo, very satisfied with the support. Sooner or later a bigger screen will come, and Android will have nothing more to offer to premium buyers. Just like that. All of this to say the following: This is just the beginning. Apple has much more to offer to the car industry going forward. As usual, Google will keep behind the tailwind, eating the rest. But the message is clearer than ever: If you want support, reliability, security, updates and to support innovation, that's Apple. All of that is very important in stuff like TVs, that people keep at least 5 to 10 years, but it is even more crucial in cars.

I am glad you are happy with your Apple products, but clearly you don't have very much knowledge of the competition.

What? Actually I do. More than you, I bet.

Poor Apple, all alone against the world like everyone else. That been said, Ford, for instance, has been integrating iPhones, Androids and Blackberries for years now with their Sync system, that runs on Microsoft software, and will be switching to Blackberry QNX. And Ford is just one of many already doing that. So Apple is not really accomplishing anything there yet, its just another late comer to this market.

Just like there where smartphones before the iPhone, mp3 players before the iPod, tablets before the iPad, AIOs before the 98 iMac, music stores before iTunes, etc. If you can't capture something between what I stated, you are hopeless, pal.
The Sync is a great example of what a pathetic failure should be. This isn't about providing the first product, this is about providing the best experience. Guess what...

You do realize that Android tablet sales are starting to surpass Apple's right? Even their in store apps are catching up in revenue fast to Apple's, this is after a year of going insanely mainstream. Before 2013 it was all about iPhone or even Blackberry. Android was still known as glitchy and buggy until Jelly Bean 4.0 came out. Carplay is over QNX kernel which is owned by Blackberry. Android has the same automotive partners as Apple stating that they are going to have their car Infotainment as well. I'm not sure if it will be running over QNX as well but it would make sense since QNX is unix-like(UNIX is android code) and easily converted as you see with BB10: running 10.2.1 which is running 4.2.2 Jelly Bean and can download any android off the internet on the phone natively.
Not to mention Google and Apple are both Partners with QNX. Check out Mirrorlink videos (QNX and OpenVNC's baby) you can mirror your beloved iPhone screen onto the car Infotainment and use your apps natively. Just like you can with WP, BB and Android as well. Most likely this will just be an option. Apple does have to work on their layer and give people a choice to not use Apple's Maps which is frowned upon in many countries and considered fatal. Apple maps was banned in Australia for causing deaths back in 2012 not sure about now. Now onto your security claim. People forgot about Androids security flaws and now it's all on Apple. Apple is the least secure phone right now which just got brought to the media after 2 years of Apple knowing it and not doing anything. Almost anyone with something between there ears can take all the information off your iPhone when you go to a local Starbucks using their wifi or any wifi for that matter. But that's an example on just 1 of the security loop holes in the iPhone but there are many and now it's most out in the open. Apple is no longer innovative. That ship has sailed. We'll see cool things from them always but it's not innovated its just something with a fancy name and that only works with iPhones like AirDrop (Wifi Direct all phones have it and use with each other but Airdrop only works with iPhone but it's the exact same) and iBeacon (BTE)...

This is even worse than what Rene puts out. Are you serious in your "analysis," or perhaps subtly-parodizing a typical Apple evangelist?

What is a typical "Apple evangelist"?

Has anyone seen the Mercedes video showing CarPlay? I could be driving at 70MPH pull over type an imessage the length of War and Peace and get going again before Siri finally gets round to doing anything sensible. I own lots of Apple products, the IPhone 5S Ipad Air Mac Pro Apple TV's etc and love the eco system but CarPlay appears almost beta software and very slow and cumbersome. Having used Microsofts Cortana interface recently this has exposed serious shortcomings with Siri's response times and maybe Apple should have waited a while

Looks promising, this is only the beginning. I'd be more interested if your could by an off the shelf head unit that you could fit in any car that supports CarPlay.