What iMore wants from an Apple Smart Home hub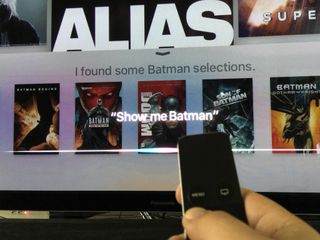 Smart home. An abused term to be sure, but given the burgeoning popularity of products like the Nest Learning Thermostat and Amazon Echo, to name but two, an important one.
With rumors swirling that Apple will release its own Siri-powered living room "hub" to compete with Amazon and Google, a new machine learning arms race is on. Despite claims by Google's CEO that the company is "orders of magnitude" ahead of the competition in terms of conversational A.I. and machine learning, Apple is no stranger to the space, having curated an increasingly capable Siri voice assistant for nearly half a decade.
And then there's the fact that Apple already has a huge head start when it comes to hardware penetration, with millions of people accessing Siri through their always-listening iPhones and easy-to-reach Apple TVs.
First, what's your current relationship with Siri? Casual acquaintance or something steamy?
Serenity
Oh, Siri. I really want to love Apple's voice assistant, but misunderstandings get in the way: This is the kind of product where if it screws up once, your confidence is shaken. Especially when you're attempting tasks while your attention is otherwise occupied. I do use Siri often in the car, and it sends me into frustrated rage approximately 40 percent of the time — usually when it horribly mangles music suggestions or aborted voice texts. When it works, it's glorious; when it doesn't, I give up.
I will say that I've had a much better experience with both Siri on the Apple Watch and Siri on the Apple TV: I'd attribute that largely to the microphone being held closer to your voice when you speak, and the relatively limited queries in contrast with the iPhone.
Rene
I use Siri all the time. I use it to control the lights in my house. I use it to call and text family and friends. I use it to dictate notes. It's gotten to the point where Siri has made me so lazy I can barely stand to type on an iPhone.
But, yeah, Siri is cruel. More often that ought to be possible, Siri won't respond. One minute I'm all "Hey, Siri this" and "Hey, Siri that" and it's working beautifully. The next minute, Siri acts like it doesn't know me. And that's frustrating.
Lory
I've got a somewhat casual relationship with Siri. I know it is a useful feature with lots of productivity tools at my disposal, but I've never really gotten the hang of talking into my iPhone when there isn't a human on the other end. If I'm trying to quickly find out some information, I'll turn to Siri for help because it can usually produce results faster than if I were to go through the steps of looking something up.
Bader
Like a child learning how to speak, count and perform simple tasks, Siri is a delightful and often vexing companion. She always listens, which is great, but more often than not misinterprets what I'm saying. That's why I keep my requests simple and to the point: set an alarm; turn on my lights; hold this grocery bag.
The contrast with Google's voice assistant, Now (soon to be known simply as the Google assistant) is also quite interesting. Because Android phones have access to Google's entire knowledge base and search results — and a bunch of your personal information — it can cater results more specifically. But I know that every time I make one of those requests, Google is slicing off a bit more of my privacy.
Mikah
You promise Siri's not going to see this? OK, cool.
See, Siri and I used to have a pretty good thing going, but our relationship has since faded. You know when you work really hard at a relationship and you make affordances for the sake of it? Well, that's Siri and me. Siri does a few things really well: setting timers, doing math calculations, transcribing text messages. The rest of it (setting calendar events, setting reminders, answering basic questions) has failed too many times for me to trust Siri can get the job done.
And, well, there's another virtual assistant in my life. And it has disappointed me far, far less. Its name is Alexa. Now, Rene would tell me it's not quite fair to compare Siri and Alexa, because the rest of the world (i.e. outside of the U.S.) doesn't have it — and that's a fair point. That said, I do have both and I do compare them. Alexa is bae, Siri is not.
Gartenberg
Siri and I used to be close but lately the relationship has cooled. It's like the more we speak the less we seem to understand each other. Sure, superficially it's fine but try to have an in depth conversation just doesn't work. Of course, I've yet to meet an AI that can really hold their own.
Where do you use Siri most? iPhone, Apple Watch… Apple TV?
Serenity
Currently, Apple TV and Watch. Once I got into the habit, asking the Apple TV for a show is infinitely easier than trying to remember which streaming service owns the media I want to watch, then navigating through its app to find the show page. On the Watch, I use Siri for text replies, timers, and weather questions.
Rene
iPhone 6s Plus, because of untethered "Hey, Siri". I just use it for everything. Apple TV is fighting it out with Apple Watch for second place. Apple Watch doesn't talk back, which I find a little weird still, and Apple TV requires the button be held down, which is terribly inconsistent with iPhone behavior. Whichever gets better first will win the silver.
Lory
Apple TV, hands down. I use Siri on my iPhone occasionally, mostly when I'm showing off to my friends. I'll also use it sometimes when I'm driving and need to access something on my iPhone right away. I rarely use Siri on Apple Watch. It's just too slow. On Apple TV, however, I use it all the time to search for content, play music, and open apps. I'm not sure why I'm more comfortable using Siri on Apple TV than anything else, but it seems easier to use than not use.
Bader
I tend to use Siri most on my Apple Watch, which feels incredibly natural. The things I use Siri for — setting alarms, timers, and checking the weather — are usually off-the-cuff interactions, where I don't always have my phone close at hand. And while I could use the always-on "Hey Siri" mode on my iPhone 6s Plus, there is something satisfying and tactile about holding down the Digital Crown to engage it.
I do use Siri on the Apple TV, because typing is so profoundly difficult on that on-screen keyboard (and the Remote app is a poor substitute). When search via Siri works, it's remarkable — play Chill playlist; find movies with Charlize Theron — but more often than not, Siri doesn't have enough hooks into third-party apps… which leads me to our next point.
Mikah
I use Siri on my iPhone more than anywhere else. It's fast, it hears everything I'm saying, and it just seems to work more often than not when compared to the other places Siri exists.
When it comes to Apple Watch, my arm gets tired by the time Siri finishes loading up my request … maybe I should exercise more often.
As for Apple TV, I never use Siri. Truly, I've never once activated Siri intentionally on my Apple TV. My Apple TV is mostly a Netflix box; I don't need no stinkin' Siri!
Gartenberg
Phone. Siri is great for telling me the weather, setting alarms and timers or placing calls. Perhaps one day there will be better Siri integration in Apple TV but at this point Siri just doesn't have hooks deep enough in all services.
When you do talk to Siri, what do you two talk about?
Serenity
On the iPhone and Watch, it's all about texts, weather information, and playing music. On the Apple TV, I'll ask for shows, have it bring up apps, and use that nifty voice rewind feature. Siri also loves to butt into my conversations, thanks to the always-on "Hey Siri" feature my iPhone 6s has — I know I can turn it off, but I've so far been stubborn (thinking, "Hey, maybe I'll need to remotely trigger Siri one of these days!").
Rene
Turn on my studio lights. Make them purple. Turn off the kitchen lights. Call Georgia on speaker. Text Serenity "I'm almost finished the round table, I swear!". Take a note: "Siri vs. Alexa is hilarious to people outside the U.S…" Play Smooth Criminal. Play Smooth Criminal by Alien Ant Farm. Play Smooth Criminal by Glee. Yes, seriously! What time is it in Hong Kong? Remind me to fix the cabinet when I get to mom's house. Add "read the roundtable" to my calendar on Friday at 4pm. Search Google for "which voice assistants actually work in Canada?"
Lory
I'm always asking Siri for suggestions for music, movies, and TV shows. It tracks down entertainment for me. I also ask Siri about celebrities. If I can't remember who was in a certain movie, Siri can find that out for me, as well as the age of the actor, all of the other movies he or she has been in, and more. Sometimes, Siri doesn't understand what I'm saying and I'll call it names or make fun of it. I like that Apple gave it a personality. It makes it fun to be silly with it.
Bader
What's interesting about Siri is how her practical utility depends on your expectations. Indeed, I derive a lot of utility from hooks into first-party apps like Music and Messages, but I skip right over her when I want to learn about something from the web — even if Wolfram Alpha would give me a decent response.
Mikah
None of your business.
OK, fine. Siri turns off my lights at night (because my Amazon Echo is downstairs out of earshot). Siri helps me set timers. Siri helps me dictate text messages. Siri occasionally launches apps for me. Did I mention it helps me set timers?
Gartenberg
Siri is wonderful at weather forecasting, quoting stock prices and placing calls. Too often though it's just easier for me to do the task myself after one failed listen.
What do you wish Siri could do that it doesn't today? Would more third-party hooks (from a public Siri API) solve those problems?
Serenity
Third-party integration would, of course, be huge. One of the things I love about Amazon's Echo is querying music from Spotify and its other third-party connectors; if Apple can find a way to not only access third-party apps without compromising security, but also build in tiered responses ("What's hot on Yelp tonight? Make a reservation at 7:30. Get me directions via Google Maps"), it could have a huge — international! — hit on its hands.
I also really want more expansive playlist selection. Currently, when I ask "Play me workout music," Siri picks the first Apple Music playlist with "workout" in the name that it can find. I'd much rather prefer Siri give me suggestions for multiple playlists, possibly even tailored to my taste.
Rene
I long for some of the functionality Siri lost when Apple bought the app and turned it into a feature. I'd love Siri to hail me an Uber. I'd delight in Siri ordering me a pizza.
A well designed API (application programming interface) that avoided collisions, respected my privacy, and allowed for even more sophisticated inference and chaining would be, as Serenity said, huge.
Lory
Because I don't use Siri all that often, I don't really feel like it's lacking many features. One thing that I do wish is for Siri to be able to access some of the other apps that I use. Sure, I can send a tweet or post a status update on Facebook, but I'd also like to be able to post to other social networking services, or dictate a journal entry.
Bader
I increasingly rely on Google services on my iPhone, which shuts me out of many things when it comes to Siri. I'd love to be able to add a note to Keep, Google's note-taking app, or send an email using one of my many Google Apps aliases.
Moreover, I think it's fair to assume that Apple knows its apps are not the only ones people use, but they are certainly in demand some of the time. I could have two Workout playlists spread across Apple Music and Spotify, and being able to tell Siri which app to open would be immeasurably useful. That's why contextual conversations, and the ability to integrate third-party apps into those message trees, would be so useful. "Play Workout playlist." Which app would you like the playlist played from? "Spotify" Aww, OK. See?
Ultimately, I want to be able to rely on Siri to get the job done; the more disappointment I feel, the less I want to use the service.
Mikah
Siri cops out too often when I ask it a question or send it a request. It's very rare that I expect my Siri requests will lead to a Google (or Bing [gross]) search, but very often that Siri says, "Here's what I found on the web for you." That's the thing about the Amazon Echo: It doesn't have a screen, so it can't cop out as often.
Still, I'm looking forward to third-party integrations. I think it could serve to improve the platform and maybe make me fall in love with Siri again. I'd like to imagine a world where I can use Siri to control Pocket Casts, ask it about my latest Deliveries, or even ask it to "send this selfie to [Snapchat](https://itunes.apple.com/us/app/snapchat/id447188370?at=10l3Vy&ct=UUimUdUnU38232"
Gartenberg
Certainly other music services would be wonderful. Playing tunes only from Apple Music is limiting. We see what Siri can do with friends like Wikipedia, Wolfram and, Bing. Siri should be able to speak to anyone who wants to listen.
If Apple were to make a Siri-powered Smart Home Hub, what would you want from it? How would it differ from the combination of iPhone/iPad -> AirPlay -> Apple TV?
Serenity
Better microphones. The Echo blows Siri away when you're talking to it: You can speak almost anywhere in a room and Alexa will understand you. This could also be the way to really cement HomeKit (and remote HomeKit) access in your house: The Echo only speaks with some, not all, of Apple's HomeKit-certified partners. I'd also love Apple Music integration, or even — gasp! — Apple Music and Sonos, something the Echo is sorely lacking.
Rene
I'd want the option for a stand-alone hub as well as integration with next-generation Apple TV and AirPort Extreme. Basically, let me put it everywhere and have it in everything.
And, as much as I love privacy, if I enabled Hey Siri, don't make me hold down a button to talk to it. I don't have to do that on iPhone and it causes cognitive load every time I have to do it on Apple TV.
Combine Hey Siri with the constraint-breaking power of constant power and multiple, beamforming mics, and we're most of the way there.
Lory
First off, I'd want it to double as a speaker for listening to music. It would also have to be a lot better than Siri currently is at listening and understanding my requests. On Apple TV, I regularly have to repeat my query and I'll slow down and enunciate my speech, which always irks me a bit. I want to be able to talk to Siri with a normal conversation voice instead of having to talk at it.
I, of course, would want it to be HomeKit enabled so I could have Siri turn on lights, lock doors, and water the lawn. One of the great things about a smart home hub is that you can make your life more convenient with a digital assistant.
A Siri Smart Home Hub would differentiate itself from simply using Siri on the iPhone or Apple TV by being accessible to anyone in the room. If your kids come home before you and want to turn on the living room lights, they could request help from the Siri Hub instead of having to turn them on manually. If your partner is playing Drake and you really want to listen to something else, you can have Siri put something else on without having to pick up your iPhone.
Bader
Like the Apple TV is a hub for AirPlay, I see a potential Apple Home Hub as a conduit for Siri anywhere in the house. And by virtue of iCloud, Apple could easily pair a number of devices together to deliver a seamless smart home experience that incorporates microphones from the closest device, be it an iPhone, Apple Watch, Apple TV or some other box. That's the potential here: eliminating the Siri silo, sort of like the computer from Star Trek — just more sassy.
Mikah
I'd like Apple to take some cues from Amazon's Echo. Basically some sort of hub that's always ready for me, listening for the "Hey, Siri!" keywords. Since it's plugged in and serves the single purpose of being the central Siri hub for my home (so network activity isn't getting clogged up with a bunch of non-Siri stuff like my iPhone or iPad), I'd expect it'd be really good at the job. It should be a better music player than the Echo (hello, Beats acquisition) and it should work really well with my other devices. You know how the Amazon Echo has an optional voice-control remote? It'd be pretty damn swell if I could use my Apple Watch as a voice-control remote for the alleged Apple hub.
As for how it differs from the current state of things, I guess I'd say what I said before: Because it's focused on being the best Siri device it can be, it'd do a far better job of being a Siri device. More microphones, more internal processing power, more storage, etc. means Siri has more on-hand resources to respond quickly, helpfully, and smartly.
Gartenberg
Always on and listening has become table stakes for me. It would seem any Apple TV integration would ideally work even with the screen off. Of course, integrating services such as phone calls and FaceTime would be great.
Privacy is a huge concern with products like Amazon Echo and the upcoming Google Home. Can Apple be successful in this space without harvesting its customers' data?
Serenity
Don't expect Apple to compromise on its customer security just because it might venture more deeply into voice automation and AI. Siri has long anonymized user data, and I wouldn't be surprised to see this continue — or to have any specifically-personal data stored only locally on the device, so you'd need to be in its physical presence to try and get any user data off the drive.
Rene
Touch ID, Apple's biometric finger identity sensor, has shown Apple can meld convenience and security. Hey Siri is beginning to have workable Voice ID. Make Hey Siri a local-only command that, once uttered by a recognized voice, enables the mic, accesses the last few seconds of locally cached audio to make sure there's no gap in recognition, and then away we go.
Server-side is all the rage, but Apple's shown there's a way to mix local and server to increase both privacy and functionality. More of that, please.
Lory
Apple could potentially be the most successful at making consumers feel safe about their privacy. Apple has proclaimed, loudly, that it does not use your personal data - so much so that it is even unable to break into an iPhone remotely. Knowing how far Apple goes to keep your data private will entice tech fans that like the idea of an always-on home system, but don't trust Amazon or Google.
Unfortunately, I think this is also where Apple would fail at a Smart Home Hub. Any limitations that user privacy would impose would make a Siri Home device less usable, less useful, and less interesting than Google or Amazon. Just as we do with most technology, we have to choose privacy or convenience. And, for most people, convenience trumps privacy.
Bader
As Rene said, I think Apple is up to the task of delivering a viable compromise between privacy and convenience with this product. The bigger question is how Tim Cook and co. will sell it to the public without undermining the product's potential, or setting off proverbial alarm bells. There's a difference between a phone that's always listening and a dozen products working together to create a microphone mesh that does the same. Some people may be spooked.
Mikah
Privacy can be a huge concern, sure, but not for me. I know this is a relatively unwise belief/opinion to have, but I'm a young lad of the internet-times — I couldn't care less about the possible privacy implications. I'm not naïve; my Facebook, Twitter, Instagram, Ello, YouTube, and Google Plus accounts are public. I'm already living my life pretty openly on the internet. I'm not afraid to let Google and Amazon have some of my data in exchange for a delightful experience.
But Apple is fundamentally different in its mindset when it comes to user privacy, and that does concern me ever so slightly when it comes to artificial intelligence/machine learning/internet of things products. Maybe the reason I'm so often disappointed by Siri is because it doesn't have the data it needs to provide a truly delightful experience.
But who knows, really? Apple's been pretty doggone good at balancing privacy and functionality. And regardless of that, I know it's not going to change its stance any time soon, so I've got to accept it whether I like it or not.
Gartenberg
I'd say beyond the Digerati privacy is a non issue. Many already give up far more sensitive things to Google than might be heard in their living room. We also know privacy is really important to Apple, Appld doesn't monetize our privacy at all so it will be interesting to see how that balances over time.
Read more of these Editors Roundtables from the full iMore team!
Master your iPhone in minutes
iMore offers spot-on advice and guidance from our team of experts, with decades of Apple device experience to lean on. Learn more with iMore!
Daniel Bader is a Senior Editor at iMore, offering his Canadian analysis on Apple and its awesome products. In addition to writing and producing, Daniel regularly appears on Canadian networks CBC and CTV as a technology analyst.