What's new for CarPlay in iOS 10.3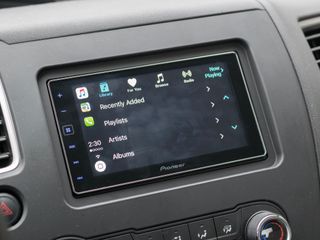 While there aren't a lot in the way of shiny new features in iOS 10.3, the update does bring a nice addition for CarPlay users: Apple has added a quick app switcher to the in-dash system in iOS 10.3.
In CarPlay on iOS 10.3, Apple has moved the clock and wireless status indicators from the center of their side of the display to the bottom corner of that side. This leaves room for three car app icons to appear on that side as well, but in the top corner. The top icon will be your current app, while below that will reside your two most recent apps. Just tap the icons to jump between the apps.
This is a welcome change for CarPlay users. In iOS 10.2 and before, if you wanted to switch between apps, you needed to tap the virtual Home button and choose an app. You might even have needed to swipe to the next Home screen to find the app you're looking for. All of this wastes time and is, more importantly, distracting. Many drivers only need to switch between apps like Maps and Music in any case, so this new system will make that easier, and will hopefully lead to safer driving overall.
Joseph Keller is the former Editor in Chief of iMore. An Apple user for almost 20 years, he spends his time learning the ins and outs of iOS and macOS, always finding ways of getting the most out of his iPhone, iPad, Apple Watch, and Mac.
Anything to improve CarPlay. Pretty underwhelming so far in my aftermarket kit.

Apple even thought about drivers in countries with traffic on "wrong side of road". The app switcher for drivers in Australia is automatically positioned on right edge of the screen, making easier to operate.
One thing that remains Apple Car Play biggest nuisance is access to navigation system features. In order to locate yourself on the map, several steps (clicks) are needed, while the in-car navigation systems display such information instantly. Current approach as offered by Car Play is not only cumbersome, but also unsafe!

Some in car units appear to have te opportunity to change driver position but others (mine's a Skoda Amundsen) has the dock fixed on the right hand side. It would be nice if I could choose to have it on the left due to the positioning of the unit - where it is, I don't get the best view of the content of the dock as its slightly obscured where the display is sunken into the binnacle.

Is it possible to use any navigation app other than Apple Maps with CarPlay? I use TomTom on my phone as my satnav and would ideally like to keep using that if I got a vehicle with CarPlay.

Nope. There's a handful of useless apps plus Apple's Maps, Music and Phone. Really bad. I have CoPilot and am unable to use it with crappy CarPlay...

This is Apple we are talking about. You won't see any apps available on car play that competes with any Apple product.

Apple Map seems to be better in this latest version and shows traffic conditions better. It still has a long way to go to catch up to even the crappiest GPS devices.

Do you think I'd need to wait for the radio to support this? Or will existing CarPlay framework work with the new features in iOS 10.3?

My 20 month old Pioneer picked up on new features right away and the Pioneer itself hasn't had an update in about a year.

Glad I found this post..... I have a new 2016 Honda that I picked up a couple of days ago and wondered if/how the Carplay UI gets updated...... I was thinking that I had to have my car connect to my hotspot to update yadda yadda.... I'll take what it does so far and pretty happy with it, but glad they are doing updates with it to make it a bit more safe and looking forward what they do in the future with IOS 11 etc.... I also hope that there arent any hardware constraints for future updates as well.

problem. I can't listen to am/fm radio or Siriusxm while my phone is connected to CarPlay. No problems yesterday. Frustrating. Anyone else notice this and have a solution? I haven't been able to sit in the car and figure it out.
Has anyone else has noticed this after the update?

Works fine with my Kia Sportage, I can connect with CarPlay hit the radio button and play AM/FM or SiriusXM

I am going to try the apple charge cord. I am using a Anker. I wonder if that is a factor. Thanks for your feedback.

Using the apple cable solved the problem.

With Car Play it's one or the other. Can't have both running.

I think this update is absolutely fabulous because Amazon Music app has appeared! Being a Prime member with loads of off-line music downloaded this is amazing for me. Just need to see if it works with Siri.

I used Siri for the Amazon app today. Sent from the iMore App

*Amazon Music App Sent from the iMore App

Can CarPlay be used without keeping my iPhone plugged in? Sent from the iMore App

I've heard some cars are coming out with wireless CarPlay, but at this time I believe all need the cable connection.
Thank you for signing up to iMore. You will receive a verification email shortly.
There was a problem. Please refresh the page and try again.