Why the Bluetooth in your car sucks (and always will)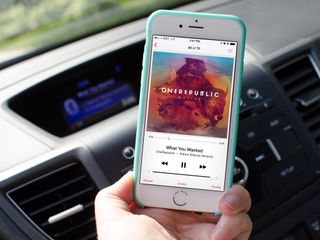 (Image credit: iMore)
(opens in new tab)
Bluetooth technology has been around the block for a while now, and it's getting really good. The sound quality has improved immensely over the years, to the point where a lot of high-end Bluetooth headphones and speakers sound nearly identical to their wired counterparts. Bluetooth has even made its way into your car, and Bluetooth compatible sound systems in all types of vehicles have increasingly become a key feature in more and more models. Yet often, using Bluetooth in your car can be a rather frustrating experience.
From poor connections, delays, and lower audio quality, Bluetooth in vehicles seems to be behind the where Bluetooth as a technology overall currently lies. Here's a quick dive into some key reasons why Bluetooth in your car sucks.
New cars still use old versions of Bluetooth
The newest version of Bluetooth — 5.0 — is a big step up from previous iterations. From better battery life, sound fidelity, and data transfer speeds, it really has pushed Bluetooth (especially from an audio standpoint) to the next level. Most flagship phones, newer computers and laptops, fitness trackers, and all sorts of Bluetooth gadgets will come with Bluetooth 5.0 compatibility nowadays, but your car likely doesn't.
Bluetooth is a two-way street and lots of cars on the road today most likely don't have Bluetooth 5.0, if you bought a car three years ago brand new, that car doesn't have Bluetooth 5.0, and it'll be running something older, Bluetooth 4.2 at the most — it could even be older in some models! So even if your phone does support 5.0, if your car system doesn't, you won't receive the benefits of a 5.0 connection.
Furthermore, even some newer models of cars won't have updated Bluetooth because of the development cycle of a vehicle is much longer than that of new devices and software. So while you may think a 2019 model vehicle should have Bluetooth 5.0, it may be still using the older version, because when the car was being designed and then manufactured, Bluetooth 5.0 wasn't possible yet.
Car software is behind the times
Most of the major auto manufacturers have some sort of operating system for their entertainment system in their cars allows these operating systems are based use technology from companies like BlackBerry, Microsoft, and Linux; many of them were built years ago.
For example, the Ford Sync 3 infotainment system was implemented in 2015 and is still what Ford uses in most of its vehicles. While it has been updated a few times, many brand-new 2018 models were shipping without software updates, causing many users to have to go into the dealership to get the update completed.
There isn't a great delivery system for auto operating system updates. Most cars don't have the option of opening up a settings menu and allowing you to check if there's a new update available. If you have a newer car and you take it to the dealership (or other licensed mechanic's shops) for a tune-up or repairs, most places will hook your car up to a computer to run diagnostics on its systems, which in turn can allow you to get updates. Much like what happened with Ford customers I mentioned above — this just isn't an efficient system for delivering new technology to the masses.
Another problem is those updates happen a lot slower than updates on your phone or computer because automakers just don't update their systems fast enough. When you combine the lackluster pace of any software updates with the fact that there's no efficient system for getting those updates to consumers, it can leave their software laying in the dust as the tech industry runs laps around them.
No real solution on the horizon
Unfortunately, there isn't a super simple answer to this problem. While cars handle Bluetooth a lot better than they could even a few years ago, the development cycles just don't line up.
Bluetooth is updating and getting better all the time, and not just when a new numbered versions show up on the market, but through small software updates along the way, and the auto industry just isn't keeping up.
It's worth mentioning that Bluetooth is not the only way to get audio from your phone to play through your car system. Lots of modern cars have USB and AUX ports that are perfectly capable of playing music. Plus, some vehicles also come with CarPlay or Android Auto that allows you to not only play music but access a few different apps, like Maps, Phone, and Contacts, which can be a pretty satisfying experience.
When it comes to Bluetooth though, the fact of the matter is until auto manufacturers find a more efficient way to update their systems and try to match the development cycle of the software market more closely, Bluetooth in your car will likely always be a lot worse than it should be.
All 20 stories from our 2019 Spotlight on Bluetooth package, all in one place. Whether it's a spot of Bluetooth history, a bit of humor or wireless memery, or some thoughtful analysis on the future of the short-range tech, you'll find it right here, courtesy of the folks at iMore, Android Central, and Windows Central.
Why Bluetooth is so great (and so terrible): A story told via memes
Luke Filipowicz has been a writer at iMore, covering Apple for nearly a decade now. He writes a lot about Apple Watch and iPad but covers the iPhone and Mac as well. He often describes himself as an "Apple user on a budget" and firmly believes that great technology can be affordable if you know where to look. Luke also heads up the iMore Show — a weekly podcast focusing on Apple news, rumors, and products but likes to have some fun along the way.
Luke knows he spends more time on Twitter than he probably should, so feel free to follow him or give him a shout on social media @LukeFilipowicz.
Its your iPhone that's not keeping up to today technology, I have no problem connecting my bluetooth with my samsung Note 10 even my wife Motorola one action works ......Fake news!

It's not even the iPhone, my iPhone worked fine with Bluetooth in my old car, and it works fine in my new car. This article pretty much is fake news, and CarPlay/Android Auto is there to combat the lack of updates to car software

I agree with the author for the most part; the tech in new car entertainment systems is often years behind. There are a couple of solutions though. If you are buying a new car, don't buy the overpriced entertainment\tech package from the auto manufacturer preinstalled in the car. You can have a professionally installed aftermarket system with current technology (BT 5.0) for less. If you have an existing car with poor audio or BT connection, consider replacing the head unit with an aftermarket unit. It can be done for a couple hundred dollars. Have a pro install it, or it can be an easy DIY project. There are plenty of how-to YouTube vids. It's well worth it considering how much time you spend in your car. BTW: I'm not in any way affiliated with the aftermarket car tech industry. Only a fan.

It's like night and day now I've moved to a Tesla Model 3! Had multiple software updates already adding lots of handy features, all done over the air! :)

I like Teslas.... How's the user interface for music?

Bluetooth works great for me in both our cars, but then, they are both aftermarket head units paired to an HTC U12 Plus for me, and the U11 for my wife. I bought the iPhone 11 a few weeks ago and the XS in August, but I tend not to use iPhones for music because of the audio quality. It's fine for the average user, and you would not hear the difference in a car over Bluetooth, but since our music libraries are already on audio-centric devices...

"Most of the major auto manufacturers have some sort of operating system for their entertainment system in their cars allows these operating systems are based use technology from companies like BlackBerry, Microsoft, and Linux". Seriously. How does the above sentence get published? Three web sites involved in this story and NO ONE knows how to proofread? "From poor connections, delays, and lower audio quality, Bluetooth in vehicles seems to be behind the where Bluetooth as a technology overall currently lies." Not nearly as bad as the first quote, but still shows that no one read this before publishing.
Thank you for signing up to iMore. You will receive a verification email shortly.
There was a problem. Please refresh the page and try again.