Why I'm waiting to buy a new iPad Pro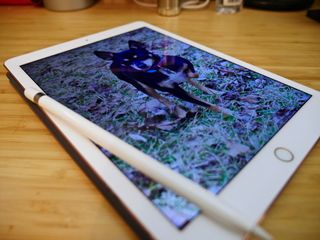 (Image credit: iMore)
Apple just released the brand-spankin'-new 10.5-inch iPad Pro and the freshly updated 12.9-inch iPad Pro. Between that roomier screen on the 10.5-inch, updated (read ridiculously powerful) display tech, and faster A10X Fusion chip, both seem to be calling my name. But I'm going to be equal parts frugal, wise, and annoyed with myself and choose to wait to upgrade to the latest iPad models from Apple.
"But why?" you and the less-responsible parts of myself ask. Well, I'll tell you.
See at Apple (opens in new tab)
I love my 9.7-inch iPad Pro and it loves me
I've said it before and I'll say it again: The 9.7-inch iPad Pro is my ideal Hitchhiker's Guide to the Galaxy. I've rocked iPads Mini, Air, and 12.9-inch Pro, and nothing has been as perfect for me in both size and functionality as my 9.7-inch iPad Pro.
At WWDC in 2016 my 12.9-inch iPad Pro was stolen. It was a whole ordeal that eventually resulted in me replacing the tablet, but when I was presented with the option of replacing it with a 9.7-inch iPad Pro or another 12.9-inch iPad Pro, I had to think about it. See, I'd just been hanging out with Christina Warren and holding her legendary Rose Gold iPad Pro and there was something about the size, weight, and color (of course) that just felt right.
I realized I didn't want a viable laptop replacement (something that the 12.9-inch Pro could very easily be), I just wanted a consumption and creation device that existed between the space occupied by my iPhone 7 and my MacBook Pro. Apple's smaller Pro tablet with its True Tone display and Apple Pencil was calling my name and I couldn't ignore it. I'm not ready to replace my 9.7-inch Pro, because it still feels perfect to me. When (if) that changes, that's when I'll make the jump.
I'm not ready to be ruined
Apple's new iPads have some seriously powerful display tech and I hear it's going to ruin me the same way Retina displays ruined me when they came out: It made using non-Retina devices unpleasant at best and positively old-school at worst. You can read more about Apple's ProMotion by checking out Serenity Caldwell's guide here:
Apple's ProMotion is going to change how we use our devices
It's going to "change how we use our devices," she says. Yeah, that's what I'm worried about. Right now I exist in a world where my 9.7-inch iPad Pro, iPhone 7 Plus, and MacBook Pro are all shining beacons of newness. I bring that 120Hz refresh rate into my home and it's curtains! Our brains are remarkably adept at adjusting to new stimuli so we get used to new things quite quickly. Unfortunately that means we get un-used to old things. When Apple introduced the new non-button Home button on iPhone 7, it didn't take long for the physical button on my iPad Pro to feel too squishy. I'm a little worried the 120Hz refresh rate is going to do the same.
When (if!) I update to the 10.5-inch iPad Pro, it's going to be later this year. I'm holding out hope that Apple's next iPhone will feature the same ProMotion tech in the new iPad Pro. Maybe we'll get True Tone displays, too?
My 9.7-inch iPad Pro is still a viable iOS 11 machine
When iOS 11 ships this fall and I tap that little update button in settings, my 9.7-inch iPad Pro is still going to feel like a brand new device … I know that 'cause I've loaded up the beta and will be running it throughout the summer. No matter the device, iOS 11 is going to bring a boat-load of new features to iOS and to iPad in particular. Between Drag and Drop, the new Dock, the new File app, and updates to the way Apple Pencil and iPad interact, I'm going to have plenty of exciting new things to keep me distracted from ProMotion and the bigger, 10.5-inch screen.
I might want a 10.5-inch screen, I might want the 120Hz refresh rate, and I might even want the better camera system in the 10.5-inch iPad Pro, but do I need those things? No — at least not right now. If Apple reveals some new iOS 11 features at its fall press event aimed at the new iPads Pro, that could easily result in me ponying up the cash. I'm a sucker for FOMO — especially when it comes to new, exclusive features. If my 9.7-inch iPad Pro couldn't do all the new multitasking stuff available in iOS 11, you can bet I'd already be holding a 10.5-inch Pro in my hands … heck, I'd probably be typing this editorial on it. But since, iOS-11-wise, my Pro can do everything the new Pro can do, I can resist the temptation.
I've decided I can wait. What about you?
Are you already rippin', rollin', and scrollin' through your new 10.5-inch iPad Pro? Have you decided to wait to upgrade? Will the 10.5-inch Pro be your first iPad? I'm curious to hear your thoughts (unless you're trying to talk me into upgrading — have mercy!), so be sure to share 'em in the comments below or send me a Tweet!
Get More iPad
(opens in new tab)
Mikah Sargent is Senior Editor at Mobile Nations. When he's not bothering his chihuahuas, Mikah spends entirely too much time and money on HomeKit products. You can follow him on Twitter at @mikahsargent if you're so inclined.
Okay...you are waiting to buy a new iPad because Apple didn't provide you a feature that made it worth the upgrade. What would make you want to upgrade? What new feature? Or perhaps tablets have reached a plateau. New models don't offer enough improvement over the previous. The only reasons to buy a new tablet is when you have to.

The eternal iPad problem: the last few are so good that it is hard to justify an upgrade. I'm torn between the new 9.7 and 10.5 iPads. And all I have is a mini 2… that is so good that I don't have to upgrade. So, ya, I agree; I would wait if I were you. The last one added a lot of features that are very tangible. It has solid upgrades over the iPad Air 2. Plus, you know there will be a model next year that you won't need to upgrade to either.

Same boat here. Waiting (that's what I tell myself anyways). It's really nice going from the 9.7 to the 10.5. You compare the screen sizes, on paper doesn't sound like much, but visually it feels bigger. You go and look at the screens in stores, it looks marvelous. Then Apple throws all these fancy updates at you, and you're just like "oh my god i have to have that." But you gotta stop and think about it. For me what gets me is the USB 3.0, more ram and larger screen (in that order). That fancy ProMotion is just "eh." I've had something similar to it on my Lumia 920 called PureMotion+ no one really noticed it, and I doubt consumers will notice this subtle increase in refresh rate. Pros and technophiles like us will though and it is a welcome improvement, but nothing I have to go run out and have to have. As a hobby photographer, that USB 3.0 coming to the smaller form factor is a bigger thing for me because it'll speed up my workflow for importing photos. Larger screen means ability to just work with more detail as well. Then the RAM means better stability for Lightroom, but even on 2 GB right now it runs pretty nicely. So with iOS 11 coming for it, I think 9.7 owners won't need to really worry unless those things will really increase their productivity. It's a lot of fluff now that I think about it, very drool worthy, but I think I'll stick with the 9.7 till the next iteration (hopefully with force touch to bring a more streamline UI with iPhone and iPad).

I have a 9.7" Pro that works great for me. I had planned to upgrade to the 10.5" and give my current iPad to a member of my staff who would benefit from the keyboard as an upgrade to his older iPad. However, the lack of an Apple silicone back case for the new iPad is holding me back--that's it. I like my current setup with the silicone back and smart keyboard case. The protection is key, but I also just like the feeling of the silicone. The bare metal is too slippery. Apple, I hope you're listening and offer the usual array of Apple cases soon.

I actually sold my 12.9" and purchased the 10.5". I got my wife the 9.7" Pro for Christmas last year and it was just so much more usuable to me than my 12.9 was. Don't get me wrong, I really liked the 12.9, but I wanted to do more with it than just have it attached to a keyboard. Its just to awkward and heavy in my opinion to hold it as a tablet. I purchased the 10.5, and I absolutely love it.

Mikah, I applaud your restraint. Each Apple hardware release comes rolling in on a super-charged hype train. It's hard as a regular consumer to resist jumping on board, and I can only imagine that the allure is compounded for you in your line of work. The truth is that we really don't have to feel like this year's device iteration suddenly makes our current device obsolete. Replacing a perfectly capable device can have a trickle-down effect that leads to a device ending up in a landfill somewhere (you pass along your device, and the person who gets yours gets rid of his, and so on). It's also a wasteful use of hard-earned income to shell out for a replacement that isn't needed. Kudos, Mikah. 👏

Thanks, @johndill17! The following point is particularly salient:

It's also a wasteful use of hard-earned income to shell out for a replacement that isn't needed.

I replaced an iPad 3 (remember those?) with a 9.7" iPad Pro last year, so it will probably be a few more years before I upgrade again. As long as my current Pro gets updates and continues to run well I see no real reason to upgrade every year.

No waiting here. Sold my 9.7 pro and really loving the new iPad 10.5.

Come on the 12.9 is the best size of all. It works well on construction sites when looking at building plans and also watching movies on planes. Its never going to be a replacement for my 13" MacBook Pro.
Will I upgrade my 12.9 no as I don't see the need. It is a shame the new iPads only got the iPhone 7 camera and not the iPhone 7 plus camera.

Hey Micah, thanks for this article as I've been facing a similar dilemma except, I'm still using iPad Air 2 with 64GB and LTE on a daily basis. I am very impressed with the new updates as well, but I'm hesitant for a few reasons myself in no particular order:
1) No Apple Smart Case that everyone is complaining about - absolutely love it on my Air 2, and don't want to give up this setup.
2) Waiting to see if my Mobile provider will be offering LTE versions with a subsidy to take the sting out of the up front cost.
3) Cost: in Canada, with the Foreign Exchange, you can add 25% to the US prices listed.
4) I'm looking to upgrade my iphone this fall from my 6s as it sounds like iphone will be a substantial upgrade this year - and I'm ready to switch to a different colour than the gold I've had since release.
5) Undecided on which size to get....if I opt for the 12.9 wifi and I would keep my Air 2 as a mobile device with LTE, and for bedtime e-reading, as well as a device for my 7 year old son....or sell my Air 2 to offset the cost of the 10.5 LTE Decisions, decisions....going to tempt myself by visiting the local Apple Store this weekend!

Replaced my iPad Air 2 with the new 10.5" iPad Pro. Already running iOS 11 beta too. Fabulous computer.