WWDC 2018: What we didn't get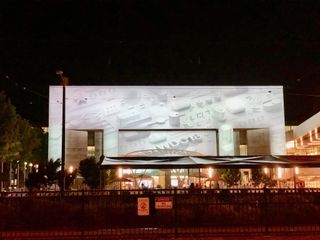 As Apple's Worldwide Developer Conference (WWDC) gets closer and closer to the countdown on our calendars, we start to ponder what we think Apple is going to show off and what we hope it will unveil. Every year, Apple reveals something we had never heard or thought of, and every year it doesn't announce something we had hoped for.
iPad Pros Prose
Though Apple rarely unveils hardware at WWDC (it is a developer conference, after all), there was talk that there might be a refresh of the 12.9 and 10.5-inch iPad Pro models, especially since Apple recently launched the standard 9.7-inch iPad with support for Apple Pencil. Our hopes were on the edge-to-edge (or at least nearly bezel-free) screen, Face ID, True Depth camera, and faster processor.
Much to our chagrin, there is no iPad Pro refresh in our pockets right now. The silver lining: This pretty much ensures we're getting an iPad Pro refresh this fall.
The wireless power of air
Since Apple released three iPhone models with Qi wireless charging support for the first time ever, I've been waiting for AirPower. It's something Apple promised us back in September 2017, but we have yet to see even a hint of it.
Since it's an accessory and not a major new piece of hardware, WWDC seems like it would be the perfect setting to announce a purchase date.
But alas, AirPower, we know you not. Still no release date. Still no more information about its features. Still have to wait.
The good news is that, since this is an accessory and not a major piece of hardware, we could literally see it drop in Apple's retail stores at any moment.
The biggest little upgrade: iPhone SE 2
My personal favorite rumor of 2018 is the possible second-generation iPhone SE. Whether its a refresh with a better processor and camera or a full-fledged new design in a small package, I'm excited about its potential.
So excited that I actually thought it would be something Apple would unveil at WWDC. Is that so silly of me?I mean, Apple dropped the first generation in our laps in March of 2016. How random is that?
Homepod mini
Another long shot here, but there have been murmurs around the water cooler that Apple might have a smaller, less expensive version of the HomePod in the works. If a mini iPhone can launch in March, a mini HomePod could launch at WWDC.
If it is a reality, if a HomePod mini is in the works, it'll probably be available when Apple updates its hardware this fall, or possibly not until next year if development takes longer.
Apple News in more countries
Seriously Apple? I mean, I don't want to be rude, but people outside of the U.S., UK, and Australia do read the news.
I'm sure there is a lot behind the scenes that makes it difficult for the News app to spread around the world. There may be rules and regulations in various countries that limit or restrict what a news aggregator can do.
It would be nice, however, if the News app could reach, even just a few more countries — Canada in particular.
Sleep tracking on Apple Watch
ZZZZ... huh? Oh, sorry. I fell asleep, but I don't know how long because my Apple Watch doesn't have a sleep tracker.
Actually, this is something that Apple could do, but I'm not sure it is something Apple should do. I don't want to sleep with my Watch on. I don't think it would be very comfortable. Plus, when would I charge it?
Though I'm not keen on a sleep tracker for Apple Watch, I know it could be a real bonus feature for a lot of people that like to track their sleeping habits.
With the quality of some of the other health tracker features that Apple Watch has, like heart rate and steps, I can only imagine that a sleep tracker would be pretty dang accurate.
A really good sleep tracker might need special hardware. This may end up a feature in the next-generation Apple Watch.
Magazine subscriptions lost in the News cycle
Apple bought Texture, the subscription-based digital magazine service, in March of 2018. Though that really isn't a whole lot of time to redesign and integrate its functionality into Apple News or create an entirely new app and storefront, we had high hopes (didn't I mention that at the beginning?).
I don't really know what Apple plans to do with Texture as a whole. It's possible it will simply get folded into the News app, where access to your magazine subscriptions will appear in your Today section so you can read articles at your leisure.
It's not likely that we'll see anything relating to a magazine subscription service before the next WWDC in 2019.
Bigger free iCloud storage tier
If I could ask Apple for one thing, it would be a larger free iCloud storage tier. OK, that's not true, I'd probably ask for an Apple car. But, in 2018, what with practically everything being stored in iCloud, including iMessages, isn't it time Apple gave us a small upgrade to the free cloud storage tier? Apple is pretty much the last major cloud service that has such a low free option.
I think a lot more people would be willing to use the Photos app in iCloud if they had just five or 10 more GBs of storage. Am I right?
One More Thing
Were you hoping Apple would announce something at WWDC 2018? Were you sure a new feature was coming that didn't make the cut? Let's lament what we didn't get while we play with all of the cool new features we did get in iOS 12.
○ Everything about WWDC 2020
○ WWDC 2020 remote lineup
○ Download the Apple Developer app (opens in new tab)
○ iOS/iPadOS 14
○ macOS 10.16
○ watchOS 7
○ tvOS 14
○ Discussion forums

Get the best of iMore in your inbox, every day!
Lory is a renaissance woman, writing news, reviews, and how-to guides for iMore. She also fancies herself a bit of a rock star in her town and spends too much time reading comic books. If she's not typing away at her keyboard, you can probably find her at Disneyland or watching Star Wars (or both).
I also secretly hoped for the SE2 too, even though I figured it might not happen there.

Custom watch faces, rumoured a couple of months back, are sadly still missing. Overall though — a good set of updates.

I think sleep tracking from Apple on the Watch would be great. I've played with a number of the 3rd party apps and there seems to be room for improvement. I don't find wearing my watch to bed to be uncomfortable. I handle the charging issues by throwing it on the charger during the 30-60 before I'm really ready for bed. I then put it on and use the Theater Mode while I sleep. In the morning I throw it on the charger while I shower and get ready. Works great for me!

Refreshes for the Mac lines. I've got a 2016 with a broken space bar and damaged screen. I was expecting a refresh in time for bts so I could benefit from updated 2018 specs instead of last years model

Why do you want fingerprints all over your screen?

I don't see the large appeal for wireless charging. Using Lighting cables around the home allow me to charge my devices, including my iPads. I also don't have large (ugly with the exception of the Grovemade) pads taking up a lot of tabletop space. Also the AirPower won't work on all Apple Watch bands.

Yeah, I don't get "wireless" charging either. First, there IS a wire. It just goes to a different thing, which is 1/2 inch below the thing you are charging. Second, if you pick up your phone to check something, charging stops. If it is plugged in charging, it still charges while it is in your hand. Third, "wireless" charging is slower, less efficient and creates more heat. It just seems like a gimmick, a check mark on the list of features. No real advantage. I've had it on many phones, before my 8 plus. I used it maybe 3 times. But after discovering all of the above, I stopped using it. I have never used it on my 8 plus. I sold the charging pad along with the phones.

We need proximity charging, like this: https://www.picharging.com

Lets see, 'cause when you plug something into a mechanical port a thousand time it tends to wear it out or can cause damage?

This is a very good point, and also why Apple got rid of the home button

"But alas, AirPower, we know you not. Still no release date. Still no more information about its features. Still have to wait.....The good news is that, since this is an accessory and not a major piece of hardware, we could literally see it drop in Apple's retail stores at any moment." There's something else suspiciously missing in this realm - the wireless rechargeable Air Pod case - without it, the "three device" charger is a two-legged stool...so no new Air Pods, no AirPower either?

Actually a two-legged chair as it doesn't charge iPads.

Other services have a higher initial cap than 5 GB and some of them offer incentives to raise the free cap. Thanks to this I've never had the need to use iCloud for much besides storing my Apple account credentials and Safari bookmarks.

it looks like apple has another event in august for MUSIC so we see iphone SE, homepod mini, airpods and new ipads. maybe they call it back to school event? just thought

I'd like to see an upgrade to the free storage tier as well. I have like 19GB free with the "evil" competitor. Though the 50GB for 99 cents is probably more than I'd need if I did have to pay to upgrade (vs "evil competitor" is $2 for 100GB at the first tier).

This needs to come very soon, especially for OLED displays where it can actually increase battery life

Maybe we could get better updates in the last quarter of this year. More stuffs coming for this year from https://netgears.support/netgear-powerline/

I'd much rather Apple put a HDD Optimization utility (which does relocation and consolidation) in macOS, so those of us who made the fatal mistake of buying an HDD-only iMac can get decent performance without doing the Time Machine - HDD Wipe - Restore from Backup after every sizable update to force disk optimization. Shops want $90-125+ just to swap out the HDD for an SSD - and that's if you buy your own SSD, so I've basically just decided it will be nothing but a web browser until I finally chuck it an replace it with a second display for my gaming notebook. It isn't exactly new, anyways... The performance is too bad, and it's too time sucking to constantly have to wipe your machine because the OS doesn't provide the tools to keep it running well. This is not an issue with Windows - I click "Optimize" and the OS will Defrag, Relocate, and Consolidate everything. Performance is good, even on OLD laptops. Word on my iMac takes 14 seconds to load, but like 5 seconds on an old AMD E-300 Netbook I pulled out of the closet (just to test), off an even worse 5,400 RPM drive than my Dell "Secondary Notebook" (which has a FireCuda SSHD). I have none of the slow boot up or molasses app launch issues I have with this Mac even on that weak-*** "Netbook." With an SSHD, my "secondary laptop" feels like it's running off a pure SATA SSD compared to this iMac; even when it's working with non-SSD cached data. It's just faster, and the OS makes it easy to keep all the data contiguous and at the front of the disk. macOS doesn't do this, and High Sierra broke a lot of the cheaper 3rd party disk optimization tools, as well. Apple used the cheapest, slowest drives they could find in these machines. Worst $1,300 investment of my life, thus far.

STILL no way to change default font size in Safari for iOS