Is your iTunes Store app crashing after updating to iOS 7? Here's how to fix it!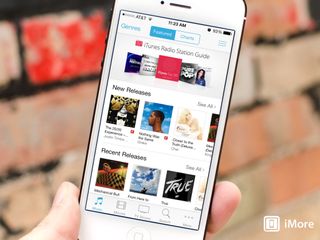 We've seen a few readers complaining that after upgrading to iOS 7 the iTunes Store app on their iPhone or iPad won't launch and just crashes immediately after trying to open it. From what we've managed to dig up, you aren't alone in having the issue but fortunately, there are a few solutions that seem to be working for people.
Here they are:
Quit the iTunes Store app and try relaunching it
Double tap the Home button on your iPhone or iPad to bring up the multitasking section.
Find the iTunes Store app and swipe up in order to quit it.
Now relaunch the app and see if it still crashes.
If the app is still crashing, keep reading. If the iTunes Store app now works, that's it.
Enter iTunes through the Music app instead
Launch the Music app on your iPhone or iPad that's having the problem.
In the upper left hand corner, tap on Store.
You should be re-routed to the iTunes Store app. This time, it should load just fine. You should only have to do this one time and find that after loading it through the Music app, the iTunes Store app loads fine on its own. If it doesn't or it's still crashing, continue on.
Change your Cookie settings
Launch the Settings app from your iPhone or iPad.
Scroll down and tap on Safari.
Under the Privacy & Security section, tap on Block Cookies.
Make sure that From third parties and advertisers is selected.
People that have it set to Always seem to be the ones having trouble connecting to the iTunes Store app for some reason.
Still having issues?
If you've tried all the steps above and you still can't launch the iTunes Store app, you may have to fully restore your iPhone or iPad. If you've found another workaround or solution that worked for you, let us know in the comments!
iMore senior editor from 2011 to 2015.
There is a notable crash issue with iTunes Radio that must be addressed. Whenever you could be listening to a song from time to time and/or delete a station and creating a new one, the iPhone will completely reboot and the iPhone will go back to normal? Any insight on this?

Haven't had that one yet on any of my 4 devices (and I'm sure if my gf experienced it on 1 of hers I would've heard her b¡tch about it by now), sucks for you bc that's crazy annoying if you're trying to go "all in" with iTunes Radio. Hope you find a solution

That's the problem I am having as well. Have you found anything on it since posting this comment?

I have this issue on my 4th gen ipod not on ios7. Lol

Here's what worked for me: Settings app -- General -- Reset -- Reset All Settings after doing that iTunes Store worked flawlessly. Sent from the iMore App

Solved! Thanks so much.
Sadly, the new iOS 7.0.2 update didn't solve the issue: shameful.

I had this problem; went to an Apple Store. They never saw the problem before (I talked to a specialist, not a genius). Your second method (iTunes through the music app) worked for me! Thanks!

Here's how I fixed it: 1. Go into Settings --> iTunes and App Store --> sign out of your account
2. Hard restart phone (hold home and power buttons until phone shuts off) --> turn back on
3. Go into Settings --> iTunes and App Store --> sign back in
4. Your're done Worked like a charm for me.

You gotta love this man! Thank you so much for this fix.

Your comment was very helpful and I was able to fix my iTunes acct. Nothing else that I tried worked, but what you said worked the first time. Thank you so much for sharing this information.

This kinda worked for me, with one additional step: After resetting itunes as above, open music and access store here. After the message "Cannot Access ITunes Store" pops up, ignore it and press one of the dept icons on the bottom (I chose film). Then hit music again and the store should spring into life. Then you can access straight from the iTunes app again.

Brilliant!! Tried a few of the suggestions above and only this one worked for me :) cheers!

This worked for me too! Thank you so much! I REALLY didn't want to reset my stuff - I JUST had set it up ;).

Awesome, thank u soooooooooo much. I tried all the above mentions prior to reading yours & what you said is the only thing that did the trick. Thanks again for the helpful tip :-)

This worked for me! Thanks! FYI I tried everything in the article before this and none of it worked.

I just started having this issue and your solution resolved it for me. Thank you so much!

Awesome suggestions. I'll check into what's working for you and update the article as well. Thanks!

For me nothing of this worked I mean the steps, so what I did was restore the phone using iTunes. After installing the system and put my phone like new, I restore the backup to have everything the way it was. That was the only way to get iTunes Store working. I contacted apple "iTunes Store" and this guy didn't even send me any kind of step to do but just in link to Q

Thank you so much. The above steps worked for me. Great site and really appreciate the post.

i'm on ios 6, i did not upgrade, and as soon as ios 7 went public my app store went all screwy. One issue is updates are available but the update page is blank. That is there is a red notification saying 24 updates available but you can't actually update because the update page is has not apps in it. the page is their and "purchased" but nothing it doesn't show apps. closing the app store worked the first day. Now it doesn't seem to work. But also this doesn't happen all the time. It's random. Sometimes i open and the updates are there other times it isn't. Weird. side note one thing i hate is i'm searching a long needlessly cumbersome list, i click a app, don't like it, click back and it goes and reloads going right back to the top of the list meaning i have to scroll that stupid cumbersome list again. No idea why the app store is so poorly laid out, so user unfriendly other than Apple seems to love keeping certain things needlessly cumbersome in places.

I just started buying my music from amazon again.

Been have problems with the iMore app crashing. It is random, and my comments will be cut off. As for the store, no problems, but I wish the update section would not show updated apps. Sent from the iMore App

I did not know where else to leave this comment through the app. iPhone 4S
iOS 7.0.2 iMore app crashes every time I try to load iPhone 5s review in the app. Tried to open the review in the browser through the app with the same results. Kindly advice. Sent from the iMore App

I had to change the cookies setting one level further than recommended, i.e., "from third parties and advertisers" as it was set to "Never." Then iTunes launched for me. Before that it was iTunes would crash as soon as I saw the search window.

In your settings.. Log out of iTunes and then log back in.. That worked for me..

I did all three of these in order. I can't be sure if the first two helped, but I definitely had to change the cookie blocking to get it working again. I just recently set that for another reason but can't recall what. Great article. Thanks!

I got in through the the music app. Just started happening to me out of the blue. What's causing it I wonder? Thanks for the solution!

cookie settings worked for me ! thank you !

It worked fine for me, thanks for that. The one that worked for me was "Enter iTunes through the Music app"

Finally! U R THE F****** BEST !!!!!!
I have been trying to get into itunes for such a long time but it just wasn't loading, I used the last method. THANK YOU SO SO MUCH! (hug)

Changing cookies to never block worked for us. Thanks!!

The only thing that worked for me is updating iTunes on my computer to 11.1 and then syncing.
I have an iPhone5/ios7

Thanks a lot, I fixed it with option 2 I couldn't even download music stored in the cloud but now I can open itunes and download music

I have an iPhone 5, and yes, after recently downloading it I had problems loading. It would attempt to load, and then fail to load. However, thanks to this, I have been able to restore full usability to it.

thank you this has really helped! I've read elsewhere you have to reset your phone. glad I found this page before I did (:

I found my itunes app was crashing on my 4s before opening and tried the above without success. I found my pop-up blocker was on and turned it off. Now it's working fine. Coincidence? But it worked

Thanks. My wife has been complaining about this for a month.

i am trying to install IOS 7 but it's showing me this sign of itunes and a usb,i don't know what to do anymore...any of u guys having same issue ?

I have a problem with my apple ID the old purchased apps it is hiden i dont see it :( ??? Sent from the iMore App

I have a problem with my apple ID the old purchased apps it is hiden i dont see it :( ??? Sent from the iMore App

I am wanting to add lyrics to my songs for my daughter to use with Karaoke songs... however when I right click on a song and the click on "get info" iTunes closes down. Can anyone help me? Thanks

I have this as well. Doin my head in hard. But I also have the problem I have to sign into my iTunes serval times even tho I'd be using it 5mins before hand leave and come back to it. Or also when I play candy crush and want to but those help things (don't judge keeps me from throwing my phone) I put my iTunes password in then comes back with a screen saying "this is not a test ACC. Please created an environment sandbox account" well something along those lines and I quit all my apps sign out of iTunes reboot my iPhone then sign back to iTunes but get same problem and the only way I've worked out to work my iTunes is change my password. It's now the point I forget why I used an then have to complete reset my password cause I guess the wrong answers. Please anyone got any advice back I'm ready to jump on my phone throw it do whatever so I don't deal with iTunes but don't want an android phone way to hard to use for me. :"(

I tried all of the above, still wasn't working. I had to change the settings for how often to insert my password, from immediately to every 15 minutes. Now it seems to be updating. Fingers crossed...

Thank you so much! My iTunes app has been doing this since way before ios7.
I tried the Music app>Store way & now it's fixed. Thanks, again!
Thank you for signing up to iMore. You will receive a verification email shortly.
There was a problem. Please refresh the page and try again.