YouTube: Everything you need to know!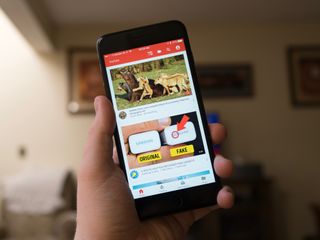 These days, YouTube is synonymous with online video. It's the destination to watch videos, everything from movie trailers and music videos to vlogs and even news. While there are other video sites out there, none of them come close to matching YouTube's reach, massive content catalog, and global cultural ubiquity.
If you've got any questions about YouTube, you've come to the right place for the answers.
What's new with YouTube?
Check back here for the latest updates in YouTube news.
May 24, 2018 - YouTube is no longer chronological?
YouTube seems to be experimenting with how content appears in subscribers feeds, and (spoiler alert) people are not happy.
Just to clarify. We are currently experimenting with how to show content in the subs feed. We find that some viewers are able to more easily find the videos they want to watch when we order the subs feed in a personalized order vs always showing most recent video first.Just to clarify. We are currently experimenting with how to show content in the subs feed. We find that some viewers are able to more easily find the videos they want to watch when we order the subs feed in a personalized order vs always showing most recent video first.— TeamYouTube (@TeamYouTube) May 23, 2018May 23, 2018
People have pointed out that the change is similar to Instagram getting rid of chronological posting order, and then have pointed out how that's ruined their Instagram experience in one way or another.
May 11, 2018 - YouTube for iOS now supports HDR on iPhone 8, X
YouTube has quite a bit of HDR content on its platform and folks using HDR-enabled devices like iPhone 8, iPhone 8 Plus, and iPhone X can now take advantage of the true beauty that is HDR video. Curiously, HDR video doesn't seemed to be supported on the HDR-enabled iPad Pro just yet. Fingers crossed YouTube adds it there, too. I started watching this video on my iPhone X and the app automatically played it in HDR. It looked INCREDIBLE.
https://www.youtube.com/watch?v=tO01J-M3g0U
Follow these steps to enable HDR content in the YouTube app for iOS:
Launch the YouTube app on an HDR-enabled iPhone.
Find an HDR video.
Tap the Settings button (looks like three vertical dots).
Tap Quality.
Choose a version of the video in HDR.
March 13, 2018 - YouTube's rumored dark mode for iOS begins roll out
Apparently YouTube's dark mode tests went well, 'cause YouTube for iOS is getting a dark theme! Starting today, iOS users will begin to see a dark mode option available in their YouTube app. The new feature, called "dark theme," will be available on the app's Settings page.
Tap on your account icon (your avatar in the top right corner of the app).
Tap Settings.
Tap to toggle on Dark Theme.
Although it'll begin rolling out to just iOS users today, YouTube says it'll start hitting Android devices soon.
January 16, 2018 - YouTube is testing a new 'dark mode' for its iOS app
Sensitive-eyed folks rejoice: it seems that YouTube's official iOS app is finally going to have a dark mode.
After rolling out a dark mode on the web along with an completely revamped design last spring, the video sharing giant appears to be attempting to bring it to mobile as well. First reported by Tim Hardwick over at MacRumors, the new feature was spotted by Reddit user Dean Cobb on Monday after he updated to version 13.01.4 of the official YouTube app for iOS.
Unfortunately, Hardwick notes, YouTube's dark mode definitely hasn't reached everyone:
The user responses to Cobb's Reddit thread further confirm this, as some say they also received the dark mode after updating while others who've updated have yet to see the viewing option show up in Settings. Still others claim they received a pop-up prompting them to try the feature even though they didn't see the option initially.
The release notes provided on Apple's App Store for the update contain no information regarding the new viewing mode.
According to TechCrunch, a dark mode is currently one of the most requested features from YouTube users for a multitude of reasons, most involving reduced battery drain, reduced eye strain, and less visual distraction. However, after implementing the dark theme on the web, the company still wanted to wait to see if it gained any traction before extending it to mobile as well. The fact that a dark mode for iOS is currently in testing seems to indicate that user response was satisfying enough to warrant the addition.
If you've updated and want to see whether or not you're one of the lucky ones with dark mode access, all you have to do is open the YouTube app's Settings menu by tapping on the three dots in the top righthand corner, then tapping Settings. If the feature is available to you at this time, you'll see an option to toggle on "Dark Theme" directly underneath the header for the YouTube section of the menu.
November 29, 2017 - YouTube's new Reels format is its own version of Stories
YouTube announced today on its Creator Blog that it will soon be introducing a new Community feature resembling Snapchat and Instagram's "stories" format. Called Reels, the feature was designed specifically for YouTube creators who want to engage more with their fans without needing to upload an entire edited, polished video.
According TechCrunch, Reels will allow creators to shoot a few quick mobile videos (with each video being up to 30 seconds long) and then add things like filters, stickers, text, and music. Reels will however differ from Snapchat and Instagram stories in that creators will be able to make multiple reels, and they won't expire and disappear after 24 hours. Reels also won't appear at the top of your YouTube feed, but will instead be located in a dedicated Community tab on a creator's channel page.
Right now, Reels is only available as a private beta to creators who have 10,000 or more subscribers. However, after beta testing is completed, it will be rolled out to all YouTube creators.
November 27, 2017 - YouTube claims that its iOS app's battery drain issue is no more
According to the release notes for version 12.45 of the YouTube app for iPhone, the update — issued today — has finally resolved the battery drain problem users were experiencing.
YouTube first promised it would resolve the issue earlier this month after receiving a lot of user complaints regarding battery loss, with one user even claiming that the app drained 20% of their iPhone X battery in just 30 minutes. Some Reddit users also claimed that their phones were overheating while using the app.
Though watching videos on a mobile device can use power more rapidly than, say, scrolling through Twitter, many found that even just watching videos in Safari instead of in the YouTube app allowed them to avoid the dramatic drain. If you've been suffering some intensely disproportionate power loss while using the app, we definitely suggest you update as soon as possible.
September 5, 2017 - YouTube now allows users to stream their iPhone screen
That's right - right now anyone with more than 100 YouTube subscribers can stream their iPhone screen directly to the YouTube app.
You can stream while playing a game, doodling in a digital art app, and everything in between. For avid game streamers, this also means that you can use your iPhone's front-facing camera to add additional video commentary while streaming. Another new feature being rolled out today is ultra low live streaming latency, meaning there will now be very little delay between what happens on your live stream and what shows up on YouTube. This will allow for quicker communication between fans and streamers, as streamers will now be able to respond to their viewers in as close to real time as possible.
YouTube is rounding out livestream improvements adding new tools for simplified chat moderation. Streamers will now be able to pause the chat feed by holding the alt/option button, allowing them to remove or approve messages. YouTube's system will also identify potentially inappropriate messages and flag them for review, and you can even blacklist certain words or phrases to keep them from appearing in the chat. Finally, moderators will also be able to use the same hidden users lists for both comments and live chat.
What is YouTube?
YouTube is, at its core, a video-sharing website. Owned by Google since 2006, YouTube has become an absolute behemoth of online video, with over 1 billion hours of video watched on the site each day. The content of YouTube's library runs the gamut, so whether you're looking for makeup tips or music videos, you'll find pretty much anything you need on YouTube.
How can I watch videos on YouTube?
Either head to YouTube.com, or, if you're on iPhone, iPad, or Apple TV, you can download the official YouTube app for a native video watching experience.
Can I make videos of my own and put them on YouTube?
You can! If you've already got a YouTube account, the official YouTube app lets you easily capture and upload videos directly, as well as upload the videos from your iPhone's Camera Roll.
Beyond that, what you upload depends on a number of factors. Maybe you want to get a dedicated camera for recording your videos and invest in some editing software. Maybe you don't have any defined goals for your channel and just want to wing it. It's really up to you.
Does YouTube offer any live content?
Over the past several years, YouTube has been putting a bigger emphasis on live video. If you've got a verified channel then you can go live from your computer at any time. If you want to go live on your iPhone or iPad, your channel will need at least 1,000 subscribers.
So what's with the ads?
Ads are how YouTube and the many creators across the site make most of their money. The servers needed to keep YouTube up and running cost money after all, and rather than requiring a subscription to view its content, YouTube instead makes money from advertisers who in turn get access to your valuable attention for whatever they're selling.
Ads on YouTube come in a variety of formats. These include display ads that run alongside the video you're watching, overlays that take over a portion of the video's screen, skippable video ads that run ahead of a video, and un-skippable video ads. Some of these appear on YouTube's desktop site, while others are geared more towards mobile users.
Is there any way to get rid of them without using some kind of ad blocker?
Indeed there is. It's called YouTube Red, and it offers an ad-free experience across YouTube, along with other benefits for $9.99 per month.
What are the other benefits of YouTube Red?
Alongside a distinct lack of advertisements, YouTube Red allows you to download videos from YouTube for offline viewing, both on the desktop site and through the official YouTube app. YouTube Red also has a number of original shows from top YouTube creators, exclusive to YouTube Red subscribers.
Other benefits focus on music. As a YouTube Red subscriber, you get full access to Google Play Music Unlimited, a music streaming service akin to Apple Music or Spotify. You'll also be able to use YouTube Music offline and in the background on your mobile devices.
What is YouTube Music?
Since its inception, music has been a fairly important component of YouTube's overall experience, from music videos released by record companies to less-than-legal distribution of new tracks from top artists. In order to make it easier for users to find music on the service, YouTube Music was born.
With the YouTube Music app, you can easily find stations based on the music videos that you watch, get personalized stations that learn your tastes, or browse through the massive library of music content on YouTube. While the service is a great place to find video content, the app has an audio-only mode so you can use YouTube Music like any other music app.
You can find YouTube Music on the App Store for free.
Questions?
If you've got any more questions about YouTube, be sure to let us know in the comments.
Master your iPhone in minutes
iMore offers spot-on advice and guidance from our team of experts, with decades of Apple device experience to lean on. Learn more with iMore!
Joseph Keller is the former Editor in Chief of iMore. An Apple user for almost 20 years, he spends his time learning the ins and outs of iOS and macOS, always finding ways of getting the most out of his iPhone, iPad, Apple Watch, and Mac.