YouTube picks up support for the iPad Pro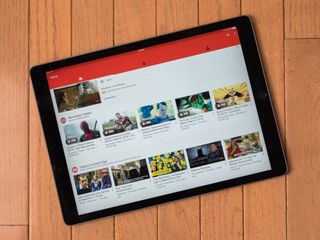 Google has updated its YouTube app for the iPhone and iPad, adding support for the native resolution of the iPad Pro. While it won't up the resolution at which you can watch videos, but it will make navigating around the app more pleasant. This update also adds a few minor interface tweaks.
Here are the headline features of YouTube 11.06:
Native resolution on iPad Pro
Fixed bug that caused the keyboard to freeze while commenting
Fixed bug that caused a crash after adding an account on iOS 7
You can grab the latest update to YouTube from the App Store now.
Joseph Keller is the former Editor in Chief of iMore. An Apple user for almost 20 years, he spends his time learning the ins and outs of iOS and macOS, always finding ways of getting the most out of his iPhone, iPad, Apple Watch, and Mac.
Even for users with YouTube Red?

I thought PiP was reserved for Youtube red subscribers.

No, it doesn't even exist for Red subscribers. They get background play, yes, but it's audio and no video.

Good that I bought pro tube app. But it now has a nasty comment bug that Google needs to fix in its API.

They have no reason to fix the API, to be honest. Most apps block ads, and that pretty much ruins all reason for them to care about third party apps.

Very valid point. Did not think of it.

Off subject, but I feel the need to applaud this type of response. Normally when I mention ads in regards to anything on the Internet, there is no end to the amount of hatred toward the idea.

I was going to applaud this and say "Bout time!" Buuuuut... No PiP support is a crock!

Still no pip mode ?? :( Sent from the iMore App

I will say it again to be repetitive! Still no PIP & split screen. Still no PIP & split screen. Folks, as long as the majority of the major media/content and cable companies do not support these two features, it makes the iPad mostly a single-function at a time content consumption device. Will it ever be useable for true multi-tasking except for Ren's workflows and a few other unique cases? And then why would anyone want to use an iPad Pro to have the same limited functionality on just a bigger screen and more expenses except if they want to draw a pretty picture like Ren does or like/need bigger pictures? BTW, I use YouPlayer, which is a third party YouTube player iOS App that supports PIP and split screen on any of the new iPads and it works great so at least it's a work around for YouTube/Google not supporting these features. Get it here: https://itunes.apple.com/us/app/youplayer-video-player-for/id561921453?a... But still waiting for Comcast and the major networks to support......these features will be a year old in a few months if you count their beta release at WWDC.

And no 3D Touch (search would be nice as shortcut)! How about Apple makes a similar app?!? Apple tube.. Sent from the iMore App

Apple used to have their own YouTube app built into the operating system, and it worked a lot better than the Google one

While I do understand the various wish list items (PiP, Split-Screen etc.), I would already be happy if the app would have even 10% of the usability and UI/UX compliance of Apple's old YouTube app. This is, by far, the worst GUI I have on my iPad Pro (and I really only use it at all, because they deliberately crippled their web site on the iPad). The clumsy way to return to the start screen, the lack of a usable history, the erratic play-back / pause behavior, the completely ridiculous tap indications in full screen mode... None of that belongs on iOS. (I am willing to watch the ads where required, that's not the point – but Google is quite obviously unwilling to create apps to match the platform they want to make money on,)

The YouTube app is such an abomination I deleted it from my iPad long ago. Sadly, their horrid experience via Safari is just as pathetic. It's like an early-days mobile experience.....in 2016.
Thanks for nothing, Google.. Again.
Get the best of iMore in in your inbox, every day!
Thank you for signing up to iMore. You will receive a verification email shortly.
There was a problem. Please refresh the page and try again.