YouTube Premium vs. Apple Music: What's the difference?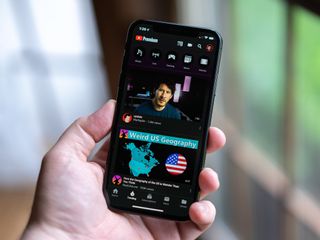 (Image credit: iMore)
YouTube is sort of putting all of its eggs in one basket with the new YouTube Premium. It's much more than just music, and if amateur covers and mashups and remixes catch your fancy more often than not, then it may be better for you than Apple Music.
Here's how the two stack up against one another.
YouTube Music - Download now (opens in new tab)
What is YouTube Premium?
It's YouTube's 2018 rebrand of YouTube Red. It comprises YouTube Music, YouTube Gaming, and YouTube Kids. It lets you watch original YouTube content, listen to tens of thousands of songs from both mainstream artists and amateurs, and you can even save videos to your iPhone or iPad to watch them offline.
What does YouTube Premium have that Apple Music doesn't?
While Apple Music lets you listen to over 40 million songs on any device, anywhere, YouTube Premium features even more music, thanks to the plethora of originals and covers you can find on YouTube. As mentioned, you can save YouTube videos for offline viewing, and you'll get to be first to watch exclusive content created by some of the biggest YouTubers in the business.
And it's not like you have to surf YouTube the traditional way if you just want music — you can listen to tunes ad-free in an interface similar to other streaming services.
The best feature (and one of the most callous exercises in capitalism I've ever seen) is the ability to play YouTube videos in the background. So you can finally start up a video, leave the app, and it'll continue while you do other stuff on your device. It sucks that you have to pay for something that should be obvious, but hey, Google has good business sense. If you're on Android and running Oreo, you can also take advantage of the picture-in-picture feature.
How much?
YouTube Premium is $11.99 a month, $2 more than Apple Music, but for an extra $2, you get an ever-expanding music library, background YouTube videos, YouTube Gaming, and YouTube Kids.
If you just want YouTube Music, it's $9.99 a month — same as Apple Music.
Which is best for you?
That all depends on your needs. If you just want to listen to music and don't care to hear amateur covers and all the other cool music stuff you can find on YouTube, then you probably only need Apple Music.
If, however, you want the ability to play YouTube videos in the background, and you want absolutely everything YouTube has to offer, then you should probably just spend the extra $2 a month and check out YouTube Premium. Then you'll be able to check out exclusive content, watch gaming streams if that's your fancy, let your kids YouTube it up in a safe environment, and, most importantly, listen to countless songs ad-free and offline.
Still need help deciding?
YouTube Premium: Is it worth it?
YouTube Music - Download now (opens in new tab)
Get the best of iMore in your inbox, every day!
Mick is a staff writer who's as frugal as they come, so he always does extensive research (much to the exhaustion of his wife) before making a purchase. If it's not worth the price, Mick ain't buying.
"you get an ever-expanding music library, background YouTube videos, YouTube Gaming, and YouTube Kids." Apple Music is also an ever-expanding music library. You can get round the weird "background music" restriction in various ways, and YouTube Gaming/Kids is really just ~~~Premium~~~ channels, as there's an abundance of normal kids/gaming channels on YouTube. Personally I don't think it's worth it, but that's just my 2 cents (or 2 dollars, was it?)

For $12.99 I'd pay just that for no ads on youtube! Which I do because once you have no ads and videos just play it's amazing. Also new shows on Youtube Premium like the Karate Kid movie made into a tv series is seriously up their with braking bad as the best shows I've ever seen. The music service is icing on the top for me. I care most about no ads on Youtube and their new focus on content ala Netflix. I'm sure Youtube will be joining in on the high quality original shows that Apple, Netflix, and Amazon are doing.

It's worth it alone for Cobra Kai, so many of my friends have signed up just to watch that.

Youtube content creators get paid when you watch ads on their channel. If you are YouTube Premium subscriber do they still get paid when you watch their videos even though you see no ads?

Yes they do! In fact they get more money than if you weren't a Youtube Premium member.