YouTube Red: Is it worth it?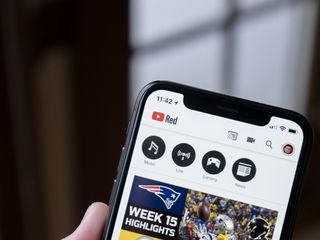 YouTube Red is YouTube's premium offering that gives you access to features like an ad-free video experience, video downloads for offline viewing, and access to original content made specifically for YouTube Red. This all comes with a fee of $9.99 per month. Since that's a hefty increase from the nothing that you pay for standard YouTube, then you might be wondering: are the bells and whistles of YouTube Red worth the price?
Here we'll go through what YouTube Red offers over the standard YouTube features, and whether that's all worth the price.
What you get with YouTube Red
If you decide to plunk down the $9.99 a month for YouTube Red, you're actually getting a lot. Not only will all of the videos that you watch be ad-free (mostly), you'll also be able download videos for viewing offline, a great feature if you often like to watch videos in places with spotty internet connections.
Here's everything you get with a YouTube Red subscription:
Ad-free videos - When watching videos on YouTube, you'll no longer see any YouTube-injected advertisements in the videos. This means that sponsorship reads by content creators will still be in videos, as YouTube has no control over those. These ad-free benefits extend to the YouTube Kids app, too.
Video downloads - You can download any video on YouTube for offline viewing. Download quality options are limited, but you can download videos both from YouTube on the web and in the apps for phones and tablets.
Background play - When using the YouTube app on, for instance, iPhone and iPad, sound from your video will continue playing while the app is running in the background. Personally, this is great for me because I often find myself accidentally hitting my iPad's Home button.
YouTube Red Originals - This is a slate of members-only original programming produced by YouTube in partnership with a number of channels and content creators.
Enhanced YouTube Music experience - You'll be able to listen to YouTube Music's personalized stations in audio-only mode in the YouTube Music app.
Google Play Music for free - Get free access to Google's subscription music streaming service when you sign up for YouTube Red. On its own, Play Music generally costs $9.99 per month.
Why you might not want to pay
The obvious reason not to pay for YouTube Red is this: most of the content available on YouTube is ready to watch for free. Maybe you don't mind ads. Maybe offline downloads and Google Play Music have no appeal for you. In that case, feel good keeping that $9.99 in your pocket.
But the biggest factor in whether or not you should pay for YouTube Red is what kind of YouTube user you are. If YouTube is one of your primary sources of entertainment, then you should seriously consider it. However, if you're a more casual user, just heading to YouTube to watch an interesting video someone sent you, or just looking for a way to pass time now and again, for instance, then maybe Red isn't for you.
Should you pay for YouTube Red?
Whether or not YouTube Red is worth the cost of admission for you is going to depend on some things. First, can you afford to pay $9.99 per month for the service, especially when you can get its primary content slate for free? Second, when you look at what YouTube Red has to offer, do you think those features are worth it? Do you care about not seeing ads or the ability to download videos? Do you already subscribe to a music streaming service like Spotify or Apple Music? These are questions you should ask yourself when considering a YouTube Red subscription.
Personally, I say yes, you should sign up for YouTube Red. In particular, YouTube Red is great if you head over to YouTube to watch specific channels or find specific content often. But for me, someone who uses multiple devices to watch YouTube over the course of a given day, going ad-free and offline downloads are enough to justify the price. I've also found background play particularly helpful (especially because the YouTube app still doesn't support picture-in-picture on iPad in 2017).
How do you sign up for YouTube Red?
To sign up for YouTube Red, just head to youtube.com/red.
Any questions?
If you've got any more questions about YouTube Red, let us know in the comments.
Get the best of iMore in in your inbox, every day!
Joseph Keller is the former Editor in Chief of iMore. An Apple user for almost 20 years, he spends his time learning the ins and outs of iOS and macOS, always finding ways of getting the most out of his iPhone, iPad, Apple Watch, and Mac.
You also don't need it if you use a third party app as some can block ads and give the same features minus GoogleMusic. I won't pay YouTube for a few reasons: 1, I don't like that they don't stop the clickbait videos. Guy holding a thing with a weird face in the frame to get you to click it and giant red circles. 2, they demonetize anything that doesn't agree with their beliefs, yet leave the Elsagate videos alone and don't ban those channels. 3, and this isn't as big since I guess it's easier, but they don't allow me to use it signed out. I don't want them making money off my viewing habits and my wallet. Pick one. They could do it as a token like some things do. Not as much a reason for me as 1 and 2 though.
Thank you for signing up to iMore. You will receive a verification email shortly.
There was a problem. Please refresh the page and try again.