58-inch multitouch table runs on iPhone [Jailbreak + Video]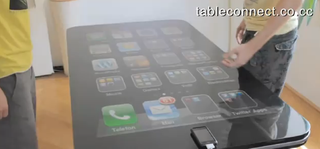 The guys behind the iPhone-powered 58-inch multitouch table (think Microsoft Surface) have released a video demonstrating how the system works. Essentially, all you do is hook up your iPhone 4 to the table-top display and away you go. The iPhone 4 display is replicated on the 58-inch screen, and behaves the same way a normal iPhone would (save for the 17x size amplification, of course).
Check out the video above to get a better impression of how it's working so far. Although this is just a couple of dudes putting a good idea into effect, it would be awesome if we actually see this hit the market sometime down the road.
Video after the break. Would you be willing to slap down your hard-earned cash for something like this if it's ever released? Let us know what you think in the comments!
[Mac Stories via Table.Connect]
Get more iMore in your inbox!
Our news, reviews, opinions, and easy to follow guides can turn any iPhone owner into an Apple aficionado
Andrew Wray is a Salt Lake City, Utah based writer who focuses on news, how-tos, and jailbreak. Andrew also enjoys running, spending time with his daughter, and jamming out on his guitar. He works in a management position for Unisys Technical Services, a subsidiary of Unisys Corporation.
If they can do this with something that size, why can't we (STILL!) have a simple app to display and use our iPhones on our computers - like we had for Palm and Windows Mobile.

They're using an iPhone 3G!

@alli I don't think apple is interested in making the iphone work on your computer, there's probably no good reason to.
I wouldn't buy the table bases off this. Perhaps if there was a land scape view it would be more useful. Im also wondering about the accuracy of the table touch screen. Does it draw just as well as apple touch screens?

Nice table. Too bad they can not spend time fixing their squeaky floor.

That doesn't look like an iPhone 4 to me...

Come on people... this is fake! look @ 0:14 he presses the lock button instead of launching the app. Plus there's no space between the pictures when he flicks from one to the other.

How do you get back home though...?
Seems like you're stuck in that app once it's open.
I suppose they'll figure out a solution for that though.

not showing faces + barefoot!! how can you trust someone who's barefoot? :)

Made by a bunch of gaybates! ;P

Ive always been interested in media tables. I just wish they took off

That thing looks great, funny some1 can make iPhone table but we can't get the white iPhone 4. Anyways that thing would look great in my basement.

Angry Birds on a 58 inc display. Sweet

It's fake, he presses the sleep button as he opens the app. And it starts zooming back in before he moves his hands if you look carefully.

Fake or not, this is a great idea.

I would get the Creaky floor fixed

So fake but the media table is awesome.

I must have this item now. Though I have never been a fan, I would JB my iPhone in heartbeat if that is what it took to get the app. The Table is awesome though and I could see something like this going for well over 1500.00. Not really sure why I would need this, but like I said I know that do.

I guess the table is wireless because there is no powercord.

Definitely fake. could have timed the swipes better

Is someone making popcorn in the background? I want some!

now if you could just build in motion sensores alonside the Table/iPhone...... For why you ask, well to orient the hummongoloid screen to where you standing... run and tell that,,,,HomeBoiiiii:)

Hi, i believe that i saw you visited my weblog thus i came to go back the choose?.I am attempting to to find things to improve my web site!I suppose its adequate to make use of a few of your ideas!!