84% of businesses buying tablets are are getting iPads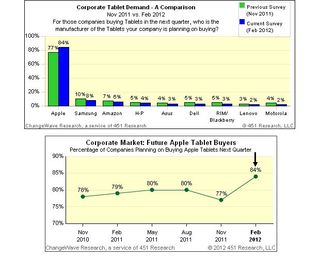 ChangeWave recently surveyed 1,604 IT personnel with buying power in their company, and of those planning on getting tablets in the next quarter, 84% are siding with the iPad. To properly set the context, however, only 22% of the surveyed companies said that they were in the market to buy tablets for their employees. We already knew that businesses were big on iOS tablets, but that figure is actually up from 77% in November - clearly the new iPad is spiking interest in businesses as well as consumers. Even BlackBerry, the traditional leader in enterprise, only demanded 3% of corporate tablet demand. Samsung's took second place, albeit far behind apple with 8% demand.
Is anyone really surprised by results like this? Although it continues to highlight Apple's vice grip on the tablet market, there's still plenty of room for the tablet market itself to grow. An IT folks out there on the verge of rolling out iPads to the workforce? Have any of y'all already pulled the trigger?
Source: ChangeWave
Editor-at-very-large at Mobile Nations, gamer, giant.
Very bad decision. I wonder if they will get a full refund when they decide to return all of these oversized iPod touches.

Apparently, the IT professionals who actually work in the field, have weighed the iPad's ability to accomplish their IT needs, and have deemed it a good decision vs. other tablets.

They won't be returning them since they have the apps that various companies need and demand.
There's almost always an advanced app for every field of business available from iTunes that you can't get elsewhere.
Heck, the PlayBook doesn't even have Skype or Netflix.

There goes KidCanada being, well, a kid again. Stick to things Canadians know well......beer, Tim Hortons, spelling words like color with a U, and a nice national anthem.
Those clowns at RIM pose no threat to iPad which is now the Gold Standard for tablet devices. Didn't you just get calendar and email capabilities on a native app? Wow, just in time.
Although I am not a fan of Microsoft, there is one company that could make things interesting.
RIM? Not so much.

I'll just state the simple facts again as to why people buy iOS devices. Availability of the best apps, period, often with improvements over same apps on other platforms. Lock-in from previous app purchases and other media. The general consumer does not want to repurchase 100 apps or more that he might have accumulated over the years with iOS. Hardware does not matter in the large of the equation. Apps apps apps, nothing more, nothing less. The hardware improvements are always nice but apps and execution must always be in the forefront and Apple knows it.

You accidentally added added a word.

WoW! A real life Sherlock Holmes!
Who who cares cares if if they they added added an an extra extra word word??

Re: "Is anyone really surprised by results like this?"
No. Amateur hour is over.

I didn't wait for my job to deploy anything to me. I got my own iPad 2. It totally rocks. The only thing I can't do with it is tether my iPhone to it for when the network goes down. That happens often enough for me to bring my Macbook pro with me to work to Tether my iPhone with, using Tether (USB, not the new version).

i love the camera on my iPad2....it Rocks!
Get the best of iMore in in your inbox, every day!
Thank you for signing up to iMore. You will receive a verification email shortly.
There was a problem. Please refresh the page and try again.