The Ampere Jetpack is a pocketable punch for battery life, offering snap on magnetic charging at a fraction of the price of Apple's alternative.
Pros
+

Compact MagSafe charging on the go

+

Strong magnetic connection

+

Good capacity
Cons
-

Gets hot in use

-

Charges relatively slowly
You can always trust iMore. Our team of Apple experts have years of experience testing all kinds of tech and gadgets, so you can be sure our recommendations and criticisms are accurate and helpful. Find out more about how we test.
MagSafe charging might be one of the most underrated features to have come to the iPhone in recent years — and it's one the Ampere Jetpack takes full advantage of.
This pocketable portable charger magnetically snaps onto the back of your iPhone and offers on-the-go additional power for your iPhone without a cable in sight. Reliable and affordable, it's a great way to get some additional power to your compatible devices with little fuss — though it does have a tendency to run hot.
Is it the perfect power partner for the best iPhones out there? Our full Ampere Jetpack charger review will help you find out.
Ampere Jetpack: Price and availability
The Ampere Jetpack is available now, and costs $39 / £39. That's a great price for a MagSafe battery pack, and at 5,000mAh capacity, it's a relatively capacious one too.
That's significantly cheaper than Apple's first-party alternative, the $99/ £99 MagSafe Battery Pack, despite having a similar feature set, and the Jetpack offering a larger capacity.
Ampere Jetpack: What I love
At just 110mm x 66mm x 11mm in size and 110g in weight, the Ampere Jetpack is a compact accompaniment to our ever-growing phones. Yes, it'll give you an added pocket bulge when snapped to the back of your iPhone, but not so big as to make your phone totally unusable or impossible to fit in your pocket. If you're using it with an iPhone 13 mini (RIP little guy) it'll also thankfully avoid obscuring the camera module, too.
The Jetpack has a strong magnetic MagSafe connection to your device, and that's even through a MagSafe-compatible cover for your iPhone. I've been using it primarily with an iPhone 14 Pro and Apple's official leather iPhone 14 Pro case, and had no problems with the battery being identified, or the magnetic connection holding true. It'll even do that nifty MagSafe charging ring animation when it's connected, letting you know that it's working properly.
You've got the option of powering up the Ampere Jetpack via either a Lightning port or a USB-C port, both of which sit on the lower edge of the battery. That USB-C port is particularly useful, as you can use it in tandem with the MagSafe connection to charge two devices at once, or to just charge one non-MagSafe device over a wired connection.
It's also got a really solid capacity. With 5,000mAh stored in its compact case, that's enough to fully recharge even the iPhone 14 Pro Max (which has a 4,323mAh battery) and have some juice left over, too.
Ampere Jetpack: What I don't love
While the Jetpack is a very tidy little product, it does have a few elements that frustrate.
Firstly, its LED indicators for charging status and remaining battery are a bit confusing to read. Punch-holes in the battery case allow light through for the indicators, but their lights bleed into one another, making it a little difficult to quickly glance at what's remaining.
Secondly, the charging rate here is quite slow. Though it's rated at 15W, the Jetpack takes a very long time to juice up an iPhone. That may be because of how hot the battery pack gets — not dangerously so, but noticeably all the same. As a result, it seems to make the iPhone's battery safety functionality kick in, throttling charging until everything cools down and making the whole process take a bit longer than you'd expect. We'd say it's Apple's software eering on the side of caution rather than the Jetpack doing anything wrong necessarily. But it frustrates and unnerves all the same.
Finally, there's no charging cable in the box. It's priced on the budget end of the scale, so we'll let it off. But we'd still like to have seen a USB-C cable included for a more complete package.
Ampere Jetpack: Competition
There's a reasonable amount of competition out there against the Jetpack, and you've got a fair range of devices to pick from as alternatives, even if we rate the Jetpack itself in the top tier of options available to you. For a deep dive in what's out there, be sure to check out our best MagSafe portable batteries for iPhone round up.
The aforementioned Apple MagSafe Battery pack offers the reassurance of being a first party product, and the reliability that assumes. Similarly priced to the Jetpack are the HyperJuice Magnetic Wireless Battery Pack and the Anker Magnetic Wireless Portable Charger. Both are similarly capacious at 5,000mAh, but the HyperJuice doesn't offer the dual ports of the Jetpack, while the Anker only charges at 5W.
Ampere Jetpack: Should you buy it?
You should buy this if…
You need a reliable, compact portable charger with a good capacity
You don't want the fuss of having to deal with cables, but…
…you also want the flexibility to charge non-MagSafe devices with a cable
You shouldn't buy this if…
You don't have a MagSafe device, as you can get portable chargers without it cheaper
You need fast charging, as the Jetpack isn't in a rush
The thought of heating your phone up a bit worries you — the Jetpack gets toasty
Ampere Jetpack: Verdict
With the right balance between portability, capacity and flexibility, the Ampere Jetpack ranks as one of our favorite MagSafe portable chargers. If future models can speed up the charging process and better dissipate the heat generated, they'll be on their way to a perfect score.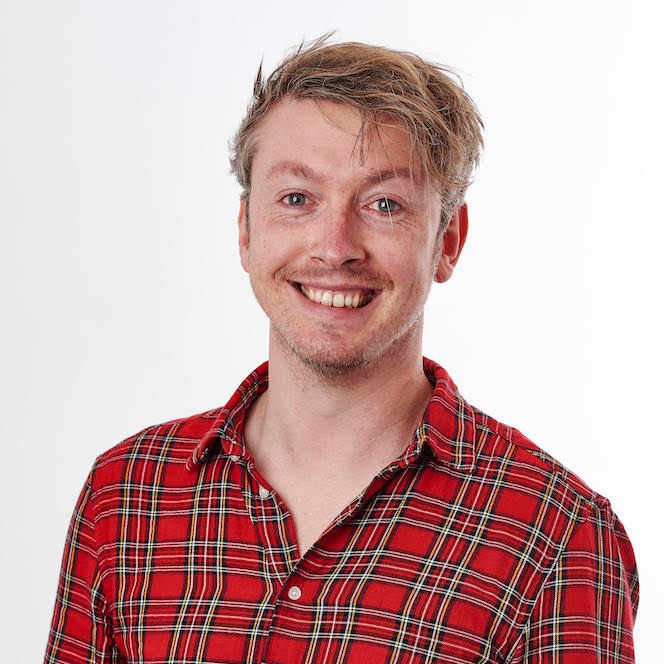 Gerald Lynch is the Editor-in-Chief of iMore, keeping careful watch over the site's editorial output and commercial campaigns, ensuring iMore delivers the in-depth, accurate and timely Apple content its readership deservedly expects. You'll never see him without his iPad Pro, and he loves gaming sessions with his buddies via Apple Arcade on his iPhone 14 Pro, but don't expect him to play with you at home unless your Apple TV is hooked up to a 4K HDR screen and a 7.1 surround system.
Living in London in the UK, Gerald was previously Editor of Gizmodo UK, and Executive Editor of TechRadar, and has covered international trade shows including Apple's WWDC, MWC, CES and IFA. If it has an acronym and an app, he's probably been there, on the front lines reporting on the latest tech innovations. Gerald is also a contributing tech pundit for BBC Radio and has written for various other publications, including T3 magazine, GamesRadar, Space.com, Real Homes, MacFormat, music bible DIY, Tech Digest, TopTenReviews, Mirror.co.uk, Brandish, Kotaku, Shiny Shiny and Lifehacker. Gerald is also the author of 'Get Technology: Upgrade Your Future', published by Aurum Press, and also holds a Guinness world record on Tetris. For real.