The Lululook 360 Rotating Foldable Laptop Stand is an excellent desk addition, letting you place your MacBook at a perfect height without fear of it sliding off. Its aluminum construction and color options make it a perfect match for Apple's MacBook line-up, too.
Pros
+

Attractive design and build materials

+

Useful rotating base

+

Smart heat dissipation
Cons
-

Not particularly portable

-

'Lip' that holds MacBook in place is an unusual choice

-

Base rotations click noisily
You can always trust iMore. Our team of Apple experts have years of experience testing all kinds of tech and gadgets, so you can be sure our recommendations and criticisms are accurate and helpful. Find out more about how we test.
Sat at a desk all day working at a MacBook and wondering why your neck is feeling achy? It's probably down to your posture – if you're looking down at a screen for eight or so hours in a row, it's going to put a strain there.
Picking up one of the best MacBook stands will help raise your screen to a comfortable height, and it's hard to think of one better for the job than the Lululook 360 Rotating Foldable Laptop Stand.
It does everything its name suggests, folding and rotating 360 degrees on a safe and sturdy base that feels built to last. It's hard to find fault with – find out why in our full review below.
Lululook 360 Rotating Foldable Laptop Stand: Price and availability
Lululook 360 Rotating Foldable Laptop Stand is available now and can be bought directly from Lululook and third-party retailers including Amazon, with an RRP of $89.99. Sold directly by Lululook through Amazon in the UK, it's priced at £76.62 at the time of review. Space Gray and silver color options are available, and are a spot-on match for Apple's corresponding MacBook finishes.
At $89.99 it's an undeniably expensive accessory – you can get a perfectly good laptop stand for a third of that price. But the build quality here is excellent, the design well thought out, and the materials used top rate.
Lululook 360 Rotating Foldable Laptop Stand: What's good?
So what helps to justify the Lululook 360 Rotating Foldable Laptop Stand's high pricing?
Let's talk about the build quality first. The stand is made from a tough aluminum, weighing 1.45kg. It's a dead ringer for the metals used in Apple's own MacBook line, with MacBook owners the clear target audience for this 'Laptop' stand.
With aluminum a tough material, care has been taken to ensure your MacBook – and desk – isn't scratched when using Lululook's stand. Both the underside of the circular base plate and the shelf that your MacBook rests on are finished with silicone. Color-matched with the aluminum elsewhere, it doesn't detract from the good looks of the stand, but does ensure no scratches hit your device or workspace, nor will the MacBook or stand slip around. Your computer is held in place with a small retractable lip that uses the weight of your MacBook against it to keep everything in place – and easily lift your computer away in a hurry.
It's a highly adjustable stand. The Lululook 360 Rotating Foldable Laptop Stand at its lowest elevation puts your keyboard at just under two inches off a surface, but its arm and shelf plate can be adjusted at two points of articulation so that the bottom of your screen is raised to about 10 inches off your desk. Lululook says you'll get up to a 16-inch MacBook Pro on the stand without fuss (that's what we've primarily been using), but it's a good size for a smaller machine like the M2 MacBook Air as well if that's what you're using. The tight angles you can raise the MacBook shelf to also means you could theoretically pop an iPad on here too – though you'd be better served by the brand's other stand, the Lululook Foldable Magnetic iPad Stand, for that purpose.
There's no fear of the arm collapsing under the weight of your laptop either. Just like the Lululook iPad Stand, the hinge is incredibly stiff – but that's a positive thing here. Compared with an iPad, you're less likely to want to adjust the position of your MacBook when in use, so it's reassuring.
You need not worry about your MacBook overheating, too. Though that silicone isn't great for taking heat away from your machine, the plate that your MacBook's body sits on is peppered with a grid of large holes, letting cool air run to the base of your Mac.
All this then spins on that clicky rotating base, just under 8-inches in diameter. It turns easily through 360 degrees, held in place by that underside silicone grip. And though it clicks as it spins, that's not a measure of pre-determined rotation points it needs to turn through – you can nudge it into as slight an adjustment as you need.
Lululook 360 Rotating Foldable Laptop Stand: What's not so good?
There really isn't much to complain about here. If we're being truly picky, you could argue that it's not a particularly portable stand for one that purports to fold down almost flat. It's too heavy and thick to consider taking with you to a distant workspace or coffee shop – but it's not impossible, either.
Those around you might also find the clicking sound of the rotating base annoying. But unless you're spinning it every two seconds, which is unlikely, I can't see that being much of an issue.
One potential point for concern might be the retractable lip that sits on the lower edge of the plate where your MacBook sits. You push it up and through the plate to put it in position to cradle your computer's weight. Though stiff out of the box, long-term use might see this lip lose its strength, which could potentially see your laptop slip off the front edge. But that's a worst-case scenario, and an unlikely one at that.
Lululook 360 Rotating Foldable Laptop Stand: Competition
You're spoilt for choice when it comes to laptop stands, available in all shapes and sizes. We'd rank the Lululook 360 Rotating Foldable Laptop Stand among the best, but it is expensive, so it's worth considering your options.
If you want something with a bit more portability, try the Twelve South Curve Flex. It's far better suited for traveling with thanks to its fold-flat construction and lighter materials.
Elsewhere, try the The Kensington Easy Rider, cheaper despite being from a trusted name, though it's not particularly nice to look at and can't raise quite as high.
Lululook 360 Rotating Foldable Laptop Stand: Should you buy it?
Buy it if…
You work with your MacBook at a desk for long stretches of time
You want to raise your MacBook up and know its stand will hold it steady
You like to be able to spin your screen quickly, perhaps to collaborate with co-workers
Don't buy it if…
You work away from a desk or table most of the time
You want a portable stand
You work where the base's clicking sound will annoy your colleagues
Lululook 360 Rotating Foldable Laptop Stand: Verdict
You couldn't ask for more from a MacBook stand than what's on offer from the Lululook 360 Rotating Foldable Laptop Stand. It's well built, feels reliably strong at its hinges, and is adjustable enough to raise your MacBook to comfortable heights. It is expensive, but it's well crafted and a lovely-looking match for Apple's own hardware.
---
Lululook 360 Rotating Foldable Laptop Stand
Bottom line: The best laptop stand money can buy.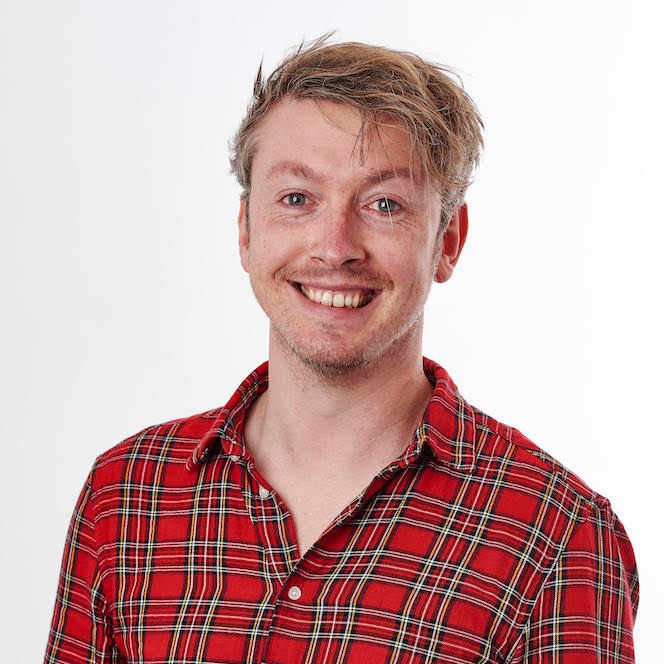 Gerald Lynch is the Editor-in-Chief of iMore, keeping careful watch over the site's editorial output and commercial campaigns, ensuring iMore delivers the in-depth, accurate and timely Apple content its readership deservedly expects. You'll never see him without his iPad Pro, and he loves gaming sessions with his buddies via Apple Arcade on his iPhone 14 Pro, but don't expect him to play with you at home unless your Apple TV is hooked up to a 4K HDR screen and a 7.1 surround system.
Living in London in the UK, Gerald was previously Editor of Gizmodo UK, and Executive Editor of TechRadar, and has covered international trade shows including Apple's WWDC, MWC, CES and IFA. If it has an acronym and an app, he's probably been there, on the front lines reporting on the latest tech innovations. Gerald is also a contributing tech pundit for BBC Radio and has written for various other publications, including T3 magazine, GamesRadar, Space.com, Real Homes, MacFormat, music bible DIY, Tech Digest, TopTenReviews, Mirror.co.uk, Brandish, Kotaku, Shiny Shiny and Lifehacker. Gerald is also the author of 'Get Technology: Upgrade Your Future', published by Aurum Press, and also holds a Guinness world record on Tetris. For real.