If you're on the hunt for a video doorbell, there are some killer deals worth your consideration at Amazon today. Devices like the Ring Video Doorbell 2 and the Ring Video Doorbell Pro are discounted by as much as $50 but the real kicker is that they both come with a free Amazon Echo Dot. Given that the Dot alone is worth $50, you're saving up to $100 with these limited-time deals and, unlike previous offers, these deals are available to everyone — not just Amazon Prime members.
Freebie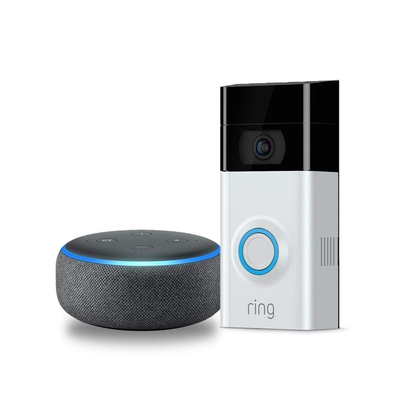 Ring Video Doorbell 2 with Echo Dot
This bundle is a no-brainer if you're in the market for a video doorbell, as you're getting the latest Echo Dot for free. Both devices play well together and customer reviews are great too.
$169.00 $248.99 $80 off
This Ring Video Doorbell 2 takes your home to the next level. Installation is simple, too. You can use the rechargeable battery that's included, meaning you just stick it up and keep the battery charged. Alternatively, if you know your way around the inside of a wall, the doorbell can also be hardwired. Once installed, you'll be able to get a notification on your phone, tablet, or computer when motion is detected or the doorbell is pressed. Thanks to the two-way communication and 1080p live video, you can see, hear, and speak to visitors, even if you aren't currently home, even at night. Another amazing feature is the Lifetime Theft Protection. If some jerk comes and steals your doorbell, Ring will replace it. For free.
Go pro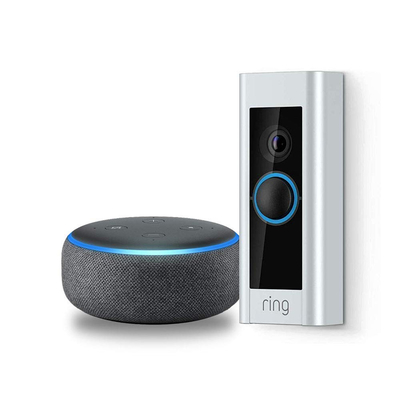 Ring Video Doorbell Pro with Echo Dot
The hardwired Pro doorbell adds support for a 5.0GHz connection for a more reliable connection and has customizable motion-sensing zones. It works great with the included Echo Dot so you can talk to visitors from anywhere in the house.
$199.00 $298.99 $100 off
Ring's Video Doorbell Pro takes the place of your existing hardwired doorbell at home. It's equipped with a 1080p HD camera featuring infrared night vision that lets you view its video feed using an app on your smartphone, tablet, or computer, and you'll be able to do so from anywhere in the world. It's also equipped with a microphone and built-in speaker that allows you to speak with any visitors that arrive at your door. Meanwhile, its integrated motion sensor can send an alert to your phone even before the doorbell is pressed. It's also backed by Ring's Lifetime Theft Protection.
Your doorbell pairs with the included Echo Dot really easily. You can then use Alexa to turn the light on or send announcements to your Echo devices when the doorbell is pressed or motion is detected. You can use your Echo device to hear and speak to visitors, too. Of course, your Dot has access to all of Alexa's smarts so you can use it to find out the weather, get news reports, listen to radio stations, podcasts, audiobooks, and music streaming services like Apple Music or Spotify.
Both of the doorbells on sale are featured on our list of the best video doorbells of 2019, so you know you're getting a quality product. Alternatively, if $159 or $199 is out of your budget, you can pick up the Ring Video Doorbell 2 with Chime for just $99 in refurb condition.
We may earn a commission for purchases using our links. Learn more.