Adobe Releases Photoshop.com iPhone App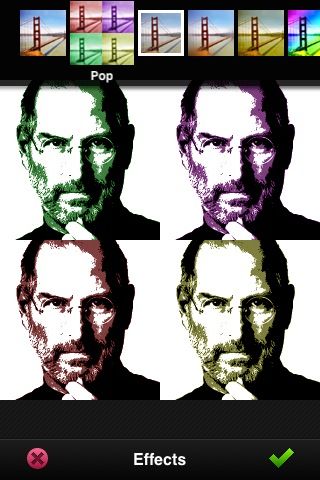 Adobe has released Photoshop.com Mobile [Free - iTunes Link (opens in new tab)].
Crop, rotate, change color with just a touch.
Give an extra glow with Soft Focus.
Get artsy with Sketch.
Apply one-touch effects like Warm Vintage and Vignette.
Now the App Store is cluttered with a ton of photo editing tools, but this was one obvious omission. The app can take photos with the iPhone and/or edit photos already on the iPhone or iPod touch, but can also use a free Photoshop.com account. It's a cinch to set up. Simply take a few moments to open your photoshop.com account to edit, upload, store, and share all of your iPhone photos.
Not available in the UK apps store.

for free, that was nice of adobe

So, for every friggin app on the iPhone I have to have an online account with somebody? I'm getting real tired of this real fast. This is Apples fault because they won't let apps work with the file system like a normal computer can. And ATT wants to know where the bandwidth goes, heck, I wouldn't half the bandwidth if QuickOffice could open an attachment sent to me by email.

@shollomon Why dont you try the app before complaining? you dont have to sign up with anyone.
already downloaded and played around with it and its really fun!(glad its free, theres tons of paid camera apps that have less features then this

You don't need an online account - but they give you that option. I just tried it and you can save modified pictures directly to your phone still. This is a VERY nice tool especially for the price!

I've been suggesting this for MobileMe Gallery forever, and nobody understood what I meant...
:roll: sigh.

can you use an existing account? or is the mobile version separate?

Cool that's nice of adobe to give us a free app. And signing up if you don't one is easy and quick, but I'm sure most have an account already

@BLiNK:
You can use your existing Adobe ID.

Is this Adobe's way of saying 'we can design an app in flash 10'?
its ok for a version 1. The UI is decent, but it doesn't do a whole lot. I can only assume they will add more filters soon and the ability to have layers, etc...

For free, sweet! Thanks for Adobe.

Photoshop for iPhone. Hmmm. The iPhone is to photography as writing on a napkin is to literature. So adding Photoshop is like a really expensive pen to write on the napkin. I know it's free, but I still don't see the value in it.

@Allister:
Think of this app as making a crumbled-up napkin look a little less crumpled. ;)
To send quick low-quality snapshots via email or MMS, at least they can look a little better with these apps. But this one really needs a Levels control (like Photogene)... the "Exposure" control doesn't really cut it at all.
Plus, I need another online photo gallery like I need a hole in the head — first Photobucket, then MobileMe, now I'm supposed to use Photoshop.com? I'll give this app time to grow, but since it's free, I won't hold my breath. I have a feeling Apple might be adding editing features to the camera roll soon, anyway.

Ahh. This is nice. I don't think apple will ever have to make any more native apps. I wanted then to turn the camera app into photobooth but I guess other ppl have done it already.

Sucks that this is not available in the UK yet, get on the case adobe!

@OmariJames:

I wanted then to turn the camera app into photobooth but I guess other ppl have done it already.

Except that the others can't access MobileMe photos to download the way this app can access its Photoshop.com photos. That's where Apple's own editor comes in. But to me it would make more sense in the Photo app than in the Camera app, since users would want to also edit photos other than just those which were just taken with the camera.

Not that I'd even use it much myself... but it just seems odd that every part of MobileMe is accessible on the iPhone except photos (and ToDos).

@sholloman: What are you talking about? Photoshop.com makes you get an account even if you use it on the PC and it has nothing to do with Apple. Lots of apps I use make you fill out an account because it's a service that requires tHEIR servers. Tell me how allowing file access will make it so you don't need an account to upload your photos to Internet photo sharing sites. Or how file access will allow for posting to online community sites or allow high scores posting on a remote server so everyone can see them?
I have never seen an iPhone app that makes you fill out an account for something un-necessary. I want you to give me one example of an app that makes you do an account just to get around the lack of local file system access.

The best part of this application is I can directly edit my images and give final touch directly from my iphone :)

Not available on Australian App Store

When is this coming to Australia?

Great post as for me. I'd like to read more concerning that topic.

Wow! What a website. You have a real knack for making a blog readable and easy on the eyes. Some sites look like train wrecks, but not this site - it's a pleasure to read. I find Voice over IP very interesting. I have learned a lot in implementing a small VoIP network at home, and am thinking of starting VoIP business in my area. There are a number of small businesses in my region that would benefit from it greatly.

It would have been great had you been able to make the point you raise in your second paragraph about the relationship between development and security, and the crucial relevance of Pakistan to the USA to Rory Stewart directly, as his answer presumably would have been quite interesting. I also wish the interview had included questions about the relationship between the USA and Iran he walked across Iran on the same journey that included Afghanistan, so he ought to have insights of some value. But then I guess there is only so much time in any given interview, and so very many questions ....
Thank you for signing up to iMore. You will receive a verification email shortly.
There was a problem. Please refresh the page and try again.