Alaska Airlines now using iPad for flight manuals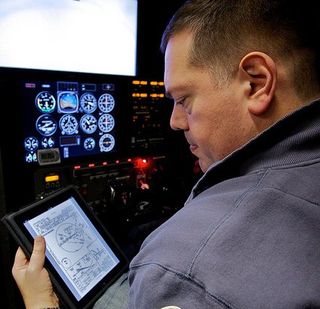 Alaska Airlines has decided to ditch paper and will begin using the iPad for flight manuals, further propelling the tablets' popularity in the aviation space.
Earlier this year the FAA approved the iPad for flight charts used among pilots for Executive Jet Management, and this is another big step for airlines and pilots to get into the paperless game.
So don't be surprised if a year (or less) from now you see most pilots strolling about with their iPad before taking off!
[Engadget]
Andrew Wray is a Salt Lake City, Utah based writer who focuses on news, how-tos, and jailbreak. Andrew also enjoys running, spending time with his daughter, and jamming out on his guitar. He works in a management position for Unisys Technical Services, a subsidiary of Unisys Corporation.
This is amazing. The iPad is really taking over all industries. I wouldn't be surprised if some bigger multi-national airlines picked up this idea.

And if the battery runs out...

unless it's a flight that lasts over ten and a half hours I am sure they we be ok.

Ya know Barack...I mean Barry, I do believe the airlines have redundancies in place for almost any situation, especially something as simple as a battery. Now go back under your bridge, troll and continue taxing us to death.

I had heard from some employees that they are actually going to keep the original manuals on board the flights as backup at least until this becomes a proven system. Given that you can watch movies, surf the internet, I can't imagine that they wouldn't equip the cockpit with a charger or a battery booster.

My thoughts exactly Barry. LoL.

Just as long as they pay attention and not watch movies when they should be looking at their terminal! lol

My father is a captain for Alaska and he got his a couple weeks ago. It replaces close to 25 lbs of books if you figure 25lbs per pilot and there is 1500 flights a day they are saving a lot of money in fuel a year.

Next on Mayday: A mid-air collision with both pilots playing angry birds on their iPads

That's a scary thought, and not too far-fetched; a few years ago in my area there was a tragic mid-air collision involving 2 small aircraft, with 4 fatalities (2 in each aircraft). The cause was later found to be pilot inattention & distraction. They weren't playing video games, but they were distracted by something in the cockpit other than flying. So, that could happen.

My airline is currently working on the approval process for use of iPads in the cockpit. Like Burnsaa mentioned it will replace a very heavy flight that all pilots are required to carry. The process to get approval will not be easy though, as the FAA will have a multitude of requirements to be filled before giving their blessing. I'm pretty sure that surfing the net and watching movies will not be a part of the approved uses in the cockpit for those of you wondering!

Not allowed on NorthWest...but seriously does this mean we won't have to turn ours off during takeoff and landing? Are they admitting that iPads don't interfere with navigation?

Looks like Airplane Mode will take on a real meaning.
But I do -NOT- trust the airlines not to ditch the paper manuals. I believe they will, something bad will happen (not a crash - just a ton of issues) and they'll demand them back.
To the poster who said they will "eliminate bulky books" -- not if they have the paper backups! Now they waste a ton of paper AND buy ipads
And LOTS OF FLIGHTS LAST OVER 10 HOURS. What kind of ridiculous comment is that?

Uh, no Alaska Airlines flight lasts more than 10 hours. Ever.

Plenty of flights last more than 10 hours but the iPad doesn't need to be on the whole time. We pilots only need to occasionally turn it on to reference a chart. It would probably be on during taxi out to look at the airport chart and then during the initial take off phase to reference the departure procedures for a given airport. During an approach to landing, I will leave the iPad on thru the landing to reference the approach chart and then to also reference the airport plan chart to taxi to the gate. Other than that, the iPad would only be turned on occasionally during cruise flight to possibly preview the arrival procedures for the destination airport or some other company manual.

Also, regarding no paper backup charts in the cockpit, if and when airlines are approved to use iPads, there will a long implementation period where the iPad will be the primary means to reference nav charts with he paper pubs as a backup. Once procedures using the iPad have been proven successful and reliable, then the FAA might allow the ditching of the paper pubs. I'm guessing though, they will still require a backup of some sort and it could very well be a third iPad stored somewhere in the cockpit or paper backups. The problem there for either a backup iPad or paper pubs will be keeping them up to date as nav charts are updated all the time. At this point, my particular airline is saying if a pilot wants to keep his paper charts and 35 lb. flight bag instead of an iPad he/she will be able to do so. So, there could still be paper charts in the cockpit. For me, I can't wait to get rid of that flight bag soon enough! Me and my back can't wait!

It has been a long time since I have been in a commercial cockpit, but I would expect if the seats in coach have DC power, the cockpit probably has something similar. If that is not enough for the airline (of the FCC) then perhaps the airline will slap a dock connector or even a USB charger in a console somewhere. If that is not enough, (or the FCC refuses to allow devices that also play Angry Birds :) then perhaps some enterprising (Android?) maker will create a specialized device with a replaceable battery - after all, Alaska is currently using these iPads as glorified PDF readers, so an iPad is not necessary unless they have grander plans. But the use case is very compelling for some kind of tablet.

Picture things like trip-bidding or vacation-bidding apps for Alaska pilots. The iPad is scalable so there's a lot they can do with it.

This is interesting for me, as a former aircraft mechanic. My semi-educated guess is that the paper flight publications will still be kept around for a while, as a backup. More realistically, I could see an iPad or similar tablet being supplementary to the flight pubs rather than replacing them outright. I'm thinking that it would just be more of a timesaver so pilots wouldn't have to spend so much time digging thru a bunch of books, and could simply type in the desired manual and pull it up on their screen right then and there. I imagine flight pubs on tablets could also be updated over the net, so that might save a little time too. It'd be great for mechanics too; tho the tablet would definitely have to be in some kind of weatherproof armored case to protect it from falls/drops, rain, dust, fuel/oil/hydraulic fluid, etc. It would also be nice to be able to just plug it into the aircraft and use it as a diagnostic computer, using some specialized app for it (I'm sure someone's probably thought of that already). I know it would've saved me a lot of time back when I used to work on aircraft (no more having to go all the way back to the tool crib to get a different manual, now that you can just pull it up on your screen). So I'm cautiously optimistic about it.

My boss is a single/double engine pilot and they recently got an ipad just for this purpose. Had the chance to play with some of the apps - absolutely incredible. A huge improvement over conventional charting/booking solutions.

This is really interesting, You are a very skilled blogger. I've joined your feed and look ahead to in search of more of your great post. Also, I have shared your web site in my social networks
Get the best of iMore in in your inbox, every day!
Thank you for signing up to iMore. You will receive a verification email shortly.
There was a problem. Please refresh the page and try again.