Anker's Eufy Genie is an Alexa-enabled speaker with one neat trick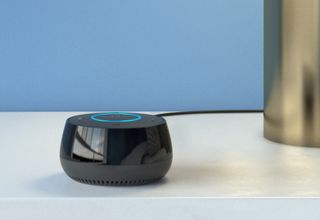 Anker is well known for providing quality accessories at a fair price, primarily through its Amazon storefront. That relationship with Amazon grows deeper with Anker's announcement of the Eufy Genie smart speaker (opens in new tab). The Eufy Genie functions similarly to Amazon's Echo Dot, but is $15 cheaper. The Eufy Genie includes the ability to listen for Alexa commands, play back audio through its own speakers, and output audio to larger speakers. Anker says it plans to release an upgraded version of the Eufy Genie that can connect to Bluetooth speakers — it'll cost $40.
See at Amazon (opens in new tab)
Like all good genies, the Eufy has a bit more magic to hide. Anker says the speaker will be able to communicate with other devices in their Eufy line. This currently includes (opens in new tab) lights, vacuums, and health equipment and Anker says they will expand this to other categories coming up. Anker says the basic Eufy Genie will be released on August 16, while the upgraded version to come later.
The $10 to $15 saved may not seem like a lot up front, but those savings will quickly add up for those that want to outfit their entire house with an array of smart speakers. I'd like to see Anker make a version with Google Assistant, but Alexa is no slouch when it comes to the smart speaker game.
Thinking of picking up an Anker Eufy Genie? Give us a shout in the comments or over on Twitter!
"Anker is well known for providing quality accessories at a fair price..." Who determines what a fair price is?

Who determines what a fair price is? The market. If people buy an item, then they think it's fairly priced. Anker's batteries are excellent and the price point is appropriate for what you get IMHO. And their tech support is excellent--a live human, not a neverending voice mail tree. As for the wish for Google Assistant support, I would find that useless. I find Alexa meets most of my needs and the Google Home I bought when they first came out wasn't nearly as useful as my Alexa devices. Now a $35 device that allows me to invoke Siri, maybe.
Thank you for signing up to iMore. You will receive a verification email shortly.
There was a problem. Please refresh the page and try again.