App Giveaway: Plume for iPhone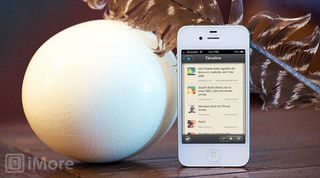 Plume for iPhone builds a list of all the links that are shared by all the people you follow on Twitter, making it is easy to browse through and enjoy them -- and enjoy them we want you to do! That's why we're giving away 5 promo codes!
The good folks at Blue Parabola gave us these promo codes for Plume to hand out to our awesome readers, so for a chance to win one, just leave a comment below! Ready... set... GO!
$2.99 - Download Now
(opens in new tab)
Former app and photography editor at iMore, Leanna has since moved on to other endeavors. Mother, wife, mathamagician, even though she no longer writes for iMore you can still follow her on Twitter @llofte.
i want one! thank you so much!!

The people I follow post a boatload of links so I'm interested to see how well Plume manages those links.

Would love to give this app a try!!

sweet, would love to have this!

Me encantaría probar esta interesante aplicación.
Gracias por la posibilidad de tenerlo.

Pretty please ! :)
I've been struggling with purchasing this app since your review and I'd love a copy.
Thank you !

Yes please! Great app on Android, miss it on my iPhone. Thanks guys!

This isn't the same Plume from Android. I noticed that when I saw who the developers were.

Now that's a gorgeous UI. Count me in please! :D

This app looks interesting. Would love a free code to try it out.

I've been wanting to try this since I left the Android in May! Mother may I?

I would love one. Thanks for another great giveaway.

I used to use this on my Nexus S back in my Android days. I noticed the Devs are different, I wonder if it is still a similar product? Only one way to find out....pass one my way please.

Please I want to participate !

I would looooove Plume for iPhone! I basically live on twitter already. This would be put to good use! I love that iMore always has these contests ;)

I would love to have this app

hope i win daddy needs a good twitter app

Sounds like an interesting and useful app. Please include me.

I'd be happy to give it a try.

sure why not :) twitter: beedonk

ooooo count me in!!! i loved this on android, would love to have this on my iphone!!! @marczeffren

i'd love to win a promo code! ive been looking for a plume app for iphone since i switched from android to iphone. its my favorite app!!

This is exactly what I need. My life will be incomplete without it. Yet I haven't enough change in my couch, so please help me!

I want this so I can make sure to catch all the new iMore posts!

إذا كنت ترجمة هذا، ثم لديك عقل فضولي. :) -جيمس

Used this App when I was seduced by the Dark Side (Android) It was the pick of the bunch!! Would love to add this to my new iPhone!!! :-)

Send a promo code this way!

Plume would really be a "Plum" prize for me to keep getting iMore posts right on my iPhone..

The first time i heard about this app. Interesting, i'm in ! ;-)

I'd love a copy. I have trouble keeping up with all of the links in my feed, this seems like a good way to organize everything for you.

Plume would be awesome! I am finally using twitter more and more regularly.

Yes please. Sounds like some functionality that is sorely needed in a twitter client.

Plume seems to be one of people's favorite twitter apps. Also, yes please.

I'm always down for free goodies!

Love to have the code for this app. Thanks.

I would love one, thanks!

Probably to late, but I'll throw my name in the hat anyway!

can i have one please if you not abble to i understand :)
Get the best of iMore in in your inbox, every day!
Thank you for signing up to iMore. You will receive a verification email shortly.
There was a problem. Please refresh the page and try again.