Apple Says Thanks a Billion - Reaches 1 Billion iPhone App Downloads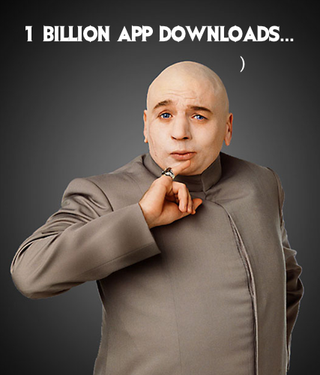 Back in January Rene made us all aware that the Apple App Store hit the half billion mark in terms of downloads. A few months later it seems like they will be doubling that number by hitting 1 billion app downloads. This is indeed impressive and Apple wants to celebrate with giving you a chance to win some really sweet prizes.
<
blockquote>As of today, nearly one billion apps have been downloaded around the globe. So we just want to say thanks — a billion. Download an app and you'll automatically get the chance to win a $10,000 iTunes Gift Card, an iPod touch, a Time Capsule, and a MacBook Pro. Just go to the iTunes Store, browse the App Store, and download your best app yet.
Apple has even laid out the top 20 paid and free apps (opens in new tab) [iTunes Link] of all time with Crash Bandicoot Nitro Kart 3D and the Facebook app leading their respective categories. So what are you waiting for? Get your download on for your chance to win some sweet Apple goodness! (Just remember entries are limited to 25 per person per day.)
Good luck!
1 billion, thats crazy but i believe it. I bet with 3.0 and the new api's there will be an easy 2 billion downloaded before we know it

Wow, how long did it take the music store to reach 1 billion songs downloaded? I remember the promotion leading up to that.
This is bad though, now I have to find 25 new apps per day!

@sting7k actually u can put in entries without purchasing apps. There's a form on the apple page on the featured page of the app store

I don't understand this contest. is it a random draw of everyone who entered before the billion mark? or is it the person who buys the one billionth app?

@thekevinmonster, It will be a random drawing of some sorts. Like UKboy said above, you can fill out entry forms instead of downloading apps. You can even mix the two together - some downloads and some entry forms. You can enter 25 times per day. Hope this clears things up for you.

I believe the numbers. It's so easy to get an application by using your phone.
I wonder how many more songs they sold by enabling the OTA iTunes Store ( ? )

Open to residents of Canada... but not in the province of Quebec :(

Us South Africa's add to Apples bottom line by being able to purchase apps from their app store. Effectively adding to the billion apps that about to be reached. But yet we are excluded from the competition! Talk about not making someone feel welcome.

ipods have just growin and growin havent they its kind of neat really
Get the best of iMore in in your inbox, every day!
Thank you for signing up to iMore. You will receive a verification email shortly.
There was a problem. Please refresh the page and try again.