Apple is currently investigating erratic iPhone 6s battery readings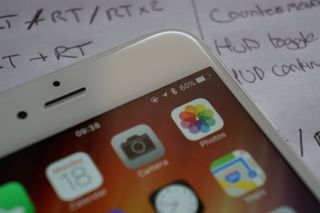 Apple has acknowledged an issue iPhone 6s and iPhone 6s Plus owners have been experiencing. The problem is when the power percentage reading locks up and freezes, which doesn't aid the owner when attempting to determine just how much power remains inside the battery. While Apple is currently investigating the cause, it's believed the issue has something to do with altering time zones.
As noted in the support document (opens in new tab):
Luckily, the temporary fix is fairly straightforward. Simply reboot your phone and check to see that date and time are configured automatically by heading to Settings > General > Date & Time. However, if you continue to encounter this issue and are not travelling between countries in different time zones, Apple urges you to contact customer support for further assistance.
Have you had an issues with the battery monitor on your iPhone 6s? Let us know in the comments!
Source: Apple (opens in new tab), via: AppleInsider
Also been reported on 6 and 5s from a few.

Odd one. I've never seen any issues with my battery on this 6s+. Maybe I lucked out because I let my time and date set automatically as a matter of course. Sent from the iMore App

Haven't had any issues with my 6S+. Battery life has been stellar and the indicator seems to be accurate.

It's happening on my 6 also. Sent from the iMore App

Yeah it's happening with my 128gb 6 as well I had to go pay for a new phone and couldn't even use it for an upgrade big loss and I'm all for Apple but I can't afford to losses like that . I'm thinking to try Samsung because no one wanted to help me with my problem

Apple should happily help you, did they not?

This is a problem for me on my iPhone 3GS, 4S and now the 6 (Yes I use them all). Battery indicator says 31percent (on my iPhone 6) and then shuts off. Needs charger to be turned on. Then shows 31 percent again which goes down normally to 24 percent and shuts off again. And so on and so on... Have installed new batteries and it doesn't make any difference. My guess is that the iPad charger is ******** up the calibration of the battery. Sent from the iMore App

You shouldn't be using an iPad charger to charge your phone. Sent from the iMore App

I use my iPad charger to charge my iPhone 6s+ all the time and never have had a problem. Sent from the iMore App

There's no harm in doing so. It charges faster

HEY WHATS UP MoonoverparmaOO? HOW R U? IVE HAD CELL PHONES AND USED THIRD PARTY CHARGERS, IPAD FOR IPHONES AND IPOD TOUCH, EVEN WITH OTHER DEVICES IF THE USB MALE FIT INTO THE USB PORT (FEMALE) I WENT WITH IT WITH NO PROBLEMS. THE LAST FEW YEARS IVE HAD A FEW DIFFERENT DEVICES AND IVE HAD TO HAVE THE FEMALE REPAIRED. OBVIOUSLY THE MALES WEREN'T ALWAYS THE CORRECT FOR THIS TO BECOME DAMAGED, I WAS TOLD ONLY USE THE CABLE THE GOES WITH THE EXACT DEVICE, DO YOU BELIEVE THAT WAS THE MAJOR OR EVEN THE ONLY REASON FOR THE DAMAGE? THANK U 4 UR TIME AND APPRECIATE N E KNOWLEDGE U DROP ON ME, THANK U, (PLEASE DONT MIND THE CAPS ITS AN OCD) CHEERS!!!

This happened on my 5 about a year ago. Sent from the iMore App

It eventually can ruin the battery because of the voltage difference Sent from the iMore App

I have heard that if the charger voltage is greater than the requirements of the device, you are fine. The device will take what it needs and no more. The danger is when the charger voltage is not sufficient for the needs of the device. Am I mistaken?

Like others who have commented, I too have been having this problem with my 6 Plus. It'll sometimes get to 50-60% range and will just freeze up. It's particularly noticeable when charging. There have been times where, I sh*t you not, my phone would stay at 58% for 3-4 hours even even while I'm using it. And it would actually remain this way until I reboot my phone. What's interesting is that I've just recently broke my phone screen and got a new replacement, yet the problem still lingers, albeit the occurrences on this newer model is much more sporadic. So this falls back on the software rather than the phone. But either way, it's a pretty weird glitch that Apple should correct asap. Sent from the iMore App

My battery monitor was messed up yesterday. It showed 40% for hours and then randomly died. I have a 5s. Sent from the iMore App

Now, I don't change time zones like ever, but my phone freaks out when it gets cold... Is that normal? I go from taking pictures in the snow at 87% to two minutes later 1% and my phone just shuts down. I was kinda hoping this thread was about my problem...

I knew i wasn't the only one experiencing this on my 6s+ its so frustrating believing i have 100% in the morning turning out it froze all night and it didn't charge and in reality it was at 2-10%
Get the best of iMore in in your inbox, every day!
Thank you for signing up to iMore. You will receive a verification email shortly.
There was a problem. Please refresh the page and try again.