Apple airs a new iPad 2 TV ad – Now [video]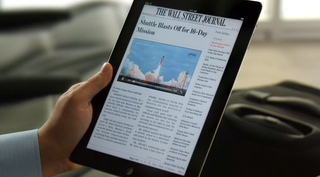 Apple has just posted a new commercial for the iPad 2 called "Now" that looks at life after you have bought the iPad 2. The ad features the Wall Street Journal, FaceTime, the iBookstore, an app called Star Walk and a few others.
You can find the full advert after the break, let us know what you think!
Get the best of iMore in your inbox, every day!
UK editor at iMore, mobile technology lover and air conditioning design engineer.
I love all of the apple commercials but for some reason I don't like this one. It doesn't grab my attention like the others.

this commercial is a LOT slower (ssssoooo lllaaaiiiiddd bbbaaccckkkk) and they're trying so hard to not mention tech specs that they end up repeating themselves in advertisements...

If it was true to life it would show some dude sat on the toilet every morning reading the paper on his iPad.... as that's what i do lol.. also they would have a little girl covering the screen in sticky finger prints while watching her cartoons... that's what my daughter does :-) Just Keeping It Real folks Haaaa!!!

It also includes the Spin PLAY app, which is a fantastic app. It's basically the iPad version of Spin Magazine. Every article from the mag is included, and it includes a playlist, videos, and a very cool UI. A year subscription is only $8, I think. Very cool app. Deserves a mention.

So I guess you're looking to generate some cash in your spare time right? I'm a single parent of two beautiful toddlers and using http://make4800permonth.info has blessed me with roughly $2458 every month for the last year. Check it out, it takes me only 15 minutes a day!