Apple brings down its online store ahead of today's iPhone SE event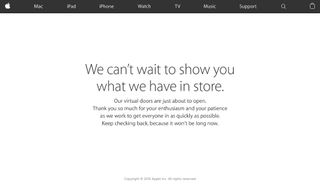 As is the case with each major event, Apple has taken its store offline. We're preparing to cover today's event, which is expected to unveil a new iPhone SE and iPad. Apple will kick off 2016 with the company's first keynote, held at Town Hall on the Infinite Loop campus.
Attempting to visit the online store will reveal an alert posted in multiple languages, "We can't wait to show you what we have in store." Be sure to catch our liveblog of the entire show!
Check out our March event liveblog
Down for between 5-6 hours before the event seems a bit of long time to have a store outage. I wonder if something else is happening at the store, say like some removed products (iPod? iPhone 5 / 6 / 6 Plus? iPad Air? Older Mac Air or Pro?), or perhaps a bigger visual change to the online store than just adding a model of iPhone and a model of iPad. Or, more likely, I'm over-reading the tea leaves, and its just Apple being Apple.

I think they're just bring apple. When they reveal the new website. It will be modified. Products removed potentially and new products added.

Down 5-6 hours before is pretty typical.

Thats what i get from paying close attention :) A boy can dream though, right? As a developer I sooo want there to be a much smaller, more focused set of devices.

I wonder when new SE comes to Europe and how much it would cost. Sent from the iMore App
Thank you for signing up to iMore. You will receive a verification email shortly.
There was a problem. Please refresh the page and try again.