Apple debuts "Commute" iPhone commercial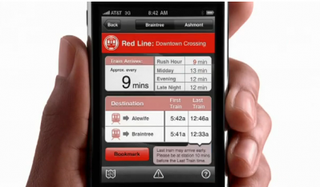 Apple's latest iPhone commercial, "Commute", emphasizes everyday use with the iPhone. Three applications are highlighted
MassTransit [iTunes Link

(opens in new tab)

- $3.99] for when the man misses his train,
Here, File File! [iTunes Link

(opens in new tab)

$9.99] when he receives a call from the office when they can't find his sales report, and
The Wall Street Journal [iTunes Link

(opens in new tab)

- Free] to enjoy a news video clip on the train.
Video after the break!
Get the best of iMore in in your inbox, every day!
Your source for all things Apple
This is a cool commercial!!...It seems like all the recent apple commercials are always showing how you can talk on the phone and use the internet at the same time...If the verizon-iPhone happens...what kind of commercials will they use then?

Verizon wouldnt make the commercials Apple would. @Leo not sure if you were trying to say something else

This is cool coz when o had my bb 8320 with the data plan at tmobile there were numerous times when it was necessary to do either one of them but I had to drop the call to do wht u wanted ... But it's possible at my iPhone

@websyndicate You're right. But i think what he tried to say is Apple is lending a hand out into AT&T, and show the others what the network is capable of doing, then what a rumored Verizon iPhone can do. Therefore, he's asking what would the Verizon iPhone ads would be like. Which will probably look like a complete failure, cause all it'll probably say is that is "obviously" has the nations largest 3G(but slower) network.

Thanx Eddie... That's what I meant...cause the verizon-iPhone wouldn't be able to talk and surf!!

I have yet to try any of the "bus is late" kind of apps, but I'm looking forward to it because it's an example of an app making a real difference. This is the kind of thing that can make public transit more appealing and thus more utilized.

I use Maps to route my public transit everyday. Tells me the times and everything. I ride SEPTA in Philadelphia.
Thank you for signing up to iMore. You will receive a verification email shortly.
There was a problem. Please refresh the page and try again.