Apple Music will support offline listening via saved playlists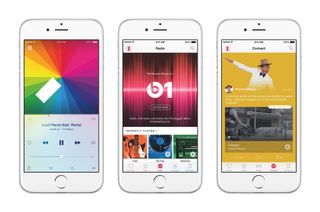 One of the big unanswered questions from the reveal of Apple Music was whether the subscription service would allow for offline playback. Well, music lovers can rest easy, as Apple has confirmed that you can indeed save playlists for offline listening. From Re/code:
Apple Music is set to launch on June 30 for on iPhone and iPad with the release of iOS 8.4, as well as Mac and Windows with a revamped iTunes. The service will cost $9.99 per month for individuals and $14.99 per month for families, with a three month free trial included.
Sweet Music
(opens in new tab)
Millions of songs in your pocket.

Apple's music streaming service boasts over 70 million songs, live radio stations anchored by renowned personalities, and thousands of curated playlists spanning every genre you can imagine.
Get the best of iMore in in your inbox, every day!
I have an android device. Hope it let's me save it to the SD card. Posted via the iMore App for Android

Doubtful. Posted via the iMore App for Android

They do for beats music. So there is hope. Posted via the iMore App for Android

What's going to happen to iTunes Match?

I have exactly the same question. Will I be grandfathered in, or will iTunes Match be a separate subscription?

From apple.com : Your music lives in one place. And every place.
Your entire library lives in iCloud when you're an Apple Music member. First, we identify all the tracks in your personal collection and compare them to the Apple Music library to see if we have copies. If we do, we make them instantly available in iCloud across all your devices. If you have music that's not in the Apple Music library, we upload those songs from iTunes on your Mac or PC. And because it's all stored in iCloud, it won't take up any space on your devices. hmmm…. does this mean it takes up space on my iCloud Drive? Sounds like Match will be included in MUSIC but wonder if iTunes Match will be available separately. I figured that is why it is a three month free trial. July, August, September, so iTunes Match subscribers, those that signed up day 1, will be right about that time. Guessing the fall iPhone event will make that more clear, and also think that is why it is a three month trial. I wonder if iCloud Drive pricing will change, too, if uploaded music counts as storage. Sent from the iMore App

Just saw this on their FAQ: Does Apple Music work with iTunes Match?
Yes. Apple Music and iTunes Match are independent but complementary. Sent from the iMore App

I just read that yesterday on their site. So with iTunes Match and Apple Music, you're looking at about 12,dollars per month., I like iTunes match, but it has a lot of problems. It won't let me play some of my songs, I have a lot of doubles too. Hopefully Apple Music, will make iTunes Match work better.

Can't wait to try it out. Sent from the iMore App

I hope that it will not replace the iPod music player or could they just give me the option of buying the music that I already own that when I could use it within iTunes gift card or with my iTunes gift card what I have to pay with it for a month eighth of scription? Sent from the iMore App

buying music is not going away.. They will even include an option to buy the music in non-drm form with a buy-now button from what it looks like.

There's a frickn' BUY button everywhere you look, even on the lock screen and Control Center.

That's nice but it refers to user-created playlists. What will happen to Beats Music's curator playlists feature (the one thing that made me pay $10 a month for the service?) With Beats I can follow various curators, each specializing in a specific genre or sub-genre of music. Then I can freely listen to any of their playlists, in whatever order I like, skipping back and forth as frequently as I like. Will I have the same feature when Apple replaces Beats?

Why isn't it June 30th yet?! Sent from the iMore App

Well at least you don't have to wait for the fall like those of us on Android lol.

iTunes >43,000,000 songs
Apple music >30,000,000
Thank you for signing up to iMore. You will receive a verification email shortly.
There was a problem. Please refresh the page and try again.