Apple reportedly readying Mavericks updates to multiple applications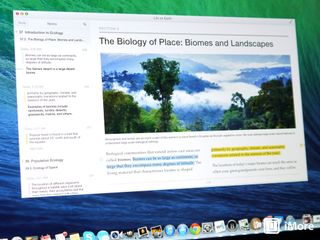 We already know that Mail in OS X Mavericks isn't playing nicely with Gmail, and reports suggest that an update for this and a host of other Apple applications suffering from issues is on the way. The news comes courtesy of Mark Gurman at 9to5Mac:
Across the board it looks like a bunch of bug fix and stability improvement updates. None are understood to be part of a 10.9.1 update to Mavericks, and will be rolled out as app updates or patches where required.
Bugs are to be expected with any new major OS release, but Mavericks does seem to have its fair share frustrating users. What bugs are you guys seeing, and would updates to any of these apps hopefully resolve things for you?
Source: 9to5Mac
Get the best of iMore in your inbox, every day!
No bugs for me. I would like to see some added Keychain features. Sent from the iMore App

+1,
e.g.
saving authentication details from web-sites whether they ask it not to be saved or not (and if not, allowing users to create detail sheets with this data, and then brute-forcing the web-sites to swallow it);
sharing WiFi authentication in readable form to iOS;
sharing Secure Notes to iOS;
requiring all iOS apps to accept and sync with the authentication data;
when creating a new password, or anytime really, allowing the user to see the password characters by entering the iKC code (this would be really handy when after generating a p/w suggestion, the user could edit it and add/remove characters as required by a given site's character or length limitations/requirements;
(I realize that the last 4 are not strictly Mavericks, but with iCloud in the game, it is all part of the same thing.)

you can force save authentication with websites:
go to safari preferences, then the passwords tab. check the option saying "Allow AutoFill even for websites that request password not be saved" Safari's autofill / iCloud keychain usually works great for me. there're only some sites that autofill doesn't recognise.

My gmail synched in mail isn't playing nice.

I haven't experienced anything major. The one that is recurring is when opening iTunes in full-screen I get an empty gray screen. Changing to window mode then back to full screen fixes the issue.

My biggest issue is that I cannot print via my windows network on the HP printers since the update to Mavericks. Before it work perfectly. The printers are paused and no printing goes through. Lots of discussion on support sites with no real solution. Sent from the iMore App

I would like Airdrop to work between the MacBook, and your iPhone, or iPad. I can pull up a document, and it shows up as Airdrop, but will not connect to the iPhone to transfer the doc. OSX does not talk to iOS in this situation. That is as bad as windows XP not talking to Vista. That was a mess.

No internet access when using Safari, iTunes and Mac App Store. No syncing between iOS and Mac with calendars, reminders, photo stream and iTunes match. Frustrating!

I have NO problems with Mavericks. None. My dad uses Gmail in the Mavericks Mail app and he hasn't complained too.

The biggest, or most annoying, issue I have is working in a program- any program, and the window switches back to my desktop. Extremely annoying.