Apple rumored to be in talks to acquire high end HDTV manufacturer Loewe [Updated: Nope]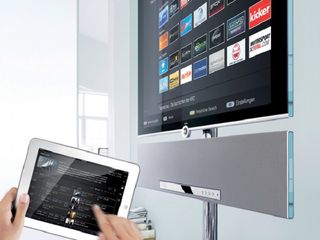 Update: Loewe has officially denied this report, telling Heise Online that there's "nothing to it." [Heise via TNW]
Apple is rumored to be in talks to acquire high end German HDTV manufacturer Loewe. The news comes from an anonymous source who claims that Apple has offered 87.3 million euros (around $112 million dollars).
Loewe was established in 1929 and now employs around 1000 workers across fifty different countries. Its high end minimalistic HDTV sets would certainly blend in with Apple's own product philosophies. This acquisition could well be a great match for Apple's often rumored HDTV set.
As well as HDTV sets, Loewe also manufacturers high end AirSpeakers that work with Apple's AirPlay technology as well as various audio systems with iPod integration. Loewe has also embraced the iPad and has released its own app that makes controlling its Audio/Video products a breeze.
We will keep a close eye on this story and let you know as soon as we hear any more information.
Source: Apple Insider
UK editor at iMore, mobile technology lover and air conditioning design engineer.
Not quite sure if I'm happy with this news. I want a standalone device, as is the  TV 2, not a big device. I can easily pocket and carry the  TV 2 to a friend's.
A big TV, not so much.
And I wonder what the pricing would be...

More than the price of any TV on the market currently. Apple currently has the most expensive phone, tablet laptops, next is TV if they continue with that pattern. Personally I think all their products except for the Apple TV are overpriced, but then again you're also paying for the brand as well, and I don't think there will be a huge demand for an Apple TV set when you can already hook up an Apple TV to your current HDTV unless there are special features only on the TV set.

Imagine a retina display TV. Ya, currently no TV has such an option. This is why the bigger the TV the further away you need to be sitting in order to get the proper picture quality out of the device. If Apple could (and they most likely will to set themselves apart) come up with a large panel retina TV, they'll corner the market because the TV can be put in any kind of orientation and any size area for everyone's rooms. You could in theory buy a 50" retina iPanel and sit 3 feet away and pretend you have an iMax (pun intended) theater. ;)

Umm..most, if not all, hdtv's are "retina" already due to the distance you view them at.
I guess you have to imagine something else now..

Exactly. For my living room its more practical to have the TV at one wall and the couch and chairs on the other. Its a 14 ft distance so any TV looks fine.

The current Apple TV and a standalone Apple television set might be able to co-exist. The Apple TV box could offer what it does now, connected to your existing set. The Apple television would of course have the Apple TV circuit board built-in and maybe a microphone for Siri and an iSight camera for gesture recognition, FaceTime calls, and maybe even for recognizing individual users.

All things being equal, Id definitely prefer the standalone device. When I spend a few thousand on a good HDTV, I expect it to last multiple years. However, the bells and whistles - the software, services, and network and decoding capabilities progress much faster. A standalone let's me drop a large amount on a good screen, while still letting me upgrade features as my technolust demands. Unless Apple goes for something like Cotton Candy's USB stick - perhaps with an Apple TV like component "docked" inside and integrated with but upgradable separately from the screen, it is hard to imagine this appealing to people like me.

Replying to myself: Of couse there will be software additions and firmware upgrades that handle many cases -- but it seems likely that, over the course of an HDTV's lifespan, there would be features that require hardware upgrades as well.

The thing is that all Apple's products are hugely overpriced, not to mention their ethics when it comes to devices having a life of no more than 2 years before they stop offering updates for them, all this leads me to the conclusion (as if I wasn't already at this point) that I for one won't buy any tv made by them, especially considering it will be very expensive because in 2 years you'll be left with an outdated tv, thanks to the rate at which technology is advancing and you'll have spent potentially thousands for that pleasure !!! ... Apple may make nice looking devices but they are greedy and controlling, just look at how many optons people get to customise an iDevice, Apple let me change my wallpaper, wow, I should be so grateful for that shouldn't I !!!

LOL @ "...all Apple's products are hugely overpriced..."
Still living in the 1990s there buddy? Still rockin' out to Milli Vanilli?
Go ask Acer, Lenovo, Dell, etc. how overpriced the MacBook Air is. Go ask Microsoft's (former) tablet hardware partners how overpriced the iPad is. Listen very carefully to what they tell you.
Then think about Apple's IGZO LCD and advanced OLED production technology partnership with Sharp. (Hint: higher quality, lower energy consumption, lower production cost.) And their dominant position as the world's #1 consumer of flash memory. (Hint: biggest purchaser -> best component deals.) And their in-house custom ARM designs. (Hint: no off-the-shelf Intel chip costs.)
The '90s are over. Apple's products are competitively priced, and they'll stay that way.

@missingno what's to say they will stop making a standalone box alongside a full fledged tv set?

Smart initial move, they definitely keep the Loewe customer base and get some Apple fans to buy em (you know, those who just want to see the apple logo on everything).

wow apple is pure crap. The phone costs $60 to make and then they sell it for a killing who ever buys apple products should be hanged on the spot or at least be castrated.

Please don't use the word apple for this. Instead, say that cellphone companies are crap. Please point me to a different smartphone that doesn't cost about 30% of its retail value in parts.

60 dollers on a 800 retail value looks like 30% to you??? Apple should get sued on their profit margins!!!! Pure evil. I hope the loose in the long run!!!

Actually pretty much every source I've read says around $175 in parts to build the iPhone, and that doesn't take into account labor, R&D, marketing, and paying employees in service centers, data centers, Apple stores, etc. I've never read $60, the processor alone costs close to that much.

Check out this site too, more frequently updated with dates, trailers and reviews – http://r5release.blogspot.co.uk/

Loewe are high end products. In just about all reviews. The one major con, is "expensive." Apple has to be competitive with other products. I do not care what an apple TV can do, it will come to a point where passing a certain price, will make it only exclusive to a small set of consumers. There are already a small collection of smart HDTV on the market, at a fair price. I hope I am wrong, but this apple tv project is really starting to look like a very expensive toy, and not really worth the price. I truly hope I am wrong, but have a bad feeling about this one.

Awww, don't feel bad Glenn. You'll be OK. :-) :-) :-)
Apple could buy Loewe just for their software and dump their TV hardware. The original article says:
"Loewe has also embraced the iPad and has released its own app that makes controlling its Audio/Video products a breeze."
Might be worth acquiring.

http://thenextweb.com/apple/2012/05/13/german-tv-maker-loewe-denies-appl...
german original pagehttp://www.heise.de/newsticker/meldung/Loewe-dementiert-Bericht-ueber-Ka...
FALSE ALARM İMORE and thıs ıs a kınd a old news it ıs one week old
and maın thıng is sharp majorholdıng ın thıs company
ıf there is a change to buıld apple tv(itv) ıt ıs from sharp itself and with ıgzo panel like the ipad 3.3 prototype in mobile congress in barcelona

Why can't you guys TRY to understand that the TV that Apple would release ( next year) is a whole lot more than just a tv with built in AppleTV ?
Jobs cracked the TV . That means something NEW that will revolutionize the TV industry is coming out soon. Much like how iTunes changed the music industry and iPhone changed the smart phone.
Stay tuned. This is the best thing that happened to TV since color TV ;) :)

I'm hoping they go 4k on the tv... (4k being the rez not the price, lol)

:lol:
Oh Im sure they will! ( the price not the rez) :P

I used to be suggested this website by my cousin. I am no longer sure whether this publish is written by means of him as no one else understand such targeted about my difficulty. You're wonderful! Thank you!
Thank you for signing up to iMore. You will receive a verification email shortly.
There was a problem. Please refresh the page and try again.