Apple updates OS X Mavericks to version 10.9.5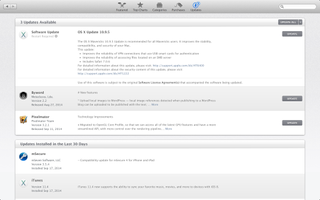 It's been a busy day for Apple. After having launched iOS 8 to the public and hosting a number of updated iOS 8 apps in the App Store, the Mac-maker has now released an update to OS X Mavericks. Now, the Mac OS is at version 10.9.5, bringing with it a number of stability and performance updates.
According to Apple, the update brings better stability to VPN connections as well stability for accessing files on an SMB server. However, the feature that consumers will likely benefit the most from will be the new version of Safari that's included. With the new Mavericks, Safari 7.0.6 comes bundled.
Have you downloaded and installed the update yet?
I just updated, but I haven't noticed anything different. What should I look for ?

Safari did not come bundled for me. I had to check for updates after the OS installation for it to show up. Sent from the iMore App
Thank you for signing up to iMore. You will receive a verification email shortly.
There was a problem. Please refresh the page and try again.