3 ways Mac gaming needs to improve so M3 Macs can be a viable gaming alternative
They may be 'Scary Fast' but they need more.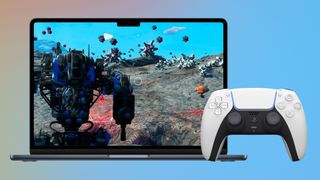 (Image credit: Future)
Gaming with Apple has gotten significantly better over the last few years. With macOS Sonoma getting an official game mode, the Resident Evil Village port on iPhone 15 Pro Max being wonderfully realized and Macs themselves being incredibly efficient little machines, it makes sense that one would want to shoot baddies from the same setup they edit pictures with.
However, all this growth has left Macs in this strange place where they are impressive enough to run many games but not quite supported enough to run them as they should. For the first time in a decade, the problem with Mac Gaming isn't hardware.
'Scary Fast', Apple's next event that starts later today, is due to announce a whole new set of M3 Macs allowing these machines to run new programs and games even better. With this in mind here are three things Apple should do alongside it to make gaming even better on the M3 Mac.
Better game curation
The App Store can be a great way to discover games but it can be also pretty limited for the category. Unless you know what game you're searching for, you're confined to what's popular at the time, or what fits into easy-to-describe genres. This makes it hard for a lot of developers to use the App Store as a promotional tool.
With the launch of Resident Evil Village, as well as ports like Assassin's Creed Mirage coming next year, users would benefit from a more robust way to search, allowing them to find other 'console quality' games. Even a simple 'search by price' or 'search by developer' option would greatly help when finding new games.
This builds into a larger problem with the App Store in that popular games stay popular. If you picked the Search icon on the App Store a year ago, many of the games featured would still be here. For the most part, this philosophy doesn't apply to Steam, PlayStation, Xbox, and Nintendo Switch.
Taking Steam's popular upcoming category to the App Store's search function could really benefit budding game developers on the platform.
Run your existing games on a Mac with no fuss
With the Game Porting Toolkit, Apple has created something incredible. Essentially, it can be used to test games that don't run natively on Mac, by 'translating' how it can run on other platforms, such as Windows. For the average consumer, this means very little, as you have to jump through lots of technical hoops to force something to run on your device.
Unless you want to go through an entire process that uses rudimentary code and the command line, you will skip playing a game that uses Direct X 12.
However, this can then be used in a greater program, like CrossOver or Whisky to do the translation for you in very few steps. This is fantastic and means that games that were otherwise locked to PC can be played on the beefy hardware of a modern Mac. Using Whisky, games like Resident Evil 3: Remake and Metal Gear Solid V are fully playable on your Apple silicon Mac.
Yet what I would love to see is something like Apple's Rosetta program, which automatically converts new apps and games on an experimental basis until official support arrives. So for example, you could download Steam from its own app, and run it like you would from a Windows PC.
Better ecosystem support
Though I loved my time with Resident Evil Village, one of its biggest flaws is the lack of Universal support. This means that if you want to play the game on your iPhone, MacBook, and iPad, you have to purchase the game at least twice, and no game saves are shared between devices. If future games have different apps for the iPhone and iPad for any reason, this means three purchases are necessary.
One of Steam's greatest selling points is its value for money. It is considered the best place to game for many because its digital storefront offers games at a reduced price regularly. And if you decide to log into another device on the same account, Steam Cloud carries over any game saves to this new device.
Resident Evil Village, as a game that launched at $39.99 on M1 iPads, alongside iPhone 15 Pro and Pro Max, feels even more expensive when you can't even use it on multiple devices without an extra purchase. Having the freedom to play games on a Mac at night, and then on your iPhone while commuting is a unique selling point that could set Apple apart from its competitors.
Ultimately, I love many of the steps taken by Apple in the last year to make its devices better for gaming. However, problems still persist from years of trailing behind Windows PCs in the gaming front and they need to do quite a lot to catch up.
Master your iPhone in minutes
iMore offers spot-on advice and guidance from our team of experts, with decades of Apple device experience to lean on. Learn more with iMore!
James is a staff writer and general Jack of all trades at iMore. With news, features, reviews, and guides under his belt, he has always liked Apple for its unique branding and distinctive style. Originally buying a Macbook for music and video production, he has since gone on to join the Apple ecosystem with as many devices as he can fit on his person.
With a degree in Law and Media and being a little too young to move onto the next step of his law career, James started writing from his bedroom about games, movies, tech, and anything else he could think of. Within months, this turned into a fully-fledged career as a freelance journalist. Before joining iMore, he was a staff writer at Gfinity and saw himself published at sites like TechRadar, NME, and Eurogamer.
As his extensive portfolio implies, James was predominantly a games journalist before joining iMore and brings with him a unique perspective on Apple itself. When not working, he is trying to catch up with the movies and albums of the year, as well as finally finishing the Yakuza series. If you like Midwest emo music or pretentious indie games that will make you cry, he'll talk your ear off.