Resident Evil Village on iPhone 15 Pro gave me something very rare — a good mobile gaming experience
The iPhone 15 Pro is perfect for console-level gaming and Resident Evil Villages proves it.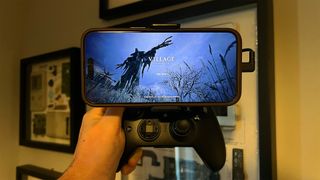 (Image credit: Future / Apple)
When Resident Evil Village was first shown back at the Apple Event in September I was excited but equally a little cautious. The idea of a phone being able to run a console-level experience feels almost too good to be true yet, after spending a week with it, it makes me more excited for what's to come next.
Despite my excitement for the future, Resident Evil Village is far more than just a tech demo for where mobile gaming could go — it's a fully-fledged experience complete with graphics modes, DLC, and more. Resident Evil Village is a game I'm familiar with and one of the older console-level games to test out that A17 Pro chip with on my iPhone 15 Pro Max.
We'll have to wait a few more months for the most impressive ports, but so far, the signs for console-quality games on Apple devices is looking good. Perhaps even, far better than it ever has been.
What makes Resident Evil Village on iPhone work?
Though Resident Evil Village is technically playable with touch controls, they make the Resident Evil Village experience significantly worse. I kind of love this.
It represents what Village is — a game designed to be played with multiple buttons at once. It isn't stripped back and gutted to make it more palatable for mobile audiences. In a purely technical sense, Resident Evil Village is relatively inaccessible as you need a controller, and preferably some earphones, to get the best experience.
When I pick up my iPhone 15 Pro Max, I don't feel talked down to by CAPCOM, given the 'kids' version of the base experience. It is the exact same game I played in 2021, flaws and all. You can talk to someone who played the game on PC and share the same stories — the same experience.
The mobile gaming problem
I've never really paid reverence to mobile gaming as much as I should. It has some wonderful experiences like Monument Valley and ports of games like Genshin Impact and Stardew Valley perform very well. The best iPhone games have managed to cram experiences conceptualized on console and PC into the tiny frame of modern phones and these games manage to work in their own right.
However, there's a complexity that users expect out of modern console gaming experiences that, due to their lack of buttons and limited screen space, mobile phones just can't access. Stardew Valley is good because of its slow pace and Genshin Impact works as there's only a handful of buttons you need.
Though Call of Duty Mobile admirably adapts the formula to mobile phones, it's not as impactful or fun as playing on a nice console setup. I may not have believed this beforehand but Resident Evil Village proves mobile games are capable of more than that.
What's next?
So far, we know that Resident Evil 4 Remake, Death Stranding: Director's Cut, and Assassin's Creed Mirage are all due to hit the iPhone 15 Pro over the next year. Resident Evil Village doesn't have this ability but the rest of the games can be purchased once with your Apple ID and will also be playable on your Mac and iPad, which makes that price of $59.99 seem a little more reasonable.
Resident Evil 4 Remake only launched at the start of the year on consoles and PC, while Assassin's Creed Mirage came out in September. The iPhone 15 Pro Max is just over one month old so it's not inconceivable to think that new games could launch simultaneously on mobile, something nearly unprecedented.
However, every one of these games can also run on PS4 and Xbox One — consoles that are now a generation old. We haven't yet seen a port for a game only on current consoles. This will be the next hurdle for the iPhone 15 Pros but, if they struggle to make it over that hurdle, this move into gaming will still be a success to me.
It's not that previous mobile devices haven't had the power to run games of this caliber but that they've been missing the support to take advantage of it. Apple is supporting gaming in a big way with macOS Sonoma's gaming mode and these brand-new phones. Resident Evil Village doesn't feel like a flash in the pan for Apple but the start of something much bigger.
Master your iPhone in minutes
iMore offers spot-on advice and guidance from our team of experts, with decades of Apple device experience to lean on. Learn more with iMore!
James is a staff writer and general Jack of all trades at iMore. With news, features, reviews, and guides under his belt, he has always liked Apple for its unique branding and distinctive style. Originally buying a Macbook for music and video production, he has since gone on to join the Apple ecosystem with as many devices as he can fit on his person.
With a degree in Law and Media and being a little too young to move onto the next step of his law career, James started writing from his bedroom about games, movies, tech, and anything else he could think of. Within months, this turned into a fully-fledged career as a freelance journalist. Before joining iMore, he was a staff writer at Gfinity and saw himself published at sites like TechRadar, NME, and Eurogamer.
As his extensive portfolio implies, James was predominantly a games journalist before joining iMore and brings with him a unique perspective on Apple itself. When not working, he is trying to catch up with the movies and albums of the year, as well as finally finishing the Yakuza series. If you like Midwest emo music or pretentious indie games that will make you cry, he'll talk your ear off.