An exclusive day-one macOS Sonoma update lands on M3 Macs next week - but what's new?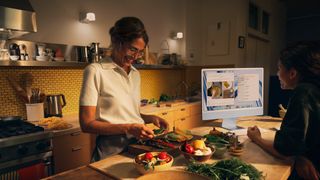 (Image credit: Apple)
macOS Sonoma is a great update with some really interesting features and the brand new M3 range is getting an exclusive new version of it.
Don't get jealous just yet though, as you likely won't need it on earlier machines. Spotted by Aaronp613 on X (formerly Twitter), current Macs are on build number 23B2077, while both the M3 MacBook Pro and iMac will launch with build number 23B2073. As Apple has no reason to make any OS-specific software features exclusive right now, it seems likely that these are minor bug fixes that don't apply to M1 and M2 Macs.
With some features like hardware-accelerated ray tracing, mesh shading, and dynamic caching, there are a few new things that require special care from Apple.
We should know a little bit more about what this new software update fixes as early as next week once these new Macs are available. So if you have preordered your own M3 Mac, make sure to update to this latest version once it arrives.
Give it time — iMore's take
As someone who preordered and received their iPhone 15 Pro Max on the day it came out, I've grown accustomed to the small problems that come with new tech. Be it phones overheating with certain kinds of use, screen burn (which has since been fixed), or a litany of small OS problems, people who spend early get the joys and pains of those first few months.
This early exclusive OS update is a good sign that Apple is getting ahead of any launch problems. However, if you're an early adopter, it's worth keeping all that in mind.
If you buy now, you get the fun of having a new device but you may have to deal with launch issues.. As someone with an M1 MacBook Air, I feel like I'm nearing the time to upgrade but, until I see the M3 Macs perform myself, I'm not there just yet.
More from iMore
Master your iPhone in minutes
iMore offers spot-on advice and guidance from our team of experts, with decades of Apple device experience to lean on. Learn more with iMore!
James is a staff writer and general Jack of all trades at iMore. With news, features, reviews, and guides under his belt, he has always liked Apple for its unique branding and distinctive style. Originally buying a Macbook for music and video production, he has since gone on to join the Apple ecosystem with as many devices as he can fit on his person.
With a degree in Law and Media and being a little too young to move onto the next step of his law career, James started writing from his bedroom about games, movies, tech, and anything else he could think of. Within months, this turned into a fully-fledged career as a freelance journalist. Before joining iMore, he was a staff writer at Gfinity and saw himself published at sites like TechRadar, NME, and Eurogamer.
As his extensive portfolio implies, James was predominantly a games journalist before joining iMore and brings with him a unique perspective on Apple itself. When not working, he is trying to catch up with the movies and albums of the year, as well as finally finishing the Yakuza series. If you like Midwest emo music or pretentious indie games that will make you cry, he'll talk your ear off.