Apple Store near me: How to find your local Apple shop for the iPhone 15 launch
You may just need a little help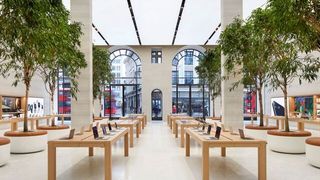 (Image credit: Apple)
Now that we know Apple's next event takes place on September 12th, you may be wondering where to go to pick up your new iPhone 15.
Apple Store employees will help inform you about your next iPhone purchase and whether upgrading to the rather impressive iPhone 15 Pro or even all the way up to the iPhone 15 Pro Max is worth it instead. If you are looking to buy a new Apple device or just want some advice, the Apple Store is a great place to start.
How to find your local Apple Store from the Apple site
Via locate.apple, you can use Apple's own site to find your local Apple Store. When you open it up, this will be split into Sales, Service & Support, and Consulting.
Sales will give you the location of Apple Stores and Authorized Resellers. After you add your location, you can pick the product you are looking for like a new iPhone, iPad, or an Apple Watch. If you are looking specifically for Apple Stores and not retailers, all Apple Stores will have an "Apple Store" tag next to the name.
The Service & Support section will show you where to go for repair services. These won't all be Apple Stores but will be certified for Apple repairs. If you have a problem with your phone or you may have broken something, this is where you should go.
The Consulting tab will point you to someone who will train you how to use Apple devices and services. This is largely used for business purposes and who you should contact if you want to use Apple products or services in any official capacity.
How to find your local Apple Store with Apple Maps
From your iPhone, MacBook, or iPad, open up Maps
Click on the search bar in the app
Type in Apple and find your nearest Apple store
The great thing about using maps over the Apple site is they will give you specific directions to get there, from the walking time to the bus timetable. Not only this but Apple Maps is due to get much better with the introduction of iOS 17.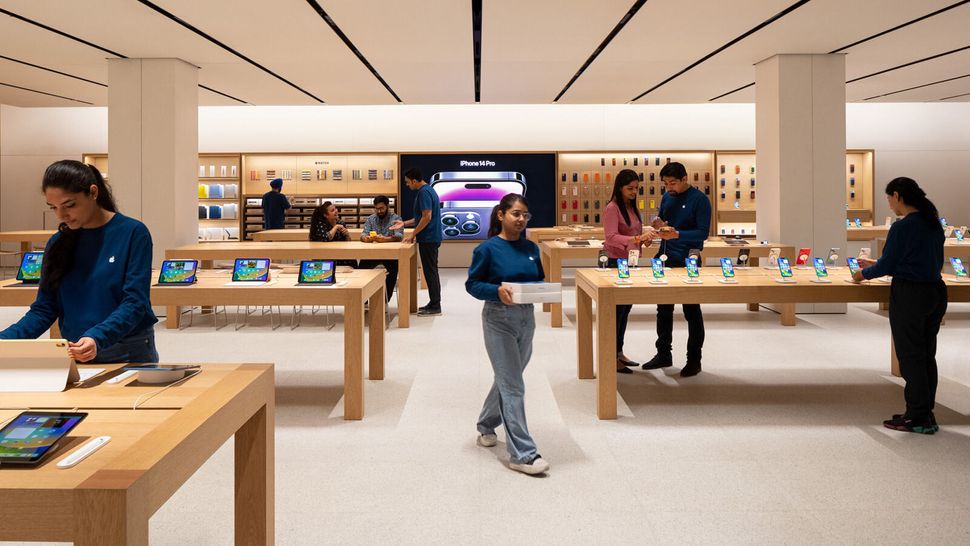 One more thing… A unique experience
Apple Stores have such a distinct look. Bright lights, clean visuals, and minimalist shelving — making the inconvenience of walking into the store feel like more of an adventure. This is before mentioning the exclusive features they have in the shop. The iPhone Upgrade Program allows you to buy your next iPhone by paying monthly with interest-free installments, but it's only available in-store for UK customers (US can buy online). As well as this, shop staff will help you set up your devices when you buy them in-store, which is particularly great for those who aren't as confident with tech.
You could buy your Apple devices online, but there's a certain magic to going in person. This is before mentioning the unique value of actually talking to a human being and getting advice in real time. Though the fact that the UK doesn't have online IUP as the US does is unfortunate for UK customers, the experience of being an Apple user is made a little better by the existence of physical Apple stores.
Ultimately, the Apple Store is an extension of Apple's branding. It is expensive and clean but also tries to welcome you into a community. For better or worse, one of the reasons Apple users stay around is just how coherent the entire Apple ecosystem is. This is just another part of the experience.
Master your iPhone in minutes
iMore offers spot-on advice and guidance from our team of experts, with decades of Apple device experience to lean on. Learn more with iMore!
James is a staff writer and general Jack of all trades at iMore. With news, features, reviews, and guides under his belt, he has always liked Apple for its unique branding and distinctive style. Originally buying a Macbook for music and video production, he has since gone on to join the Apple ecosystem with as many devices as he can fit on his person.
With a degree in Law and Media and being a little too young to move onto the next step of his law career, James started writing from his bedroom about games, movies, tech, and anything else he could think of. Within months, this turned into a fully-fledged career as a freelance journalist. Before joining iMore, he was a staff writer at Gfinity and saw himself published at sites like TechRadar, NME, and Eurogamer.
As his extensive portfolio implies, James was predominantly a games journalist before joining iMore and brings with him a unique perspective on Apple itself. When not working, he is trying to catch up with the movies and albums of the year, as well as finally finishing the Yakuza series. If you like Midwest emo music or pretentious indie games that will make you cry, he'll talk your ear off.
Wow, extremely slow news day, huh????

Reply