Final Cut Pro gets 'automatic timeline scrolling' and more in new update
As well as Apple silicon optimization.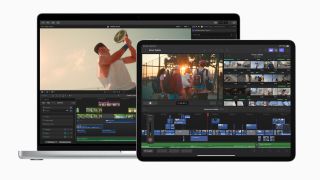 (Image credit: Apple)
A huge new update is due to arrive on Final Cut Pro this month, giving us automatic timeline scrolling, improved voiceover capabilities, and a bevy of features users have been hoping to receive for some time.
Starting on Mac, new organization tools have been added like automatic timeline scroll for easier playback, dynamic timeline adjustments in playback with keyboard shortcuts, and a smoother view of the timeline. Automatic timeline scrolling will allow users to check over their clips while in playback mode, allowing them to pinpoint which clips are playing at every moment.
As well as this, Final Cut Pro has been further optimized for Apple silicon, with quicker h.264 and HEVC exports and a new machine-learning model for object tracking. This makes the latter more efficient and stronger on Silicon devices. You can read all about it right here.
What's new on iPad?
The iPad version of Final Cut Pro now has an easier-to-use voiceover component, meaning you can record over a video with just one tap. You can even use the built-in mic to do it on the fly. If you just want to record voiceover on a specific spot, you can pinpoint where in your timeline you want to record, then click the record button for a quick countdown.
You can also stabilize video straight from the app and it has become more efficient at combining clips into a single timeline. There are tonnes of small feature improvements that make this update quite big on both devices.
Both the iPad and Mac updates will launch this month. Final Cut Pro is currently $299.99 for a lifetime subscription on Mac and $4.99 a month on iPad, though you can save a little by spending $49 on the yearly plan. There is no universal purchase for these two versions of the software so you will have to pay for it twice to use on both devices.
More from iMore
Master your iPhone in minutes
iMore offers spot-on advice and guidance from our team of experts, with decades of Apple device experience to lean on. Learn more with iMore!
James is a staff writer and general Jack of all trades at iMore. With news, features, reviews, and guides under his belt, he has always liked Apple for its unique branding and distinctive style. Originally buying a Macbook for music and video production, he has since gone on to join the Apple ecosystem with as many devices as he can fit on his person.
With a degree in Law and Media and being a little too young to move onto the next step of his law career, James started writing from his bedroom about games, movies, tech, and anything else he could think of. Within months, this turned into a fully-fledged career as a freelance journalist. Before joining iMore, he was a staff writer at Gfinity and saw himself published at sites like TechRadar, NME, and Eurogamer.
As his extensive portfolio implies, James was predominantly a games journalist before joining iMore and brings with him a unique perspective on Apple itself. When not working, he is trying to catch up with the movies and albums of the year, as well as finally finishing the Yakuza series. If you like Midwest emo music or pretentious indie games that will make you cry, he'll talk your ear off.