Final Cut Pro iPad vs Final Cut Pro Mac: What's the difference?
The iPad Pro's Pro application.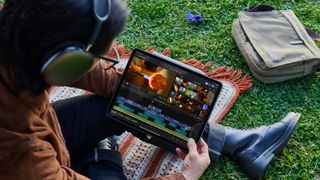 (Image credit: Apple)
Final Cut Pro is one of Apple's most impressive pieces of software for video editing, while the iPad is one of its most successful pieces of hardware. It's surprising, then, that the two have never crossed paths until this month's unveiling of Final Cut Pro and Logic Pro arriving on its tablet line.
But how much of the Mac version has made the jump to the iPad? While we wait for the iPadOS version to launch on May 24 we've been busy comparing the features revealed by Apple ahead of release.
With this in mind, here's everything different between Final Cut Pro on the Mac and the iPad that we've spotted so far — and be sure to check back post-launch for any fresh details and points of comparison we've found.
Apple's movie-making software runs great on Apple Silicon, and is very capable, with its magnetic timeline.
It's a great go-to tool for video professionals, for good reason.
For
Great timeline
Multicam support
Runs great on Apple Silicon
Against
Costs $300 (but no subscription required)
Final Cut Pro goes portable, but you'll need to pay monthly for it. Still, it's redesigned for touch interfaces, and offers Apple Pencil and keyboard support, too.
For
Runs smoothly on iPad
Multiple input methods
Against
Lack of ports on the iPad
Subscription model won't be for everyone
Can you do everything from Final Cut Pro for Mac on Final Cut Pro for iPad?
As we noted above, it's tricky to be definitive in our answer here, but we can certainly present what Apple itself has said.
The iPad version of Final Cut Pro offers the Magnetic Timeline, as seen on the "full-fat" desktop alternative, meaning you can drag and drop clips and see the timeline adjust itself to keep things from appearing out of place.
While you can tap and drag along the timeline, there's a new digital "jog wheel" to help move through projects with ease, presumably reducing the need to swipe from one end of your latest video to the other.
It also features its own library of graphics and effects, although we'd wager those are less comprehensive than those found on the Mac version, given the relative storage constraints.
Speaking of constraints, you'll have to be content with a few iPad-specific quirks. Notably, the Files app can be fiddly, particularly when working with huge amounts of images or videos.
Then there's the drawback of having a single USB-C port on even the best iPads. If you're connecting an external storage device, you'll need to use a dock to charge the iPad while working or the Magic Keyboard with its discrete charging port.
Final Cut Pro for iPad exclusive features
Final Cut Pro on the iPad does have some impressive new perks for anyone using the tablet interface. Notably, it leverages machine learning in interesting ways.
It can automatically remove or replace backgrounds as if you were using a green screen, and automatically crop for your required format, ideal for content creators working on social media-focused video exports.
And, while the iPad does come with those aforementioned quirks, it does have something a Mac doesn't have — a rear-facing camera. That means it's essentially an entire movie studio you can take on the go.
Apple has wisely leaned into that with Pro Camera Mode which can shoot video straight into Final Cut Pro on the iPad while letting you control a variety of settings throughout the shooting process like focus and white balance adjustments.
Multicam is possible, too, working similarly to the Mac version with automatic syncing of multiple perspectives to allow for quick-switching.
Final Cut Pro for iPad system requirements
If you want to run Final Cut Pro on your iPad, you'll need an iPad with an M1 chip or later.
That means the latest iPad Air or an M1 or M2 iPad Pro.
Final Cut Pro for Mac system requirements
The minimum requirements for Final Cut Pro on Mac are 4GB of RAM, 4.5GB of storage, and a GPU capable of supporting Apple's Metal graphic tech.
You'll also need to run macOS 11.5.1, and while those requirements aren't particularly taxing, that's for the basic level of performance — your experience will be drastically improved with newer hardware (Apple Silicon runs Final Cut Pro particularly well).
Which Final Cut Pro platform should you use?
If you're already well-engrained in Final Cut Pro on Mac, it's hard to tell if the iPad version is worth switching to, but it could make the tablet a great companion device for editing projects on the go.
Whereas iMovie has traditionally been the go-to app for beginners, the touch-first interface on a tablet may make Final Cut Pro worth a try, especially with a free trial.
That brings us nicely to the price, however. If you've already spent money on the Mac version of Final Cut Pro, there's no discount for the iPad version, which is a little disappointing.
Instead, the app costs $4.99 per month or $49.99 per year. That's an impressively low price if the app holds up as well as the Mac version, but some will undoubtedly wish they could pay a single amount for lifetime access (although, who knows, perhaps the Mac version will move to a subscription in the future, too).
Get more iMore in your inbox!
Our news, reviews, opinions, and easy to follow guides can turn any iPhone owner into an Apple aficionado
Lloyd Coombes is a freelance writer with a specialism in Apple tech. From his first, hand-me-down iMac, he's been working with Apple products for over a decade, and while he loves his iPhone and Mac, the iPad will always have his heart for reasons he still can't quite fathom.

Since moving from blogging to writing professionally, Lloyd's work can be found at TechRadar, Macworld, TechAdvisor and plenty more.

He's also the Editor in Chief at GGRecon.com, and on the rare occasion he's not writing you'll find him spending time with his son, or working hard at the gym (while wearing an Apple Watch, naturally). You can find him on Twitter @lloydcoombes.
This is a really informative article. I have an M1 Air and I haven't been able to run Final Cut on my 2012 iMac cos it is so slow now. So I am tempted with the iPad version.

Reply