I'm buying an Apple Watch on Black Friday so my partner stops losing their iPhone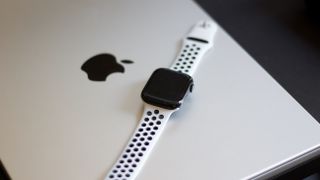 (Image credit: Future)
The silent switch was a great, easy-to-use feature, which has since been replaced by the superior Action button on the iPhone 15 Pro and Pro Max. However, if you're someone who finds themselves annoyed enough by a vibrating phone to turn it off, pressing the mute button means you are nearly impossible to reach if you don't consistently check your phone.
An Apple Watch is great for many things: tracking exercise, calling emergency services, checking messages, and, most importantly for me, pinging your iPhone. My partner has a terrible habit of placing her iPhone in the strangest of places, such as on top of a wardrobe she's barely tall enough to reach. So having that dastardly silent switch enabled means pinging her iPhone with a phone call never receives a response.
With Black Friday mere weeks away, I've decided I won't root around the couch cushions for an iPhone any longer. Instead, it's time for an upgrade.
The Problem
My partner both loves her green iPhone 13 Pro Max and hates the amount of time they spend on it. Scrolling through their apps reveals a litany of ways to stop doom scrolling. Some of her apps are used to block out social media entirely while others are designed to minimise the time you spend on it. Even TikTok, a guilty pleasure of hers, is something she mostly only watches over my shoulder on my iPhone.
She has often found herself scrolling instead of doing things she actually wants to do, so this has left her annoyed by the inconvenience of a ping. In order to actually know if a message is important, you have to unlock your iPhone, and often, go into the app itself to read it.
For this reason, she mutes her iPhone and checks it sporadically, something made harder when it is the main way of checking the time. This leads to, perhaps, her being slightly inconsistent to get in contact with. This can especially matter if I need to make quick lunch plans or want to figure out if we are going out with some friends for dinner.
With emails, group chats, and unnecessary notifications about the new picture your aunt has just put up on Facebook, it can be easy to entirely ignore your iPhone. Then, when it goes missing, you have to search around blindly until the tip of your fingers brush against it under the sofa. Luckily, Black Friday has the answer to all my problems.
The Solution
I was lucky enough to get a Series 7 around my Birthday last year, and this made responding to pings and keeping track of my phone so much easier. Now, with watchOS 10, you can click the side button to bring up your Control Center. From here, you can press on the phone icon, and your iPhone will go off with a rather loud ping. This bypasses the mute switch and can be accessed without the internet and even when the iPhone is in Airplane Mode. This is due to the Bluetooth connection that binds both the iPhone and the Apple Watch together.
With just a few weeks away from the big Black Friday event, we have plenty of time to research colors, watch face size, bands, and how it will fit into our daily lives. I have sung the praises of my Series 7 enough to make her a little jealous, but there's no point in upgrading now with all those great deals just weeks away.
The Perfect Fit
The Apple Watch SE is a very cute watch due to its small size and light colors and so cheap that we felt unlikely to get a huge reduction during Black Friday. However, the Series 8 features a bigger screen and a temperature reading. This establishes a baseline temperature that can then be further studied to understand when your wrist's temperature is fluctuating.
This isn't good for checking if you have the flu, but is perfect cycle tracking. With it, we can get a rough reading and stock up on products just before it's due to start.
Not only this, but the Blood Oxygen sensor is a handy little measurement tool in Series 8 that can be used as part of a workout routine to set goals and ease the mind. For the extra couple of hundred dollars this will cost, she'll notice the upgrade for years.
So, as someone who's looking for an excuse to stare at their iPhone at a lesser rate, this is, ironically, the best way to get less technology in their life. Hopefully, we'll manage to grab a nice deal in a few short weeks once November 24 rolls around.
Master your iPhone in minutes
iMore offers spot-on advice and guidance from our team of experts, with decades of Apple device experience to lean on. Learn more with iMore!
James is a staff writer and general Jack of all trades at iMore. With news, features, reviews, and guides under his belt, he has always liked Apple for its unique branding and distinctive style. Originally buying a Macbook for music and video production, he has since gone on to join the Apple ecosystem with as many devices as he can fit on his person.
With a degree in Law and Media and being a little too young to move onto the next step of his law career, James started writing from his bedroom about games, movies, tech, and anything else he could think of. Within months, this turned into a fully-fledged career as a freelance journalist. Before joining iMore, he was a staff writer at Gfinity and saw himself published at sites like TechRadar, NME, and Eurogamer.
As his extensive portfolio implies, James was predominantly a games journalist before joining iMore and brings with him a unique perspective on Apple itself. When not working, he is trying to catch up with the movies and albums of the year, as well as finally finishing the Yakuza series. If you like Midwest emo music or pretentious indie games that will make you cry, he'll talk your ear off.