Are AirTags water-resistant?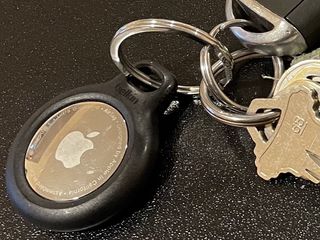 (Image credit: Mark Goldschmitt/iMore)
Are AirTags water-resistant?
Best answer: Yes, Apple's AirTags are IP67 rated splash, water, and dust resistant. This means they can be submerged in 1 meter of water for up to 30 minutes.
Apple's AirTag was introduced during its April 2021 event. The AirTag is Apple's version of an item tracker that takes advantage of the Find My network to locate missing items. Although other trackers such as Tile and Chipolo have been around for years, the AirTag is unique in that you can locate a missing AirTag using the U1 Ultra Wideband chip in an iPhone 11 or 12, while keeping location data private and using end to end encryption.
Easy setup is something Apple is famous for, and setting up and pairing an AirTag to your iPhone is no exception. If you have set up AirPods in the past, you already know how to set up an AirTag. Simply hold it close to your iPhone and pair it. Then you can name the device you are attaching it to, such as "Mark's keys," and the AirTag will appear in the items tab in the Find My app.
A little water won't hurt
Apple made sure that the AirTag was durable by making it IP67 rated, meaning the AirTag can withstand splashes, water, and dust. If you drop your AirTag in the sink, a puddle, or get stuck in the rain, you won't have to worry about it being destroyed.
According to Apple,
Unlike most Apple products, thankfully, they have made the battery user-replaceable. The AirTag uses a standard CR2032 battery which should last one year. Your iPhone will alert you when the battery needs to be changed, and it's a simple process to open the AirTag and swap out the battery.
Accessory makers love the AirTag, as an entirely new market has opened up. Since the AirTag does not have a built-in hole to attach to a keychain or loop to a bag, you will need to purchase an accessory. If you need help choosing, check out our guide to the best accessories you can buy for your AirTag. Personally, I chose the Belkin Secure Holder with a keyring. It's simple and inexpensive, and it also looks good on my keychain.
IP67 water resistant
(opens in new tab)
Apple's item tracker

The AirTag is Apple's version of an item tracker that uses its own Find My network to track your keys, bags, or whatever you want to attach it to. Thankfully they are IP67 water-resistant and have a user-replaceable CR2032 battery. They are available in a 1 pack for $29 or a 4 pack for $99.
Simple keyring
(opens in new tab)
Belkin Secure Holder with Key Ring
Inexpensive and simple keyring

The Belkin keyring for Apple AirTag is a simple and inexpensive accessory. You can attach your keys or attach the ring to a bag. Installation for your AirTag is simple and easy, and it's available in four colors.
Get the best of iMore in your inbox, every day!
**Mark Goldschmitt** is the father of three boys and loves anything Apple. Born and raised in Queens, NY, and currently residing on Long Island, Mark is a lifelong New York Mets fan. {.end}