Quick App: AT&T myWireless for iPhone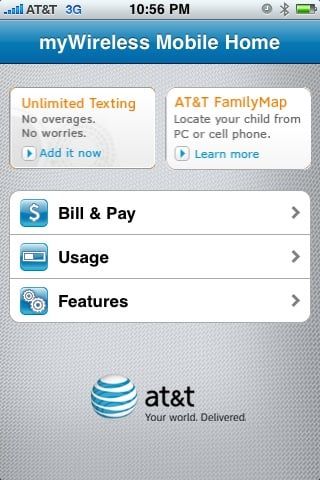 Today AT&T's very own application, myWireless, was released in the the App Store for all AT&T subscribers to download. myWireless (opens in new tab) [iTunes Link] is a crafty little app that lets iPhone users manage their AT&T accounts easily from the device itself. You can view your data and minutes usage, view and pay your bill, and you can even add and remove extra features like text messaging and early nights/weekends, all from the comfort of your very own iPhone.
I've tested it out and pretty much any option on AT&T's website is built into this app. You can even access your full detailed bill via PDF file.
It is important to note that you must have an active AT&T Mobility account that is registered for online account management in order to use this application.
If your IPhone is not the primary phone on a family account, the Features section does not work and gives an error that this requires an IPhone to view. Bummer, but whatever.

Neat, but still not sure if I am up to paying bills or banking from my phone yet. I'll have to check it out.

Sucks. I have prepaid. Can't use this app.

I am on a family account and the primary user (or so i should be) but everytime i try to sign on i get W001 error.

Just downloaded it. Works nicely on my phone and love it. No more dialing and waiting for my minutes and balance separately waiting in my text msg.

i download it... i have unlimited minutes so i get a error message when i look up my minutes..but the main reason i downloaded it was to keep up with my texts cause i dont have unlimited and i get error message when im look for that.... and advice guys...
p.s. i love my iphone

Very cool. Thanks for the tip.

Wackness, I bought Page Once's version 2 weeks ago and not AT&T has a free version. I am clearly not happy with this....

Very cool. When I get my iPhone I am definately downloading this app.

I have my doubts about downloading any carrier-specific software due to the way carriers generally like to add useless crap to your phone. But this looks innocent enough, and I applaud AT&T for recognizing the benefit of an attractive icon. They went above and beyond on that. For that reason, I don't mind having this thing hanging around way back on my 5th or 6th springboard for the rare occasion I might want to use it.

This won't work as well if a combine Att customer like having your Internet and wireless bill into one every month hope they can fix this issue

Cool idea. I hope they work the bugs out soon

finally att finds a way to get a little bloatware on the iphone

Tried it out, the Page Once version is better than the AT&t since you always have to re-type your password in to access it.

It won't remember your password, is no use if you have a long password, they should add a four digit passcode to unlock the app.
Get the best of iMore in in your inbox, every day!
Thank you for signing up to iMore. You will receive a verification email shortly.
There was a problem. Please refresh the page and try again.