Beginner tip: How the Home Button works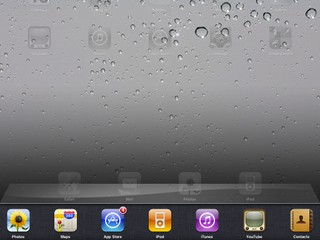 Just get a new iPhone, iPod touch or iPad and trying to figure out how to use everything the Home button offers? Because Apple only uses a few buttons, the Home button has to do a lot. Follow along after the break for all the single, double, and triple click tricks!
Here's a complete rundown of how the Home Button works under iOS 4.2 for iPad, including what's the same as before and what's new with the update.
Single click Home Button
If your iPad is sleeping and you click the Home Button it will wake up and ask you to slide to unlock.
If you're in an app like Safari, Mail, Angry Birds, etc. and you click the Home Button you'll return to the Home Screen with all your app icons.
If you're on your second or third Home Screen and click the Home Button you'll return to your main (first) Home Screen.
If you're on your main (first) Home Screen and click the Home Button you'll go to Spotlight Search.
If you're on Spotlight Search and click the Home Button you'll go back to your main (first) Home Screen.
Double click Home Button
If you're iPad is sleeping but still playing music or media (iPod app, iTunes app, etc.) and you double click the Home Button the iPod controls will pop up on the lock screen so you can play, pause, skip, etc.
If you're on the Home Screen or using an app and you double click the Home Button the multitasking Fast App Switcher Dock will be revealed so you can quickly switch between apps or swipe over to the audio, brightness, orientation lock, and other widget controls.
Bonus tip: iOS 4.2 changes the hardware orientation lock switch to a mute switch so you need to use the widget above to do orientation lock now. (Steve please fix this!)
Triple click Home Button
If you have enable accessibility options in Settings and your triple click the Home Button you'll either reverse the screen colors, go into zoom mode, or get a popup asking which of those options (or VoiceOver) you wish to turn on. (You decide what happens in settings).
Click and hold down Home Button
On iPhone 3GS and iPhone 4, if you click and hold down the Home Button, you get Voice Control. On iPhone 4S, you get the new and improved voice control, Siri
(IPad and iPod touch don't have this feature yet, but we're hoping they get it some time!)
Tips of the day will range from beginner-level 101 to advanced-level ninjary. If you already know this tip, keep the link handy as a quick way to help a friend. If you have a tip of your own you'd like to suggest, add them to the comments or send them in to dailytips@tipb.com. (If it's especially awesome and previously unknown to us, we'll even give ya a reward…)
Senior Editor at iMore and a practicing therapist specializing in stress and anxiety. She speaks everywhere from conferences to corporations, co-host of Vector and Isometric podcasts, follow her on Twitter @Georgia_Dow and check out her series at anxiety-videos.com.
Is their no Voice Control on iPad (holding the Home Button down)?

@FLskydiver I'm sure there would be voice control if there was a microphone on the iPad.

@Jahnn Hendriks Im sure my iPad and everybody else who owns one has a microphone so what exactly is it that your trying to say?

After my 3G's home button becoming non-responsive, and requiring anywhere from three to five clicks to get it to work, I became afraid of double-clicking my 3GS, and now, my iPhone 4's home button.
I know I should use it the way it's designed to be used, and that it can be return if it malfunctions... but my 3G's didn't begin giving me problems until after my warranty was up.
I'm sticking with single clicking. :|

@Jahnn Hendriks
Yep, my iPad has a built-in Mic, it is the little hole next to the headphone jack which, by the way, also supports headset/mic combos.

@Fastlane: know the feeling. I used to be all worried about extra (excessive clicking), almost to of anxiety about opening closing apps. I've mostly gotten over it, realizing I can get it replaced if it dies.

Good grief: that should be "almost to the point of..."

@JR:
LOL... yeah, on rare occasion, I'll double click for multi-tasking... but I try to do it delicately. But, like trying to shut a car door quietly, it just doesn't work that way. I cringe every time I do it. :lol:

Why not examining fun diversions near Ben Nevis like the ones examined on over at the Lochaber blog?

I always double click the home button why shouldn't I ?

I'm sure the best for you chanel 2011 to get new coupon
Thank you for signing up to iMore. You will receive a verification email shortly.
There was a problem. Please refresh the page and try again.