Best alarm clock apps for iPad: CARROT Alarm, Rise, Night Stand HD 2, and more!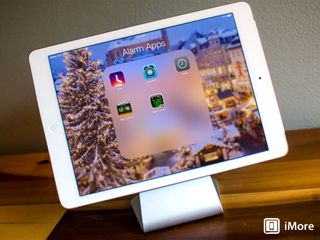 Apple didn't always ship a Clock app with the iPad, but added it in with iOS 6, and updated it with iOS 7. The original was based on the famous Swiss Train clock, the new one on general look and feel of iOS 7 in general. Neither really made big, beautiful use of the big, beautiful iPad display. And lets face it, if you keep your iPad on a stand on your desk, beside the bed, or anywhere around the house or office, you might as well enjoy the experience. Luckily, there are lot of fancier options to choose from in the App Store. Here are my current favorite alarm clock apps for the iPad:
Night Stand HD 2
Why you can trust iMore Our expert reviewers spend hours testing and comparing products and services so you can choose the best for you. Find out more about how we test.
Night Stand HD 2 is an alarm with one goal, to get you out of bed and track your sleeping habits. If you've overslept too many days in a row, it gets harder to snooze the alarm. You may be asked to complete patterns by sliding your finger in order to earn your snooze. The most unique thing about Night Stand HD 2 is that it turns waking up into a game where you can earn points and achievements for waking up on time. It's even got Game Center support so you can compete against your friends who are also using Night Stand HD 2.
If you need an incentive or that extra push to get up in the morning, Night Stand HD 2's game play modes and snooze options are definitely worth a hard look.
CARROT Alarm
CARROT Alarm has no mercy and for those that don't like to get out of bed in the morning, CARROT can either train you to do so rather quickly or she will remain your arch nemesis. Either way, CARROT won't fail to get you out of bed. Setup is easy but from there on out, CARROT has no mercy on your soul and will get angry if you don't get out of bed. She'll sing you songs and make you do tasks like shake your iPad in order for the alarm to turn off. Get out of bed, CARROT is happy and rewards you, remain a lazy human, and you'll be punished.
If you need a lot of help getting up in the morning and need an alarm that's persistent, definitely consider CARROT Alarm.
Rise Alarm Clock
Rise is a simple alarm clock app that isn't anything short of gorgeous. It's completely gesture driven so swipe from side to side in order to turn Rise on or off. Drag the time up and down in order to set your alarm. Then tap above or below in order to fine tune it. Rise supports screen flashes instead of music for the hard of hearing. As for the actual alarm, you can set any song from your iTunes Library you'd like. You can also create a playlist and time it for before you go to bed to put you to sleep.
If you want something simple that isn't overdone or complicated to figure out, Rise is the best bet.
Today - Wake Up Alarm Clock
Today is not only an alarm clock that can wake you up with music, it can also dish up morning news to you as you wake up so by the time you're out of bed, you're caught up on news and social feeds. Heck, it can even read it to you if you'd like. Today can link up to news feeds, social sites such as Facebook and Twitter, and to local weather. It's a great time saver for those that like to quickly browse these kinds of things before getting out of bed or leaving the house for the day.
If you want an alarm clock that not only wakes you up but provides you with an update on social, news, and weather for the day, you'll definitely want to pick up Today.
Alarm Clock HD
Alarm Clock HD is somewhat versatile since it can be as simple or as informative as you want it to be. Aside from being able to customize the look and feel of the alarm, you can also link up your Twitter, Facebook, and feedbin accounts. Alarm Clock HD will then scroll through tweets and feed info towards the bottom of the alarm. It's easy to set up and easy to use. There's even a flashlight mode so if you need to see the in dark, it's accessible with one tap.
If you want something that acts and behaves like a traditional alarm clock, but with a twist, check out Alarm Clock HD.
Your picks?
These are our favorite picks when it comes to better looking, and just plain funner alarm clock apps for iPad. We know you guys are just as good at finding awesome apps too, so if you're using something different, let us know what it is and why in the comments!
iMore senior editor from 2011 to 2015.
Rise is great. Love the background that changes as the time from orange and blue to blue and purple. Sent from the iMore App

I think, that you forgot cool app: sleep cycle and carrot alarm
This appfromtop(dot)com/best-apps/alarm-clock#Sleep_Cycle

They all look rather pretty, but they're all secondary apps until iOS lets them hand over more functionality. Do the alarms still work even after a reboot, or do you need to launch the application at least once? Sent from the iMore App

I think I'll stick to the built in app works fine for me. Sent from the iMore App

Love Rise on my iPhone, generally not using my iPad as an alarm clock :)

When you get older you'll appreciate the size of the numbers on an iPad when you can still read it from a distance :)

Ha! When traveling, we use the iPad with Rise. I have horrible vision without my glasses, so when I need to see the clock, rise is perfect. Sent from the iMore App

I've been using Alarm Clock HD for a couple of years now and it works great. I've never had any issues with it. Sent from the iMore App

I find all of these alarm apps are a waste if money for me. I only need to set an alarm and forget it. The built in app does that fine. The only standard apps I have replaced are weather with Yahoo weather and calendar with Fantastical. Sent from the iMore App

I had carrot on the iPhone and, enjoyed (enjoyed is the wrong word. It was awful; it screamed and everything, but that was the point, so it preformed excellently) using it. However, I got up one morning extremely tired and for some reason, the thing wouldn't stop, even after I completed the puzzles (or I thought; I probably did something wrong) so in a act of sheer desperation I deleted it which finally shut of the dreaded noise! Never redownloaded...

I've been giving Apple's stock alarm clock the love... It works fine enough for me. I do get a little help getting my kids up for school with Disney's "Wake Up!" They get a kick out of interacting with Donald - hopefully Disney will release some additional characters. Sent from the iMore App

Awesome Clock by BRID is my favorite!

It doesn't have an alarm, but what I like to use as a display clock is Chronography.

Nice collection of apps to choose from Sent from the iMore App

I have been using Yocto Clock for many moons. It is attractive, easy to use, and puts me to sleep with music and wakes me up.

Rise looks cool--I'll have to check that out. :-) Does anyone know of any alarm clock apps that turn on your smart LED lights too when the alarm goes off? That would be *awesome* for me... lol :-) Sent from the iMore App

Any of these support Radio like Tunein Radio or iHeart? I prefer live radio if possible, but even Pandora or iTunes Radio integration would be nice. I'm starting to leave my music off my phone and I've always preferred a radio to wake up too.

I could not see myself using one of these apps when the stock app works so well. I have trouble sleeping and when I do want to snooze I just ask Siri to turn the alarm off and back I go into dreamland. At least with the first app you had to solve elaborate puzzles which would be handy for getting me up to go to work but I can't really see myself using any of the others. Sent from the iMore App

Thanks Imore alot for recommend us these cool app ! this gonna help me not to be late for work Sent from the iMore App

Rise is pretty good. Sent from the iMore App

Reviews like this are what make iMore gr8. My alarm app of choice is Yocto clock, but will definitely give some of these a look. Thanks again iMore! Sent from the iMore App

Sleep Cycle Alarm Clock is by far the best alarm you can buy. Not only does it track your sleep so you can better your sleep, it also has the option to play sounds to help lull you to sleep, the built in alarms are not harsh and coax out of sleep rather than jerk you from it, and if that's not okay with you, you can still select your own music for the alarm. It even wakes you when you are most awake in a given time period (30 minute period is default). CARROT just annoyed me, and all the features I wanted it for I would never be able to use because I'm so terrible at waking up. Not to mention it was a secondary alarm after Sleep Cycle and I would always forget to switch to CARROT and therefore have points taken away rather than give . I may look into Rise as a secondary alarm. I need many alarms, night owls prefer to sleep through dawn rather than wake at it. Sent from the iMore App

Hi Allyson, Did you consider checking out Deep Sleep Alarm? It's helped my wife wake up and stopped using the snooze button. It's also free.

Do u know of any good alarm apps for the iPhone 4 Sent from the iMore App

What r some good alarm apps for the iPhone 4 Sent from the iMore App

Time out! It seems that IAPs are the way to go when it comes to creating an app and in generating a healthy revenue so why not incorporate it to an alarm clock. It works like this, the alarm sound off, you will be give two options - (1) Stop the alarm for free; or (2) Snooze for 5 minutes for a small fee of $ 0.99. This I believe will be the most effective alarm clock ever hahaha ;-P Sent from the iMore App

We need a better alarm clock app...mine on my iPad 3 has failed to wake me several times. I miss iOS 6!!! (I never thought I'd say that) Sent from the iMore App

I'm actually really satisfied with the Apple Clock app. It's never done me wrong, and looks great on idle on a side table. Not that I use my iPad for alarms in the first place. Seems more natural for me to use one of my phones. Sent from the iMore App

Interesting news: there's apparently a new alarm clock in town. Ultra ultra minimal, big promises! http://4L4RM.com
Thank you for signing up to iMore. You will receive a verification email shortly.
There was a problem. Please refresh the page and try again.