Best web browsers for iPad: Google Chrome, Dolphin, Mercury, and more!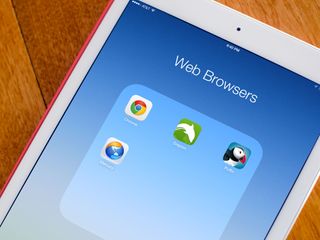 Safari comes built right into the iPad and can sync your bookmarks and open tabs over iCloud so you're always up to date, everywhere. But what if you don't use Safari on your phone or your desktop? What if you want more features than Safari provides? What if you just want something different? Well, you're in luck! The App Store has many great browser alternatives to choose from. Here are the very best!
on the iPad is a pretty decent browser and for the most part, it just works. However, it still lacks or falls short in certain areas. Perhaps you don't use Safari on your desktop browser and want something to seamlessly sync bookmarks. Regardless the reason, there are plenty of alternative web browsers available in the App Store that can take your browsing experience on the iPad to another level. Here are my current favorites...
Google Chrome
Why you can trust iMore Our expert reviewers spend hours testing and comparing products and services so you can choose the best for you. Find out more about how we test.
Chrome is one of the most popular alternatives for people who are linked into Google services. If you use Chrome on your Mac or PC and save bookmarks, Chrome can sync them across your devices. You can also sign into your Google account in Chrome for iPad and all your settings and preferences are right there. One service, one experience. It's also supported by many third party apps so you can set it as the default browser.
If you're tied heavily into Google services or already use Chrome on your desktop, Chrome for iPad is a must-have.
Dolphin
Dolphin not only gives you another way to browse the web on your iPad but gives you more options that traditional desktop browsers would have, such as a downloads manager. If you have apps installed that are capable of opening certain kinds of downloaded files, Dolphin can manage them and launch them for you. You can also clip items to Evernote, share things to Facebook, Twitter, and much more.
If you want more of a desktop browser experience on your iPad, check out Dolphin.
Mercury Browser Pro
Mercury Browser Pro is best described as what you get when you combine the best parts of Safari and Google Chrome into one. If you've been using the Safari browser on your iPad for a long time, you'll feel right at home. You just have a lot more options. Things like ad blocking are built right in along with password like, social network integration, and more. It's one of the best designed alternative browsers and has great gesture support. Mercury Connect is even capable of syncing bookmarks and data across all your devices with both Firefox and Chrome.
If you like the Safari browser but wish it had more features, you want Mercury Browser Pro.
Puffin
The one feature that Puffin touts above all others is its speed. From loading web pages to tabbing through menus, it's smooth and lightning fast. Much like some of the other offerings, you've got many add-ons to choose from, the ability to download files, and much more. There's also options for virtual game pads and theater controls built right in. An added bonus for those that like to AirPlay content from their iPad.
If speed and performance are your number one concern, take a serious look at Puffin.
What's your favorite iPad browser ?
If you switched from Safari to one of the other alternate browsers listed above let me know which one and why! And if I didn't list your favorite, tell me which one it is and why you like it so much!
Get the best of iMore in your inbox, every day!
iMore senior editor from 2011 to 2015.
Can't forget Coast by Opera. Posted via the Android iMore App!

Aren't all 3rd party browsers slower than Safari due to restrictions? Sent from the iMore App

Do any support Flash content better? Sent from the iMore App

Somehow the full blown version of Puffin does.

Safari works fine for me.

Correct me if I'm wrong, but aren't all 3rd party browsers restricted to the same WebKit functions offered by Safari? The subtle lock-in of Safari and its password manager has kept me from straying into making Chrome my default desktop browser. Well played, Apple.

I use iCab mobile although its less iOS7 than it could be an update is promised. I've tried Mercury Browser but the adblock isn't as effective as iCab and it doesn't integrate with Launch Center.

iCab for me as well. Love the ability with gestures to control text size, page and tab manipulation, the 'full screen' mode with opacity and minimal interference...works well on both iPad and iPhone. Chrome is and has always been my second choice though

Google chrome for me. I just like being able to sync everything across my iPad, iPhone, and computer Sent from the iMore App

I do that with Safari ha ha.

True. But the PC Safari runs an older version, which gives chrome an advantage. But Safari and chrome both sync.

Unless Chrome for iOS has fixed the back issue, I still refuse to use it.

I still prefer Safari over all of those. Sent from the iMore App

It seem they all want to be chrome, except for Puffen. I don't plan on switching browsers any time soon, but if I do, it would probably be Chrome, because I have it on OS X.

For years I've been using the Atomic browser (Universal), which is $2 but is also available in a free lite version. Its UI is a bit clunky but the best features are (a) ad block filters, (b) the ability to identify the browser as IE, Firefox, or Desktop Safari (useful when visiting some bank sites, for example), and (c) the ability to save pages for offline viewing (I use this for saving maps when traveling with my Wifi iPad).

Thanks for the advice. How do you save a useful map for offline viewing later? And from where can I download them?

I've tried other browsers for iOS but always delete them after a short time of being aggravated that every time I open a website via link from Twitter or elsewhere, it opens Safari. When Apple decides to allow us to make a 3rd party browser default, then I'll use another browser.

Great incentive for them right there, huh?

Stream Web is better than all of them.
https://www.imore.com/e?link=https2F2Flinks%2F1...
https://itunes.apple.com/hn/app/stream-web/id834894031?mt=&at=10l3Vy

I've tried every web browser out there and there is nothing like Safari it is fast reliable and very responsive I always go with STOCK Sent from the iMore App

I keep coming back to Safari.

Maybe I don't know what I'm missing, but I still use Safari and have no complaints.

I use Safari and Chrome as my main browsers, but Photon when needing flash-content sites. If there are other current Flash-capable browsers for iPhone/iPad I welcome PM suggestions and why.

I've used both and found puffin a better one... I did buy the pro version though...

I'd recommend QQ browser from China. Easy to use gestures, nice UI and fast.
However, it's a shame that NO browser on iOS allows text reflow/wrap/auto-fit. I don't like the reader function as it is less convenient than just pinch and zoom and let the texts auto-fit. Reader function also do not work on forum texts.
Really disappointing!

I refuse to use any browser from china.its bad enough that almost everything we buy is junk made in China.i use mercury or safari

I mainly use Safari. My 2nd browser is Atomic Web. I like it for all of the reasons stated by 'Feck' above- especially for banking (identifying as a specific desktop browser).

Ditched Safari for Chrome (I already used it on my other devices, so I welcomed the synch options). It's fast, reliable and does most of the things I look for. Using a jailbroken device I even made it my default browser and added a download manager package (a feature I used to pop iCad for).

I use the Chrome browser mostly because it integrates well with my desktop browser but I keep the free version of Mercury browser installed for the occasions when I need to view the desktop version of a website because it allows you to manipulate the useragent so when your on a site that doesnt have the option to let you switch to desktop view but you want the desktop view.. Open up Mercury and set the useragent accordingly and you can make the website think your on a larger screen :)

I tried most android browsers and kept coming back to dolphin. The tabbed browsing on the Dolphin browser is reason enough to download it, you can have multiple windows open at the same time and switch between them with one click. It'll transform your browsing habits on your phone, definitely a must have download for me.