Best apps to show off your new iPad 4 or iPad mini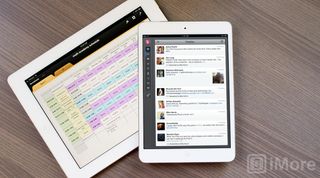 If you just got your new iPad 4 or iPad mini and you're wondering which apps and games you need to download right now to show off that gorgeous new piece of tech, you're in luck. We have your list right here!
Browse all iPad retina-ready apps and games
Twitter apps: Tweetbot, Twitter, and Twitterrific
Why you can trust iMore Our expert reviewers spend hours testing and comparing products and services so you can choose the best for you. Find out more about how we test.
If you're a Twitter user, the retina iPad and iPad mini are both great for taking part in the social network. The three big iPad Twitter apps are the original iOS Twitter app, Twitterific, which is great for those who enjoy just reading through Twitter, the official Twitter app for iPad, which has one of the most audacious user experiences ever seen on the iPad, and Tweebot which is perfect for power users with best-in-class notifications and great features like "mute". If you're brand new to Twitter, check out Twitterrific. If you're a hard core tweeter, give Tweetbot a go.
2.99 - Tweetbot - Download now
Free - Twitterrific - Download now
Office apps: Numbers, Pages, and Keynote
Apple's iWork suite, which consists of Keynote for presentations, Numbers for spreadsheets, and Pages for word processing has just been updated for Retina, so all your documents will look fantastic on the high-density screen of the iPad 4 and also work fantastically on the iPad mini. Keynote was built for Steve Jobs so it's absolutely best in class, while Numbers and Pages are easy to use and produce great looking documents.
$9.99 - Keynote - Download now
$9.99 - Numbers - Download now
$9.99 - Pages - Download now
Creativity apps: iPhoto, iMovie, and GarageBand
Apple's entire iLife suite is available on the iPad and iPad mini. It includes iPhoto for image editing, iMovie for video editing, and GarageBand for music creation. They're all optimized for multitouch as well, so you can really get your hands on them and manipulate your content like never before.
$4.99 - iPhoto - Download now
$4.99 - GarageBand - Download now
$4.99 - iMovie - Download now
eBook apps: iBooks
While Amazon's Kindle for iPad app has also been updated for Retina, and has a bigger catalog of titles, not to mention cross-platform support, Apple's iBooks is just better looking, better animated, and has an overall better experience. And if we're talking showing off, that's what wins out. From the latest novels to the best non-fiction to high school textbooks to cartoons like Bloom County and comics from Marvel, you'll think you're looking at digital paper.
Newsreader apps: The Early Edition 2
The Early Edition 2 is an RSS reader with a gorgeous user interface that looks absolutely stunning on the new iPad. Because of our love for eye candy, one of our favorite features is the manilla envelope that pops up when sharing an article to a social network and the "Shared Copy" stamp that appears just before it pops up. If you ever dreamed of reading the news on your iPad with your feet up and while sipping excellent coffee (or wine), this is the app for you.
Games
Be sure to check out our list of the best free games for your iPad 4 or iPad mini.
Your favorite apps?
So there you have them, the best apps available to really show off you new retina iPad or iPad mini! What apps do you use to show off your new iPad?
Get the best of iMore in in your inbox, every day!
Former app and photography editor at iMore, Leanna has since moved on to other endeavors. Mother, wife, mathamagician, even though she no longer writes for iMore you can still follow her on Twitter @llofte.
Great List. I cannot wait to download Garage band on my new ipad mini once I receive it.

Love my job, since I've been bringing in $82h… I sit at home, music playing while I work in front of my new iMac that I got now that I'm making it online… www.fab17.com

my buddy's mother-in-law made $18280 the prior week. she been working on the laptop and got a $462100 home. All she did was get lucky and follow the information revealed on this site *-*INFO30.com*-*

Sid Meier's Pirates! for me.

Is it a real Ipad 4 you're showing or is it the 3??

If you can't tell, does it matter? :P

That "most audacious user experiences ever seen on the iPad" isn't in the Twitter for iPad client anymore, they stripped it out for a blown up iPhone interface experience.

@Loise, you make $27h thats great going girl good for you! My story is that I quit working at shoprite to work online, seriously I couldn't be happier I work when I want and where I want. And with a little effort I easily bring in $35h and sometimes even as much as $85h…heres a good example of what i'm doing, Fly26.com

If you sync music from iTunes and want to try an alternative to the built in music app on iPad, an app called Harken is great.
Thank you for signing up to iMore. You will receive a verification email shortly.
There was a problem. Please refresh the page and try again.