This is the only battery case for iPod touch 7 right now!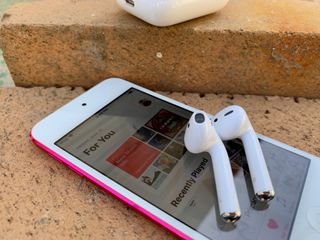 (Image credit: iMore)
When you think of great accessories that will make your iPod touch experience the best it can be, you think of just a few things; great headphones or speakers, and great battery extenders. What's a more perfect way to extend your battery life than with a battery that doubles as a case?
Finding a battery case for your iPhone is a relatively simple task: in fact, we here at iMore really love our battery cases. When Apple announced the updated iPod touch 7, the first thing we did was search for battery cases for it.
Since the iPod touch 7 is the same exact size as the iPod touch 6, you would have thought there'd be dozens of them still on the market, but surprisingly, no. I've searched far and wide to find a selection of iPod touch 7 cases that'll charge your battery as you blast your tunes, and your pickings are pretty much non-existent.
Case makers and designers are seriously losing out on not bringing back their old iPod touch battery cases for the new iPod touch 7. In fact, there appears to be only one battery case on the market today that fits the iPod touch 7.
The Only Choice
(opens in new tab)
i-Blason PowerGlider External Battery Case
The i-Blason PowerGlider External Battery Case is one of a kind — literally. This super slim and sleek battery case has an LED light that indicates charge status and comes designed with a kickstand on the back.
Not only is the i-Blason PowerGlider External Battery Case a slim and sleek accessory that'll charge your iPod touch 7's battery quickly and conveniently, but it also allows access to all buttons and ports, including your headphone jack and volume buttons.
If your iPod is running low on juice, there's no need to take the case off to directly charge it — you can charge your touch 7 through the case itself. It gives you a promised one full extra charge, so if your iPod touch 7 is approaching 0% battery, you can shoot it back up to 100% with help from this case.
An LED light on the case will let you know how much battery life is left, so you won't have to constantly wonder if you've got enough juice to last the rest of the day.
Finding the perfect iPod touch 7 case was harder than we thought…
Why you can trust iMore Our expert reviewers spend hours testing and comparing products and services so you can choose the best for you. Find out more about how we test.
Hopefully in the future, other companies will hop on the battery case bandwagon and provide us with more options for our iPod touch 7's precious battery life.
The i-Blason case is a great one, but we like options. If this case isn't for you, your alternative is an external portable battery charger. Though it's not as convenient as a case, an external battery is bound to keep your iPod touch charged and ready to rock.
Do you know of a quality battery charging case for the iPod touch? Let us know in the comments and we'll check it out.
Cella writes for iMore on social and photography. She's a true crime enthusiast, bestselling horror author, lipstick collector, buzzkill, and Sicilian. Follow her on Twitter and Instagram: @hellorousseau
Thank you for signing up to iMore. You will receive a verification email shortly.
There was a problem. Please refresh the page and try again.