Best calendar apps for iPad: Fantastical 2, Sunrise, Calendars 5, and more!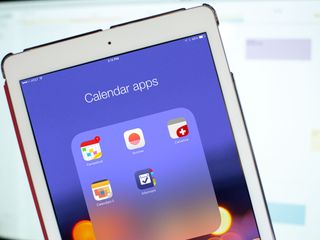 Looking for the best iPad apps to help you get your calendaring done faster and better? Sure, the iPad comes with Apple's own Calendar app and it'll suit some people just fine. If you want something different, however, whether it's a different focus, different interface, or different features, the App Store has a lot of alternative calendar apps available. But which ones are the very best?
Fantastical 2
Why you can trust iMore Our expert reviewers spend hours testing and comparing products and services so you can choose the best for you. Find out more about how we test.
Fantastical 2 for iPad by Flexibits combines both your calendar events and reminders into one beautiful app that's just as easy to use as it is powerful. It's also got its own native notifications so you can completely ditch the calendar and reminders apps if you'd like. Since Fantastical pulls from existing calendars and reminders you have set up already with iCloud or any other service, there's zero setup required. The natural language and shortcut options in Fantastical are some of the best I've ever used, an added bonus when it comes to productivity.
Fantastical 2 is the calendar app Apple should have built. If you want simplicity combined with powerful features, you need Fantastical 2.
Calendars 5
Calendars 5 by Readdle can pull from local calendars that already exist on your iPad or you can log in directly to Google calendar. Reminders is where Calendars 5 really shines and turns them into a get things done section. To start it can pull in all your lists from iCloud. From there you can add new lists right inside Calendars 5 and also throw things in an inbox to file them later. It works just like a full on todo app would work, but alongside your calendar.
If you want a calendar, reminder, and todo setup all in one, look no further than Calendars 5.
Sunrise Calendar
Sunrise Calendar also combines calendars and reminders into one but takes a slightly different approach. Not only can you link iCloud and Google accounts, you can also link social accounts such as Foursquare, LinkedIn, Facebook, Twitter, and more. Any events that you get invited to on Facebook and accept can automatically be imported into Sunrise. The same applies for Foursquare checkin. Since you can hide and unhide calendars in just a tap, they stay out of the way when you need to get work done.
If you want a calendar that fits both productivity and social needs, check out Sunrise.
Calvetica
Calvetica imports all your existing calendars, like Fantastical 2. This means it too works with iCloud, Exchange, Google calendars, and pretty much anything else the official Calendar app would allow you to use. Calvetica also has support for reminders and shows them off to the side at all times, unless of course you change the view. The views are one thing that make Calvetica stand out. There are lots of them and they're unique from many other calendar apps. You can also sync all your settings with iCloud so if you have Calvetica on multiple iOS devices, all of your settings and preferences always change together.
If you're picky about how your calendars are set up and want the same settings across all devices as seamlessly as possible, Calvetica makes that possible.
Pocket Informant
Pocket Informant isn't just a replacement calendar app, but a productivity powerhouse that combines your calendars, reminders, and notes in one place. The interface of Pocket Informant is gesture driven. Swipe down with two fingers from anywhere in order to reveal the quick entry field. Swipe to the left across any event or reminder to see a menu containing all the ways you can interact with that appointment or task. You can also purchase the weather add-on for a on time purchase of $0.99 and see weather in your calendar as well. Pocket Informant's official sync service is available on a wide variety of platforms as well, which makes it an ideal solution for cross-platformers.
For the most control and widest amount of options when switching between iOS and Android devices, there is only Pocket Informant.
Your picks?
Calendars are definitely a personal decision and one that should be based on your workflow and what kind of schedule you have. While I think these are the best all around choices, that doesn't mean there aren't other good ones out there. Which calendar app you use and why? Did you go with one of my choices above or something else? Let me know in the comments!
Get the best of iMore in your inbox, every day!
iMore senior editor from 2011 to 2015.
I'm a HUGE fan of MiCal. I was a diehard Fantastical 2 user but I really miss the day-grid view (turning Fantastical sideways to get the grid view in week layout doesn't really help) and MiCal has that. It also does Natural Language Input like Fantastical 2 (though admittedly not as good yet) but definitely deservers to be included in this roundup.

I'm happy with Fantastical 2 but MiCal sounds interesting. Thanks for the suggestion. Sent from the iMore App

I fell in love with Week Calendar HD. I have both the iPad ($2.99) and iPhone ($1.99) versions, linked seamlessly to my Exchange server at work. My Luddite wife also got both (not on a server) and the 2 platforms sync beautifully with each other.

I'm still a big fan of Pocket Informant. It just has soooo many capabilities in one amazing app. Sent from the iMore App

What's the point of using third party calendar apps on iOS when you can't choose them as default ones?

I use Fantastical and it's never mattered to me. It pulls whatever is in the Calendar anyway.

Rene
I'm looking for a way to view older Calender entries in ios. I am told this can not be done in ios. Is this correct? If not what's the best Calender app to search & view entries from 4 years ago?
Thanks in advance...

Week Cal can search and view unlimited events in the past, even 100 years ago, if you like to add on your calendar, historic events or biografic data of your family, for example. You can search for key words that may be in the titlle, or notes and allows changes in past events that sync immediately with your IPhone calendar and ICloud . It gives the option to choose the range of uour search . It may take minutes to find the results depending on the amount of events and number of years to search, but works perfectly!

Fantastical 2! Booyakasha!

Week Calendar and Week Calendar HD for iPhone/iPad. excellent feature set, not bloated like a lot of others, can not believe in the several calendar app reviews you all have done it always gets skipped over.

While I admit that the interface of fantastical is pretty nice.. and it does a great job on the calendar side of things (natural language, etc), but it does not handle the management of tasks in the same elegant manor. I am very calendar AND task driven, so fantastical is not for me. Calendar 5 is much better with tasks, has good integration of natural language input, and a very nice user interface (both for iPhone and iPad). For a direct replacement of iOS Calendar and iOS Reminders, Calendar 5 does a super job. Pocket Informant has been around forever and is probably the most feature packed of the bunch. I find that managing tasks on PI is a bit cumbersome which is why I come and go as a user of PI. PI is better than Calendar 5 in that it also has Notes... which can actually integrate with Evernote. So one user interface handles Calendar, Reminders, and Evernote notes... pretty nice. Works great on the iPad, but like I said... for speed and real world usability, especially on an iPhone, I slant towards Calendars 5.

I know it's not an iPad app, but I use Tempo as my calendar and scheduler. It is so much more intelligent than the native iOS calendar. It looks for keyphrases and links your appointments to contacts for direct access from the appointment, locations are linked to maps or google maps for directions and the subject automatically looks for associated emails and links them into you appointments too. Strictly speaking its an iphone app but I love it!

I realize this may not count for much, but I've been using the beta version of Magneto Calendar for a few days and it may just rip me away from Fantastical. That said, it's currently Google Calendar / Exchange Calendar at the moment (I imagine they will flesh that out in time). Before that I've used a combination of Fantastical and Mynd (for driving times and other event intelligence data).

Love this wallpaper, where can I get it?

I'm a huge fan of the stock calendar and Any Cal!!! Sent from the iMore App

Does Fantastical2 for iPad automatically load everything I have added on the iPhone app?

Are they connected to the same cloud service? If yes, then yes. If no, then no.

My current fav is Calendars 5 by Readdle. Before that it was CalenGoo.

For at a glance viewing and easy info input Fantastical is streets ahead of any other calendars.
The Fantastical team are currently creating a contacts app that will fully integrate with their calendars.
F2 all the way for me & i don't mind paying for top notch products...

Amazon has the best apps anywhere online. Need a discount code? Just google AZON DEAL BUDDY - They have a gold box on the site that will spit out a discount code of any app that you enter (just type in game app or something). Really neat and I use it all the time and save big on apps and other products using this tool.

Calendars 5 has a beautiful and clean interface with a clear week view even on a small iPhone screen. But it also displays my Facebook calendar, cluttering up the view. I can't find an option to turn off the Facebook calendar from displaying.

A nice review for nice apps! Yet, who needs a calendar app? I mean, the Apple's, Android's or even Windows' calendar native app aren't good enough? Not to mention the price…
I think, if you really want to go beyond the ordinary calendar apps (yet sufficient for almost everybody), you should try all-in-one apps, which bring together all the matters of everyday life organization. There are a lot of them on the app store but very few deserves some attention: at least go for Clear for private life managing ($5) or Beesy for professional life ($6). Of course, both include a calendar feature (that can be synced with any previous calendar with Beesy), and Beesy is actually pretty original with an interesting approach based on note-taking, very powerful.

For calendar apps I'm trying out Tempo, Sunrise and Cal

I have read elsewhere and now here that Sunrise syncs with Reminders. So far as I can tell, it does not. If you put a date and time on a reminder then it will appear in Sunrise as a calendar event, but not as a task for which it makes no provision. Since I can't use it as a task manager I can't use Sunrise at all. Mynd and Tempo are truly different as they use AI and do more than just calendar but they do not exist for the iPad. Informant is very powerful but I think it's ui is too cluttered. As David Pogue complained it is time for calendar apps to move away from imitations of print calendars and combine with cloud features such as maps, distance calculations, departure time warnings, etc.. (Mynd and Tempo are on this track).